The Loop
Woods says he's ready for final Masters tuneup
ORLANDO, FLA. -- Barring cats and dogs living together, or Tiger Woods inviting Steve Williams and Hank Haney to be his pro-am partners, the Arnold Palmer Invitational will be Tiger's last tune-up before the Masters. And while he won't say it, that Masters will rank on his personal importance scale right up there with his 1997 victory and the completion of the Tiger Slam in 2001 -- both historic achievements.
If Woods does not win at Augusta National this year, he will go into the U.S. Open at The Olympic Club in San Francisco in June having gone four years since his last major championship. The only time Jack Nicklaus went that long was between No. 17 in 1980 and his record 18th at the 1986 Masters. And then there were no more.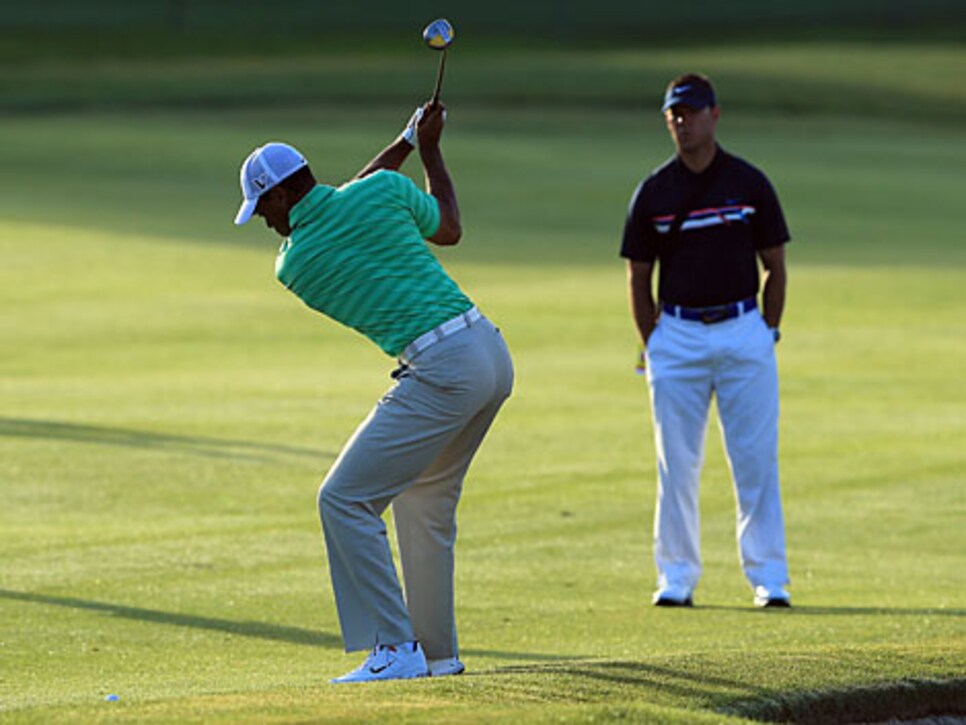 David Cannon/Getty Images
If Woods is to get the five majors he needs to break the Nicklaus record, this year's Masters is almost a must. Certainly a victory will revitalize the conversation about something that in 2008 seemed to be a sure thing and now grows more remote with each missed putt or injury-caused withdrawal.
Asked Wednesday at Bay Hill to access the state of Tiger's game, Palmer said: "I haven't been close to Tiger and have not talked with him personally in quite some time, but I see some difference in his swing." Asked specifically about the Masters, Palmer said: "Will he win? I don't know if he is in quite as good of shape right now. I know he will try hard."
But when asked about the bigger picture and what lay ahead for the 36-year-old Woods, the 82-year-old Palmer said: "If I had to make a prediction, I'd say 'look out,' one of these days he's going to come back and play pretty good golf."
The last time we saw Woods at a PGA Tour event was when he walked off at Doral after playing 11 holes on Sunday in the final round of the WGC-Cadillac Championship. The word at the time was that he was experiencing tightness in his left Achilles tendon, part of a litany of injuries that have included his right Achilles and his left knee, which has been operated on four times.
Since Doral, Tiger got back to hitting balls -- saying it was a mild strain in the Achilles -- and has survived the grueling two-day test known as the Tavistock Cup, the blood feud between gated communities and one of the few major titles that eluded Nicklaus, mostly because it didn't exist then.
But is Woods ready to win here this week? His answer is what his answer has been since he turned pro in 1996: "I wouldn't be here if I didn't think I could win." And that's fair enough. That attitude has a lot to do with why Woods has won 71 PGA Tour events and 14 majors. But if anything has been made clear over the last 30 months, it is that Woods has lost his ability to will his way to wins. More is needed.
"I played Augusta on Sunday, that's one of the reasons I played Tavistock," Woods said Wednesday at Bay Hill after his pro-am round. "I feel great. That's the nice thing about having treatment for a few days."
Woods had another physical scare during the pro-am when a photographer clicked during his swing and Tiger stopped on the downswing. "I felt a twinge in my back," he said, "but I walked it off."
The injury that forced him out at Doral was one that a few years ago Woods might have played through, but now he is being more cautious. "As we all know, as we age, we wake up with soreness, that's why I changed my routine," he said Wednesday. "You've got to be a little more cautious about this type of thing."
For those keeping scoring, on Sunday when the trophy is handed out at the Arnold Palmer Invitational, it will be 923 days since Woods won his last PGA Tour event -- the BMW Championship on Sept. 13, 2009. There was a victory in Australia that November, the fire hydrant a week later, and a win in an 18-player field at the Chevron World Challenge last December.
There have also been several opportunities to win in recent starts -- the Australian Open last November, Abu Dhabi and the AT&T National Pro-Am at Pebble Beach this year -- in which he failed to close the deal. Even for a player who has won as much as Woods has won, it seems as if learning how to win again -- and believing he can win again -- is part of the process he is going through.
Asked if, considering his past success there -- he has four green jackets at home, even though he has not won at Augusta since 2005 -- the Masters was his best chance of picking up his 15th major and getting back on track to pass Jack, Tiger smiled and said: "Considering it's the first major [of the year], yes."
And so it goes. We didn't really know any more about Woods after he chatted with the media than we did before the session, which was held not in the interview room but at a congested area near No. 18 green. All he said was he had a tuneup at Augusta National and that he feels well.
The word of caution offered by Tiger about his Achilles could very well be the bumper sticker that describes his physical condition right now. Could it go out on him again? "It could," he said, "hopefully it won't" All we will know is what we see on the golf course, and that is the way Tiger has always wanted it to be.