News
With no staggered start, the Tour Championship leader board would be much tighter entering the final round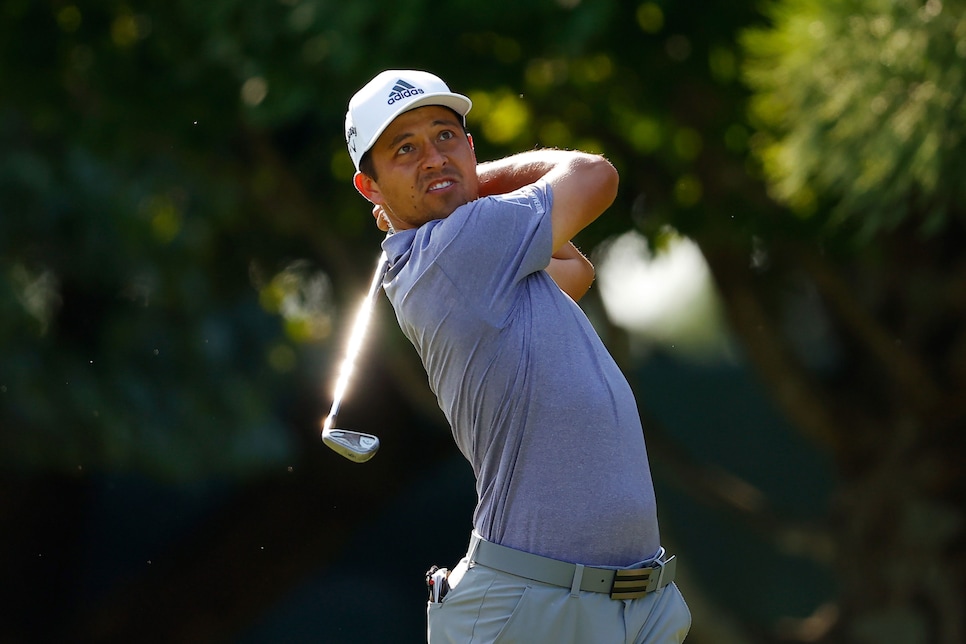 Xander Schauffele has the lowest cumulative score over three days at East Lake (11 under), but trails Dustin Johnson by five strokes heading into the final round.
Kevin C. Cox
ATLANTA — The leader board says that Dustin Johnson is leading the Tour Championship at 19 under after 54 holes at East Lake.
The scorecards tell a different story, though.
The lowest total number of strokes taken so far this week? That honor belongs to Xander Schauffele, whose rounds of 67-65-67 put him at 11 under on the par-70 layout, or two better than Johnson's nine-under total over the first three days.
Of course, that's not how the Tour Championship and, ultimately, the FedEx Cup is decided any longer. Beginning last season, the format of the season finale was changed to give the top players in the FedEx Cup standings a head start based on par depending on their standing in the season-long points race.
The result: Johnson, who topped the standings coming into the week following a win and runner-up finish in the first two playoff events (plus a tie for second at the PGA Championship), began the tournament at 10 under.
Schauffele, meanwhile, came into the Tour Championship 14th in points, meaning he started the week at three under in the staggered scoring format.
The difference between Johnson and Schauffele isn't the only one on the leader board, either.
Going strictly by strokes this week, Justin Thomas, Collin Morikawa and Scottie Scheffler would follow next, at seven under for the week, while Daniel Berger, Sungjae Im, Tyrrell Hatton and Abraham Ancer would all be tied for sixth at six under. It would make for quite the jam-packed leader board.
Instead, the adjusted leader board has Thomas tied for second with Schauffele, five back of DJ, while Jon Rahm is alone in fourth (six back), Morikawa in fifth (seven back) and Berger and Im tied for sixth (nine back), with Scheffler checking in at eighth (10 off the pace).
If any of this bothers Schauffele, who three years ago birdied the 72nd hole to become the first rookie to win the Tour Championship (while Thomas won the FedEx Cup), it doesn't show.
"It's the format," Schauffele said on Sunday. "They changed the format so it's even more clear for the viewing audience to understand it, and it's even clearer for us looking at the board.
"That's why those playoff events early are so important. You have to get yourself close. I'm not in a position where I can afford to have a bad round."
Instead, he'll need Johnson to have one if Schauffele has any hope of winning the tournament again and this time the FedEx Cup, too.