News
Dustin Johnson looks tough to beat heading into the final round at East Lake, and his chasers know it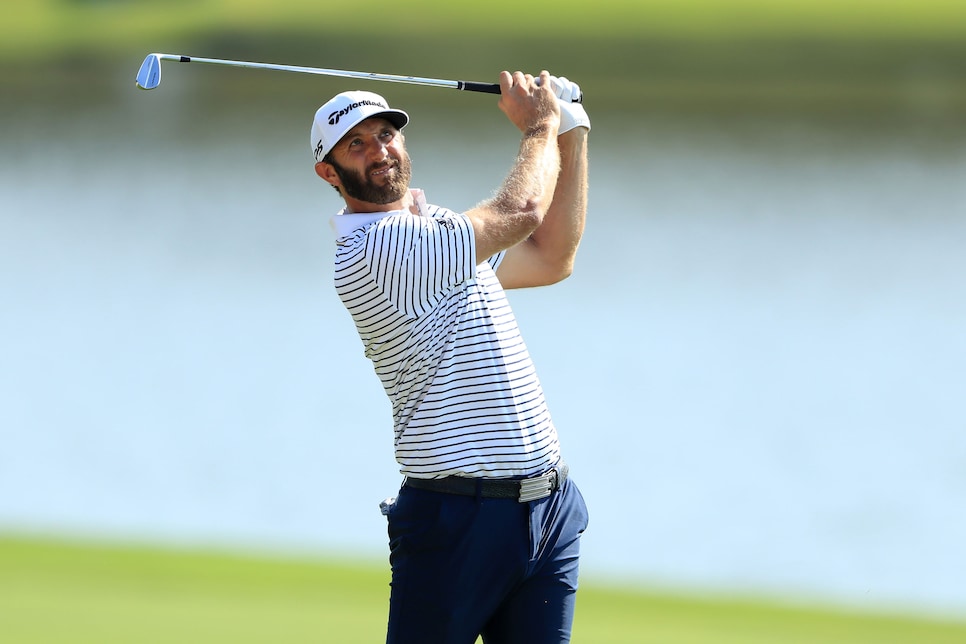 Dustin Johnson plays a shot on the eighth hole during the third round of the 2020 Tour Championship.
Sam Greenwood
ATLANTA — When did Dustin Johnson know he was dialed in on Sunday at the Tour Championship?
"I always think I'm dialed in," he said after a third-round six-under 64 at East Lake. "Yeah, from the first swing."
All the way to the last, too. It's been that way for much of the last month for Johnson, who has a five-stroke lead going into the final round of the PGA Tour season finale. It marks Johnson's fourth straight start in which he holds the 54-hole lead and as a result is on the precipice of adding another milestone to a career full of them.
Major champion? Check. No. 1 in the world? Check. Win 22 times on the PGA Tour including in every season he's been competing? Check.
On Monday, Johnson stands to add another check—a big one—literally and figuratively. If he wins the Tour Championship he'll win his first FedEx Cup—and the $15 million that goes with it.
It's the second time in four years that Johnson has had an opportunity to do so. In 2016, he had a share of the lead going into the final round but shot a closing 73—the worst score of anyone in the field that Sunday—to finish in a tie for sixth. He still had a chance to win the FedEx Cup but the math didn't work out when Rory McIlroy won the tournament to capture both trophies.
"To be the FedEx Cup champion is something that I want to do," Johnson said. "It's something that I want on my resume when I quit playing golf.
"Obviously I had a chance to win it a few years ago. Not really in control of that one, so it's a little bit different."
A lot different. Unlike in 2016, the only math Johnson will have to worry about this time is finishing atop the leader board—the winner of the tournament Monday automatically wins the FedEx Cup, too, thanks to the format change a year ago that gives the top players on the season-long points list a head start.
And over the last few weeks no one has been better than Johnson, who has a win (by 11 shots at The Northern Trust after shooting 30 under) and two runner-up finishes in his last three starts (BMW Championship and PGA Championship). Going back another week (WGC-FedEx St. Jude), over Johnson's last 19 rounds, he is a 62 under par in that span.
Meanwhile, Monday could be another blowout victory thanks to another torrid week from the World No. 1.
By virtue of leading the points standings, Johnson started the Tour Championship at 10 under, two strokes better than Jon Rahm and three clear of Justin Thomas. He has since climbed to 19 under and going into the final round is five clear of Thomas and Xander Schauffele (who through three rounds has the lowest total score at East Lake 11 under) Rahm is another stroke back after a 66 on Saturday.
"He's showcased what he can do," Schauffele said of Johnson. "If he does what he normally does, it's going to be almost impossible to catch him. I can try and influence him, which he probably won't really care about. If I birdie the first three holes, it's not going to faze him."
Six weeks ago, Johnson shot a pair of 80s at the Memorial. Then he missed out on adding a second major at the PGA in August, where he led going into the final round only to get beat by Collin Morikawa. And last week at the BMW, he holed a 45-foot putt on the final hole of regulation to force a playoff against Rahm before Rahm drained a 66-footer on the first hole of sudden death to win.
This week, Johnson hit just two fairways during Saturday's second round—going well over two hours at one point without hitting one—before finding his swing in a post-round range session. Sunday, he hit 11 of 14 fairways and led the field in strokes gained/off-the-tee on his way seven birdies and just one bogey.
"We're going to need Dustin to not have a good day," Rahm said about the prospects of catching Johnson. "There haven't been many of those lately.
"What can you say? He's just a great golfer. He's one of those guys if you give him a couple shots it's tough to make up."