Genesis Invitational
Willie Mack III looks more comfortable, confident in his second PGA Tour start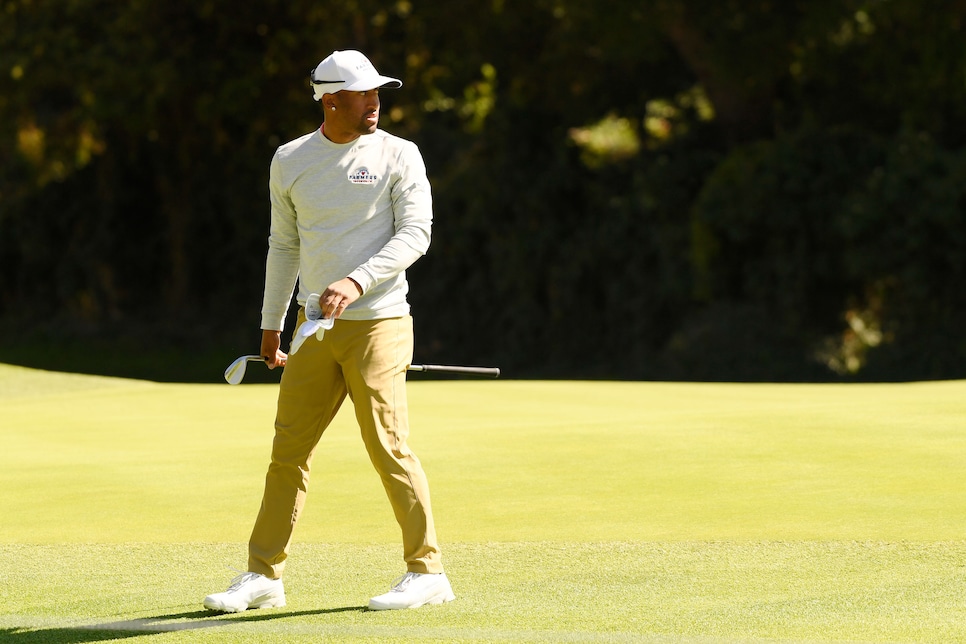 Willie Mack III walks on the 12th green during the first round of the Genesis Invitational.
Harry How
PACIFIC PALISADES, Calif. — You won't find it in the American Psychiatric Association's DSM, but Just Happy to Be Here syndrome is absolutely a real thing. You've seen it before: When a 10-seed makes the Elite Eight at the NCAA basketball tournament and loses by 40, or a qualifier makes the Wimbledon semis and lays an egg. Surely a 32-year-old golfer who was homeless, had his car blow up in front of him and never made it past the mini-tours would come down with a severe case of JHBH here—at a comically pristine golf course, playing for millions, rubbing shoulders with Rory and DJ and JT.
The mini-tour lifer is playing in this week's Genesis Invitational on the Charlie Sifford exemption, which the tournament first offered in 2009 and goes each year to a golfer representing a minority background. Mack made five birdies en route to a one-under 70 on a blustery Thursday morning, a more-than-solid score on a Riviera track that's playing rather firm and difficult. That alone, considering Mack's back story, is remarkable.
Golf Channel's Ryan Lavner chronicled Mack's golf journey in terrific detail, but we'll give you the SparkNotes: He had a terrific college career at Bethune-Cookman but was not given many opportunities at all afterward; he was homeless for two years; he got PGA Tour Latinoamerica status but couldn't afford to play it; his car blew up seconds after he grabbed his clubs and made a run for it.
Indeed, that he's even here is remarkable. But Mack is not even close to content with just being here.
"It was pretty good, I hit it the ball pretty good—left a couple out there, but it's a good start to the week," Mack said, sounding like a seasoned PGA Tour vet.
He's not a vet, of course, but not a total newcomer. Mack got into last month's Farmers Insurance Open at Torrey Pines after Kamaiu Johnson, a fellow regular on the Advocates Pro Golf Association tour, tested positive for COVID. Mack shot 74-75 and missed the cut by seven shots.
"I think it helped a lot," he said of the experience, "but other than that, I played good at Torrey. I was just in the rough probably 90 percent of the time. I think it helped out a lot.
Mack flew more or less under-the-radar that week at Torrey, but he's been front-and-center at Riv. He said in his pre-tournament press conference—which you don't get unless people want to talk to you—that he'd never shared his full story with anyone besides Lavner.
"I think maybe in the early stages of it happening, it was maybe a little embarrassing, but I'm glad I went through it and it made me a better man and a better golfer."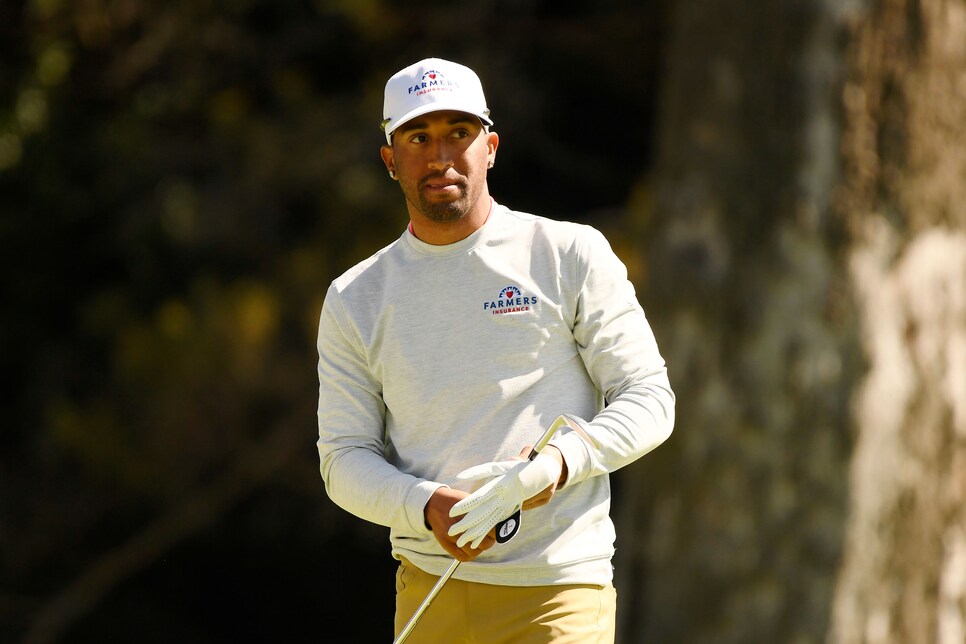 Mack said the experience of playing already in a PGA Tour event helped increase his comfort level at Riviera.
Harry How
Part of the pre-tournament attention included playing three holes with Collin Morikawa on Tuesday—and the reigning PGA Championship winner noticed Mack was the furthest thing from awestruck.
"I told him out here, we're all out here to win a tournament, and I could see that in his eyes that he feels comfortable in that situation," Morikawa said earlier this week. "I think he birdied 10 and 11 today with breeze. It was easy for him. Obviously it's a Tuesday, but you can see he's got game."
Game, and belief. Mack is in great position to make the most money he's ever made for one week on a golf course. His previous high is $37,000; solo 41st pays $38,595. And yet, his eyes are looking a little further up the board
"I'm out here trying to win like everybody else," Mack said. "I tee it up just like everybody else, so why not come out here and try to win?"