Farmers Insurance Open
If Will Zalatoris can quiet his putting issues, the rest of his game looks primed for a Torrey Pines win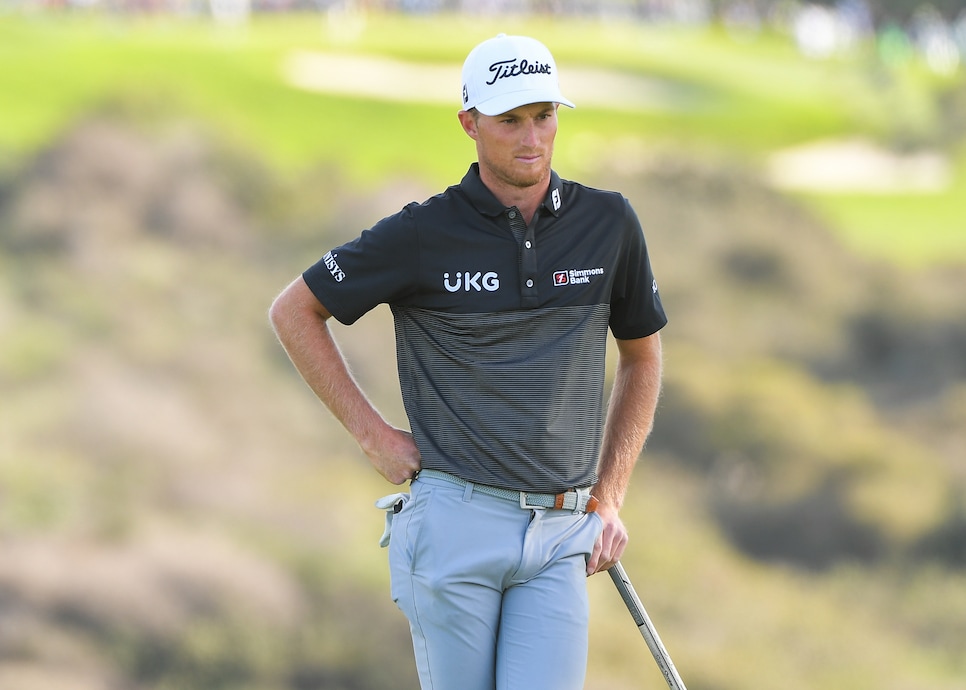 Will Zalatoris stands on the 16th green during the third round of the Farmers Insurance Open.
Ben Jared
SAN DIEG0 — Will Zalatoris should be in command of the Farmers Insurance Open. He should be trying to figure out how to get this tournament's full-sized surfboard trophy home to Dallas, or where he might possibly use it. It would sure look nice with the golden-haired native Californian cruising the coastline in a convertible.
Zalatoris should be running away with this thing because nobody through three rounds at Torrey Pines has fashioned drives or struck irons better. He ranks No. 1 for the week in strokes gained from tee to green and for approach the green. Those would seem to be the exact indicators of why the 25-year-old should be lapping the field.
Instead, even after a seven-under-par 65 on the South Course on Friday shot him to the top of the leader board heading into the final round, Zalatoris finds himself in the midst of some accomplished closers as he tries to secure his own first tour win in his 40th career start. He's tied at 14 under with two-time Farmers winner and 2015 PGA Championship titlist Jason Day, who birdied his last three holes to shoot 67. World No. 1 Jon Rahm, after a disappointing 72, lurks at 13 under on the track where he won the U.S. Open seven months ago. PGA champ Justin Thomas, another disappointment with a 73, is only two back, and that's three major winners to contend with, along with plenty of other tour vets in tow.
Zalatoris doesn't enter the final round with any cushion because the same club that's troubled him in the early stages of his career can still be a nuisance. On Friday, he missed a three-foot putt for birdie on the par-5 13th hole and couldn't roll in a four-foot birdie on the 17th. The efforts were cringe-worthy, both looking like labored strokes with his long-handled putter that left his ball on the hole's low side.
Unfortunately for Zalatoris, those gaffes are not unusual. He entered the Farmers at 141st in strokes gained/putting for this season after being 122nd in '21. He lost strokes to the field on the greens on Friday, and this is what made his round remarkable: According to @JustinRayGolf, Zalatoris is the first player since 2004, when the stats started to be tracked, that someone has shot 65 or better on Torrey South and lost ground on the greens.
"It's just tricky because there's a lot of Poa annua out here," Zalatoris said. "You've got putts that you've got to play outside the hole from distances you're not really used to playing them out there." He noted the glassy greens at the Masters, where he finished solo second in his '21 debut, and compared them to the lumps and bumps of West Coast greens. "Out here you can get a little wobble here or there," Zalatoris said. "I think really the two that I left out there today I just didn't commit to playing outside the hole. So, I think that's something that definitely tomorrow, just commit to it and hey, if it bounces in, it bounces in; if it bounces out, it bounces out."
Other than on the greens, Zalatoris' play has been nothing short of spectacular. With the help of back-to-back eagles in the second round on the North Course, he is seven under on the par 5s this week. He also made another eagle on Friday when he holed out his second shot from 39 yards (after a 339-yard drive), and that maybe wasn't his best shot of the day. At the par-3 11th, Zalatoris had to take a terribly awkward stance—one foot in the bunker, the other on the side of a bank—and he deftly pitched to an inch from the hole to save par.
"Two was pretty awesome, but the one on 11 was just kind of a joke," Zalatoris said. "That's a shot that you're having an up-and-down contest with your buddies, you're just trying to get it somewhere on the green and just got away with it. Two is probably a little bit more important, in my opinion, just because it got the momentum right for the day."
Off the tee, Zalatoris is benefitting from two big changes. He moved to a Titleist driver that's just a touch under 46 inches—up from his previous stick of 44½ inches—and claims to have added 12 yards off the tee.
"Now I'm having 120 in the rough as opposed to 170 in the rough because I'll be busting driver over the bunkers, as opposed to laying up with something short of it," said Zalatoris, who ranked 12th in driving distance heading into the Farmers at 312.6. " Obviously, we've seen what Bryson [DeChambeau] has done; you won't be seeing me at 220 anytime soon, but definitely the added distance has really paid dividends."
He's put 15 pounds on a 6-foot-2 frame that might be the slightest on tour. It's hard to actually see the extra weight that brought him to the heaviest in his life—172 pounds—but Zalatoris swears it's there.
"I've just changed basically what I've been eating," he said. "It's kind of reversed intermittent fasting. I've been eating starting at like 6 in the morning and then having a later dinner, so I'm able to fill in two full meals. … It's kind of nice, especially when we play as much as we do out here. I know dog days in the summer it's going to really pay off."
Zalatoris admitted being burned out and banged up by the end of last year, when he played 25 times. He also suffered an injury to a disk in his back while slashing out of rough at the Open Championship in July.
He contends he feels rested and mentally ready for the new year. And he began it with a T-6 at The American Express last week that included a second-round 61 during which he birdied seven straight holes. The maiden win has eluded him, but his unmistakable talent would make him ripe for a breakthrough soon. His psychologist, Dr. Mike Lardon, has reminded Zalatoris that he's "playing with house money" after earning his way onto the big tour with Special Temporary Exemption status following a torrid stretch of play in late 2020 that included a T-6 in the U.S. Open at Winged Foot.
"I love this golf course," he said. "This is the first start that I ever had on the PGA Tour as a professional, so obviously a lot of great vibes here. This is, I think, by far one of the best golf courses that suits my game. Just keep enjoying it and whatever happens, happens."