Veteran Moves Only
Will Zalatoris told an awesome story about his caddie playing a 'mind trick' that helped him get his first pro win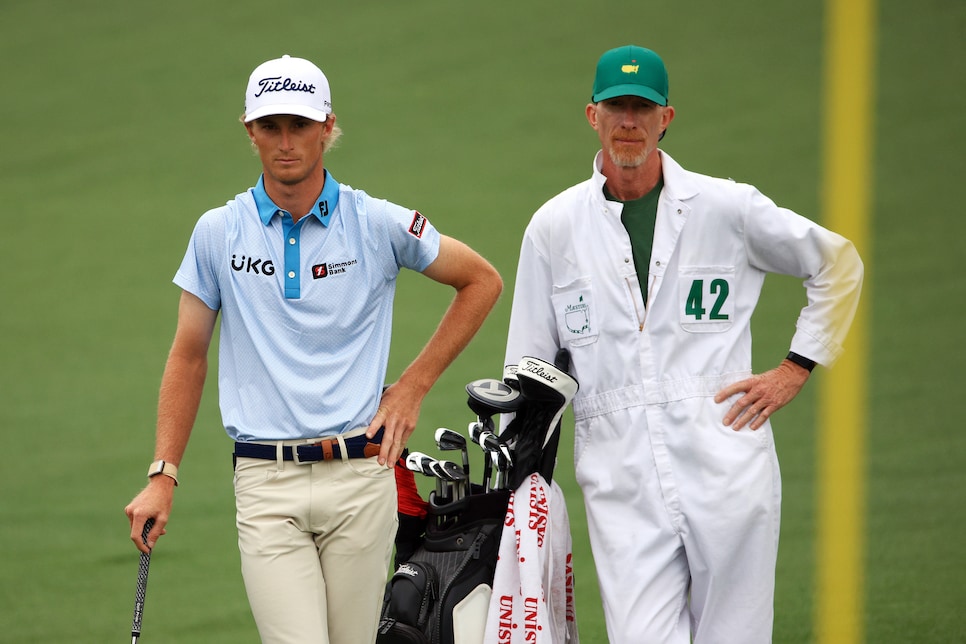 During the men's Olympic golf competition, a semi-heated Twitter debate broke out when Golf Twitter All Star Max Homa sent what he likely thought was an innocuous take.
"The winning caddies in the Olympics should get a medal," Homa wrote.
Believe it or not, the majority of responses agreed with Homa's sentiment, including some from active and retired tour pros and caddies. Ian Poulter said "1000 percent they should.... that's what frustrates me with this." The Englishman is referring to the fact that the caddies do not, in fact, get medals too.
Of course, there were plenty of naysayers, 2018 European Ryder Cup team captain Thomas Bjorn among them. "Golf is not a team sport," Bjorn wrote back. "We compete individually. Our coaches don't get medals."
Bjorn certainly has a point, one no doubt plenty of other players agree with, but only the Dane had the guts to publicly express. They are the ones who hit the shots. But we also often hear players use the word "we" when discussing their rounds, implying it was a team effort. There really is no wrong answer here.
Will Zalatoris, who was not at the Olympics, would fall firmly in the caddies-deserve-a-medal camp, at least judging by the story he told on Tuesday at the Wyndham Championship. When asked how crucial his longtime caddie Ryan Goble has been to his rise on the PGA Tour, Zalatoris jumped at the opportunity to discuss the time Goble played a "mind trick" on him that may have propelled him to his lone pro victory on the Korn Ferry Tour.
"When I won [the TPC Colorado Championship], well, on 15, it's a very gettable par 5. I hit it over the back of the green and I had about a 35-footer and I left it hanging on the lip," Zalatoris explained. "Ryan was -- he could tell I was frustrated. We get up on to 16 tee and it's like a 122-yard par-3 down the hill with a false front and I'm pacing off the yardage. I'm like, 'I've got 122.' He said, 'Pace it off again.' I'm looking at him like, 'You've got to be kidding me. I'm trying to win a golf tournament. You've got a different number.'"
Zalatoris walked it off again, getting the exact same 122 number. When he looked over to Goble, he knew he got got.
"I look at him and he's smiling and I knew immediately what he was doing was actually trying to get me to slow down and just take a moment. Don't press and make another mistake when you don't have to because the first thing if someone tells you to calm down, you're like 'Well, no, I'm not going to calm down, you calm down.'
"So it was a really kind of good little mind trick that he played on me, and I ended up hitting the shot to eight feet, making birdie and we ended up winning the tournament by one."
That's a veteran, medal-worthy move from Goble. Perhaps if his boss makes the Olympics in 2024, caddie medals might be a thing. Can't wait to see what mind trick he has prepared for that.