European Tour
Will Zalatoris wants to play more worldwide, but he's taking the conventional route to do it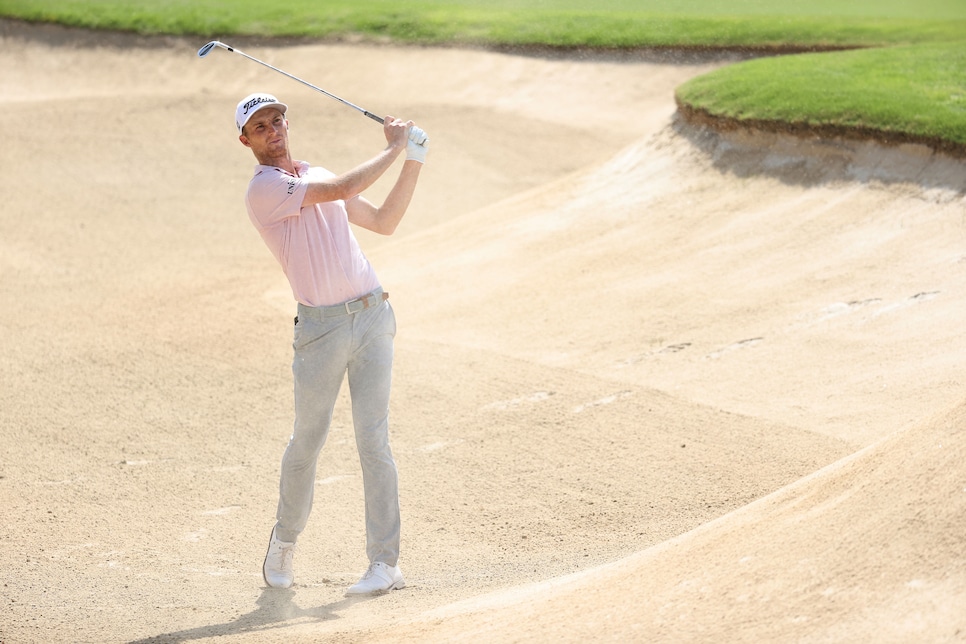 Will Zalatoris plays his second shot on the third hole during the opening round of the DP World Tour Championship.
Warren Little
DUBAI, U.A.E. — It doesn't look as if Will Zalatoris is going to win the DP World Tour Championship. Not this year anyway. Any lingering hopes of victory surely disappeared with a stumbling bogey, double-bogey finish to his second round. With 36 holes to play over the Earth Course at the Jumeriah Estates in Dubai, as many 36 players and 10 shots now separate the 25-year-old American from the halfway leaders, Shane Lowry, John Catlin and Sam Horsfield. Rory McIlroy, after a double-bogey 7 on the last, sits one back, alongside Alexander Bjork.
No matter, Zalatoris still has a lot to look forward to beyond the next two days of what is the last event being played under the European Tour moniker before the Old World circuit is re-branded as the DP World Tour. Currently an affiliate member of the European Tour, Zalatoris has until Sunday evening to decide if he wishes to take up full membership for the 2021-22 season that will begin in South Africa later this month.
Speaking after shooting Friday one-over 73, a score that leaves him in a disappointing tie for 38th place at one under par, Zalatoris confirmed two things. Yes, he was aware of the looming deadline. And yes, he will be a DP World Tour member going forward.
"I'm planning on playing some events over here next year and hopefully more than I have this year," he said. "My top priority is still going to be the PGA Tour, especially given my category this season. So much will depend on how I play in the States early next year. That will dictate how much I can think about playing what is going to be the DP World Tour. But if things go well, I can see me playing a bunch towards the end of next year. If the opportunity is there, I'll come over as much as I can.
As much as he can likely won't include Abu Dhabi and Dubai in January, however. "I'd love to play both, but I love the west coast swing on the PGA Tour," Zalatoris said. "I tend to play well there, and I was born there. So it's important to me to play courses I'm familiar with. And if I get a good run going there, I can think more about playing over here more often."
Given that necessary vagueness, Zalatoris clearly isn't able to be too specific about his future plans. But there are a few events on his wish list.
"The Scottish Open is an obvious start," he said. "I'd like to play the BMW PGA at Wentworth; everyone raves about that event. I've heard so much about the European Masters at Crans-sur-Sierre in Switzerland, especially the view from the seventh tee. Everyone raves about how beautiful it is. The Irish Open the week before the Scottish is definitely on my radar. It has so much history, and I have some Irish ancestry on my maternal grandmother's side. Her surname was Barrett. And I'd hope to be back here for this tournament."
So why the double tour membership? Zalatoris says the main attraction is simple: the competition. "I want to go where the best go. It's pretty cool what the PGA Tour and the DP World Tour are going to be doing over the next few years," Zalatoris said. "And I want to be a part of that. I'm 25 and don't have any home obligations, so that helps, too. There are just so many cool events on this tour, ones I've watched on television at home."
As for how well he is likely to do on a circuit where he is less than familiar with the courses, Zalatoris is equally hopeful that the game that has taken him to No. 32 in the world will travel well. Then there is the art of managing the inevitable jet lag that comes with international trips.
"Big golf courses tend to fit my game better," he said. "Although there hasn't been much evidence of that the least few days. I played in the Porsche European Open as an amateur. And I loved the Scottish Open this year. It was an absolute blast. The most fun though is just going to different places. Dubai this week has been amazing. My fiancée, Caitlin, has loved it here. And my parents are here, too."
Zalatoris has also immersed himself in at least a little bit of European Tour "culture." Caddie Billy Foster, who currently works for Matt Fitzpatrick, has already been regaling the young American with tales of past deeds by legendary figures.
"Billy told me the story of when he caddied for Seve at Crans," Zalatoris said. "I loved hearing him talk of where Seve hit his drive on the 18th hole and how he played that miraculous shot over the wall and the swimming pool. Then chipped in for birdie. I love that stuff. There's so much history to so many European Tour events."
And soon enough Zalatoris will have the chance to make some of his own. Welcome aboard.