DP World Tour Championship
Attitude adjustment helps explain Rory McIlroy's fast start at European Tour finale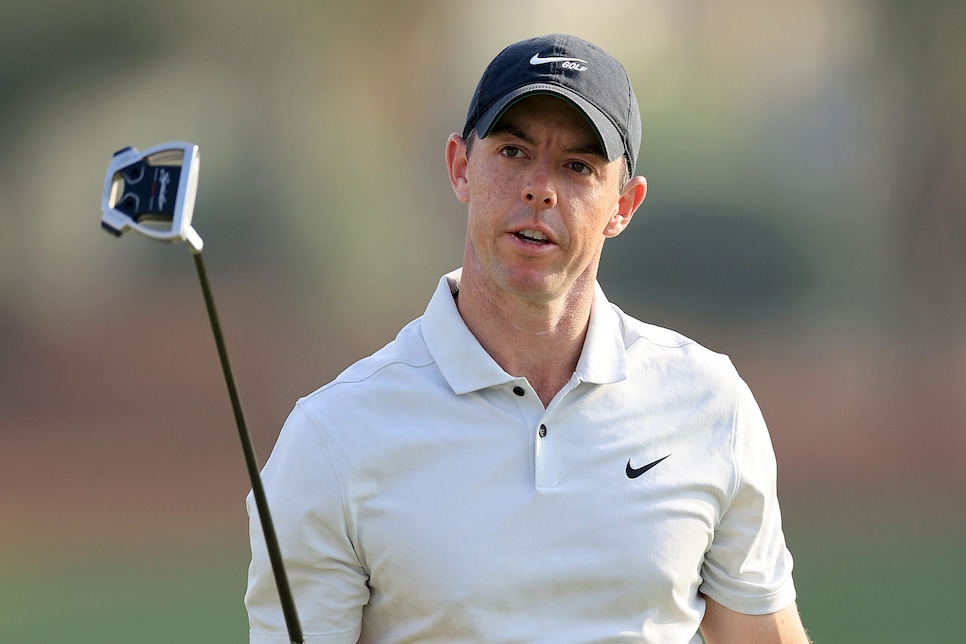 Rory McIlroy jumped to the Day 1 lead at the DP World Tour Championship with an opening-round 65.
David Cannon
DUBAI, U.A.E — It is perhaps one of Rory McIlroy's most endearing qualities. For all the many successes that have consistently punctuated his 12-year professional career, you never quite know what might happen next. Plenty of "ups" are almost guaranteed. But he will almost certainly throw in one or two "downs" along the way. Which is why no one else within golf's elite is more fun to watch. The air of danger and uncertainty that permeates the 32-year-old's always-aggressive style makes him compulsive viewing, no matter the state of his game on any given day.
So it pays to pay attention, especially recently. There's been a lot going on. In the less than two months that have passed since his uncharacteristically poor performance for Europe in the Ryder Cup matches at Whistling Straits, McIlroy has won on the PGA Tour (CJ Cup), returned to his (almost) life-long swing coach (Michael Bannon) and, now, sets the early pace at the DP World Tour Championship. A seven-under-par 65 over the Earth Course at the Jumeirah Estates has the Northern Irishman two shots clear of a cosmopolitan chasing pack. As many as 10 nationalities are to be found within three shots of the leader, including the man atop the Race to Dubai standings, Open champion Collin Morikawa.
McIlroy's presence at the sharp end of proceedings is no real surprise. The 7,675-yard Greg Norman-designed course is one that plays almost perfectly into the four-time major champion's strengths, especially his almost peerless driving. In the 41 rounds McIlroy has now played here since his first visit in 2009, he is a massive 138 under par. Only four times has he shot over the par of 72.
"I have a lot of experience around this place, a lot of great memories of great shots and great putts," McIlroy said. "It's comfortable for me. If you can carry the ball over 300 yards on this course, it gets a lot easier. When you get over some of those fairway bunkers the landing areas become that bit wider. That's a big advantage, one I've been able to use many times here. I've been in contention a bunch of times. I've always been up there. I've played this place as well as I've played basically any other course during my career."
He certainly started well, even if, at the finish, he was expressing a slightly tongue-in-cheek air of disappointment. Three under par after two holes and six under after eight, McIlroy was "only" one under the card the rest of the way.
"I'm not going to complain about shooting 65," he said with a smile. "But I did feel like I had a couple chances on the back nine that got away from me."
On the other hand, what was pleasing McIlroy was that he was back to "playing golf" again after a period of introspection and swing-tinkering.
"I'm a big boy now, even if my body is not the same" he said. "I've had injuries and I can't quite get it into positions that I used to get it into. I've been around the block a bit. Still, if I have problems or struggles, I should be able to sort them out myself. Instead of looking to others to fix my issues, I'm going to take more responsibility. That's what I did after the Ryder Cup. I put my head down and spent a lot of time alone on the range. I asked myself, What is it do I do well and what do I need to get back to?
"I've always been a very visual player," he continued. "I always see shots. I don't know how much the shot-tracer was out there today, but people probably saw me playing and shaping shots again. Maybe not quite as much as Bubba Watson, but that's how I've always played golf and seen the game. I just needed to get back to seeing it like that again."
One shot typified that approach. After making birdie on the opening hole, McIlroy was 261 yards from the flag after his drive on the 583-yard par-5 second. Into the wind, he had doubts—"it was touch and go"—over his ability to fly the bunker fronting the distant green.
"There was a lot of hurt from the wind," he said. "But I flushed it. I knew I needed to get as much out of it as I could and just flushed it. As I said, I'm playing golf again. I think that's the thing. I don't know what that really means, but I guess I'm playing the game the way I've played it before and the way that I know that I can play it. I'm playing golf and not golf swing. I got a little too much in my head because I felt that was the way forward. My swing certainly wasn't what it was five years ago. Now though, my philosophy of how I play the game is back to where I want it to be."