News
Why Tiger Woods says he waited as long as he did to come back to the PGA Tour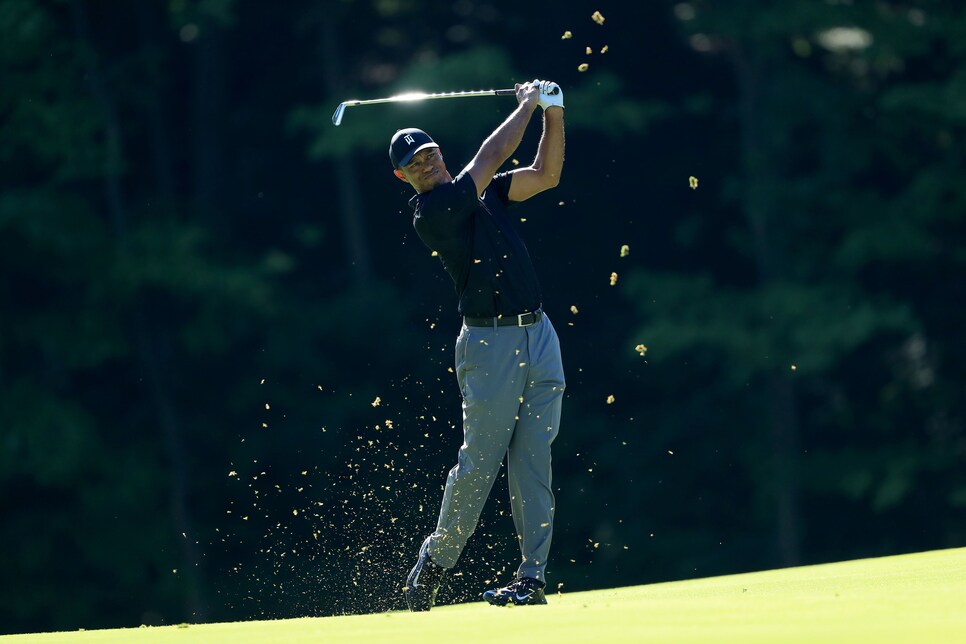 Tiger Woods plays a shot during a practice round on Tuesday prior to the 2020 Memorial, his first PGA Tour event since February.
Sam Greenwood
When golf fans last saw Tiger Woods on a course, they were breathing a collective sigh of relief. It was May, and Woods was dodging rain drops playing with Phil Mickelson, Peyton Manning and Tom Brady in a made-for-TV charity exhibition at his home club in South Florida. The Match II at Medalist was highly entertaining and raised $20 million for COVID-19 relief efforts. It also assuaged the fears of those who knew that Woods' creaky back was giving him trouble in March before the pandemic shut down the PGA Tour, and feared he might still not be in game shape.
That notion was thankfully dashed on an afternoon where Woods' swing looked so free and easy. And yet this week's Memorial is the first time we're seeing Woods on an official tee sheet since February's Genesis Invitational, seven-plus weeks removed from The Match.
It was only natural for media to ask him during his press conference Tuesday at Muirfield Village whether he'd given thought to returning earlier. And Woods provided a thoughtful answer.
"I did. I did consider playing, trying to figure out if I should play or not," Woods said. "But I just felt it was better to stay at home and be safe. I'm used to playing with lots of people around me or having lots of people have a direct line to me, and that puts not only myself in danger but my friends and family, and just been at home practicing and social distancing and being away from a lot of people."
Like everybody around the country trying to make sense of the new realities in a COVID-19 world, and figuring out what they are and aren't comfortable doing, Woods needed time to figure what was right for him. It's understandable, even commendable. Woods is a different golfer than every other player on the tour, and has different concerns he needed to address.
What was interesting is what he revealed in the rest of his answer to the question, the introspection Woods had to make and the reality he needed to come to grips with before committing to play.
"Coming back and playing the tour, in my case over the 20-some-odd years I've been out here … I'm used to having so many people around me or even touch me, going from green to tee. That's something that I looked at and said, well, I'm really not quite comfortable with that, that whole idea. Let's see how it plays out first and let's see how the tour has played out, how they've started, and I feel that I'm comfortable enough to come back out here and play again, and I'm excited to do it."
And so are fans at the prospect of seeing Tiger again.