News
Five months since his last PGA Tour start, Tiger's expectations haven't changed: It's (still) about winning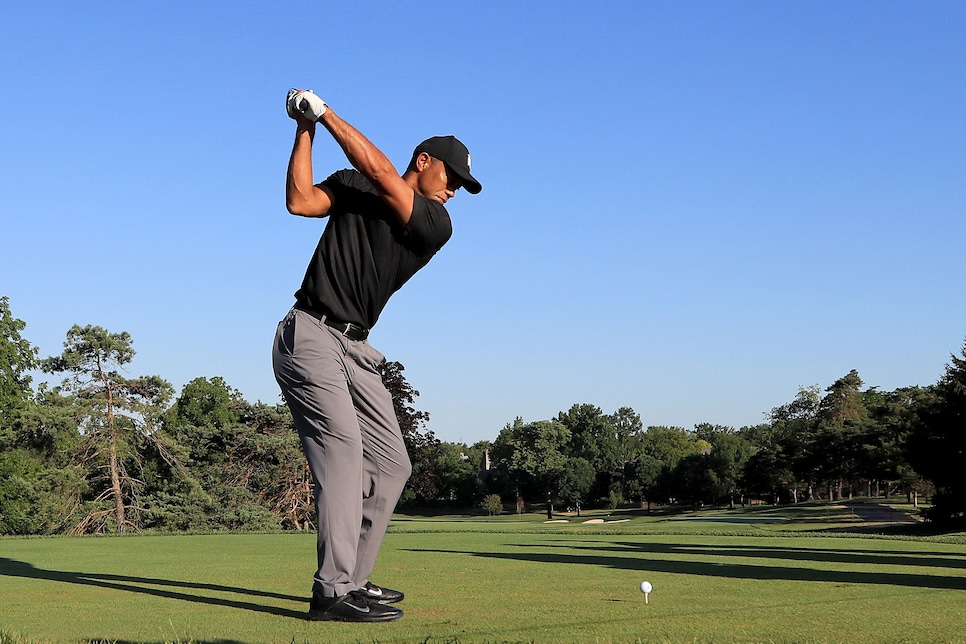 Tiger Woods hits a drive during his Tuesday practice round at Muirfield Village. This week's Memorial Tournament is the first PGA Tour event that Woods will be playing since February.
Sam Greenwood
DUBLIN, Ohio — The media had its first chance to talk to Tiger Woods in five months. The questions were … diverse. What have you been reading? Was postponing the Ryder Cup the right move? Should golf do away with rakes in bunkers? Thoughts on the Black Lives Matter movement?
There were even a few about, you know, the actual golf tournament this week: What are your expectations?
"I would like to say that I'm going to win the event," Woods said. "That's my intent. That's my intent coming here. That's my intent coming into every event … there's no reason I can't do it again this week."
Again would mean his sixth Memorial victory and his 83rd PGA Tour title, which would see him break a tie with Sam Snead and become the all-time winningest player in PGA Tour history. And he'd do it at Muirfield Village, the pride and joy of Jack Nicklaus, the man he is forever linked to in the never-ending GOAT debate. How's that for potential Sunday storyline?
Before we get ahead of ourselves, which is always the tendency among Woods' rabid fanbase, a few notes of caution. A victory would mean beating every single player in a field that is loaded, stacked, star-studded, whatever adjective you want to use. Nine of the top 10 players in the world are here: Justin Thomas, and Bryson DeChambeau, and Dustin Johnson, and Webb Simpson, and Collin Morikawa, and Patrick Cantlay and Tiger's playing partners for the first two rounds on Thursday and Friday, Rory McIlroy and Brooks Koepka.
That'd be quite the feat in his first event since the Genesis Invitational, where he moved gingerly, battled a two-way miss, shot 76-77 over the weekend and finished last among players who made the cut. That was five months ago, when COVID-19 would have looked like an error message you got on your cellphone. Woods then skipped a number of big events, including the Players Championship, to rest a sore back.
"I was very stiff in L.A.," Woods said. "I wasn't moving that well. Back was just quite loose. It was cold. I wasn't hitting the ball very far, wasn't playing well."
The good news: It most certainly will not be cold this week. This is Ohio, in July. Woods looked a different, much warmer man during a rather jovial nine-hole practice round with Thomas on Tuesday morning. His drives weren't far behind the man 17 years his junior.
"Physically, I feel so much better than I did [in February]," Woods said. "I've been able to train and concentrate on getting back up to speed and back up to tournament speed. How I was moving at The Match, and being to progress since then, being out here today and being able to play with JT, it was a lot of fun for both of us."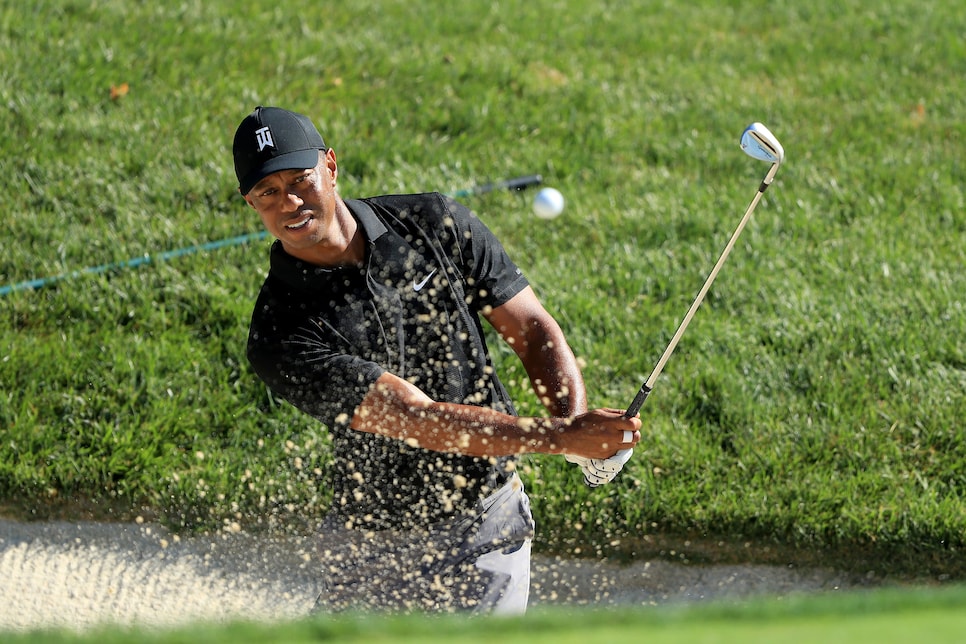 Tiger plays a bunker shot during a Tuesday practice round at Muirfield Village.
Sam Greenwood
It was at The Match in May that Woods' sparkling play drove speculation that he might return to the tour as soon as possible, the first tournament coming last month at the Charles Schwab Challenge. He looked healthy, his swing fluid. That's the last time the public has seen him play a round of golf, and that washed out the taste of Riviera, and suddenly there is belief again that Woods game is ready to win on the PGA Tour. Adding fuel to that fire are the events of nine months ago, when Woods won the Zozo Championship, his first event after a three-month layoff due to knee surgery.
These long breaks—they're nothing new.
"I really haven't played that much since [my back surgery in 2017]," Woods said. "I think, unfortunately, over the last few year I've been used to taking long breaks, long time off, and having to build my game to a level where it's tour-level, and then come out and play a few tournaments here and there. That's something that I have unfortunately been accustomed to."
There's also his history at Muirfield Village—in addition to the five victories, he has nine top-10s finishes, 13 top 25s and no missed cuts here in 17 career starts. It's not quite Firestone or Bay Hill, but Woods certainly knows his way around here.
"It feels great to be back," he said with a smile. There was no stress at all on Tuesday—saying what's up to the guys, getting a feel for the course, that sort of thing. The hard stuff starts Thursday.