Apparel
Why this indoor/outdoor hitting net is one of the best we've seen
The latest Spornia practice net will add versatility to any at-home practice setup
When it comes to finding ways to upgrade your golf game, equipment in all forms is essential. But you shouldn't focus solely on new clubs. The small things matter, too, Hundreds of touch-ups across all aspects of your game, beyond the importance of finding the best clubfitter, will also up your game, which is why we're introducing a new segment in this effect titled 'Upgrade Your Game.' You might not think that a back-yard golf net or a foam roller will lower your handicap, but don't underestimate the long-term effects of muscle recovery or the convenience of getting in a few swings in between rounds. To that effect, we're reviewing equipment in a recurring series to help your game. This time, we're writing about the Spornia SPG-7 Golf Practice Net, an indoor/outdoor net that we sampled during quarantine.

Related: Best New Golf Stuff: The coolest products that we're talking about right now
*All products featured on Golf Digest are independently selected by our editors. However, when you buy something through our retail links, we may earn an affiliate commission.*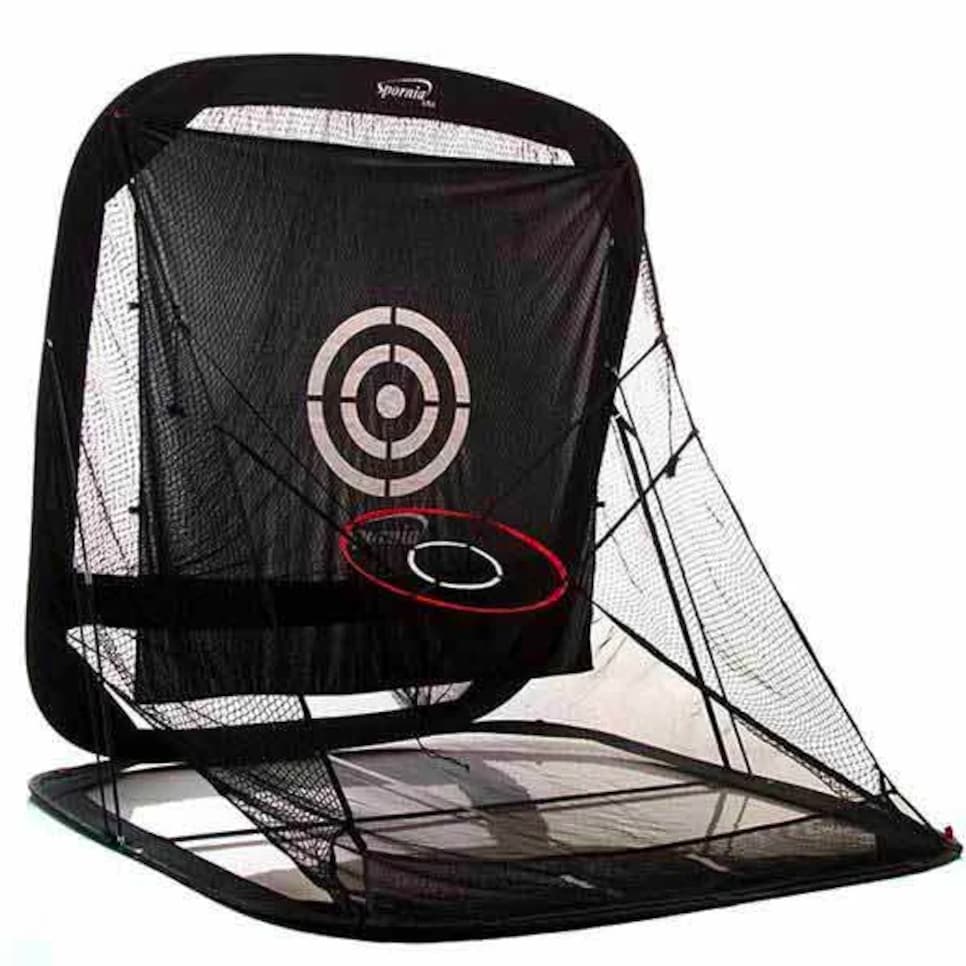 SPG-7 Golf Practice Net (without hitting mat) | Available at Spornia.com ($240)

The Spornia SPG-7 Golf Practice Net can be used for indoor or outdoor practice. The durable materials are built to accommodate real and practice golf balls, and it has a slightly declined base that catches shots for easy retrieval. With the included roof attachment, the net is nine feet high by seven feet wide. Be mindful that the average ceiling height is about nine feet, so you'll likely have to detach the roof for indoor use.

The netting is sturdy and will absorb the impact of each shot without giving too much. The thick grid weave more closely resembles the netting of a lacrosse goal than a loose mosquito or fishing net. It's taut enough in the frame to facilitate the ball retrieval at the base, but be sure to account for a few feet of give behind the net to avoid any wall damage from more powerful shots.

For precision practice, the net has two target options, one bullseye in the center of the net and an optional chipping net that's easily attached via Velcro straps. Depending on your skill level, you should be able to use most clubs in your bag with this net. If your accuracy is outside of a seven-foot window, consider either using foam practice balls or a wider net.
Before purchasing an outdoor or indoor golf net, identify the space in which you'll primarily be practicing. For outdoor use, make sure you have open and level lawn space that's ideally far from any windows, gardens or unfriendly neighbor's property lines. For indoor use, take measurements of the space and identify any potential breakable "hazards" that could be hit with an errant shot. In addition to clearing space for shot trajectory, don't forget to take into account the clearance needed to swing a golf club. That's at minimum of about six or seven feet above, behind and in front of you.

For an additional charge ($110), the company will pair the net with a Dura Pro Residential Golf Mat. The Dura Pro Mat is made with quality turf, has a tray to hold golf balls, and comes with both rubber tees and an adjustable wood tee holder. Look into using a new mat, as old, unforgiving ones can alter your club's loft and lie angles.
A major selling point for this net is that it folds to a compact size for easy storage and portability. In reviewing the net, the bulk of the setup was straightforward, but it took a few re-reads of the instruction manual to figure out the proper placement of each stake and strap. The same went with the teardown; it was easy to get to a flat 7-foot-by-7-foot size, but to fold it further took additional research and reference of helpful instructional videos on the site. Once you get a hang of the setup and teardown, it was simple.

Overall, the net is great for getting in some reps at home. It's extremely versatile for indoor and outdoor use, being able to accommodate both practice and foam balls, and coming with an optional chipping net to work on multiple parts of your game. As a note, due to increased popularity of at-home golf products during the pandemic, this net is only available for pre-order and will ship in early August.