News
Why the Ryder Cup must be postponed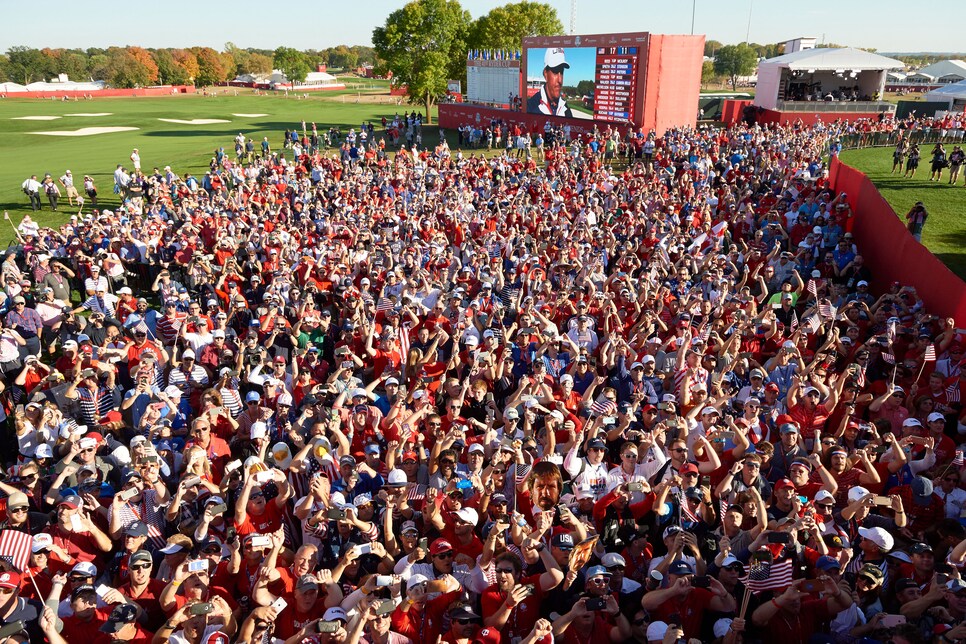 There is no way the Ryder Cup should be played this year.
I understand the PGA of America and the European Tour waiting until the last possible minute to postpone the event—which according to some reports could happen this week—but it is now apparent their hope that the COVID-19 virus would be in enough of a remission to make it safe to play at Whistling Straits in Wisconsin starting Sept. 25 is an empty one.
You can play any event in golf—including the four majors—without fans. You can't do it at the Ryder Cup. Oh, sure, you might miss the roars coming down the stretch at Augusta, but the Masters will be fine come November if the green jackets decide they can't allow their "patrons" on to the hallowed grounds. The same will be true for the PGA Championship at TPC Harding Park in August and the U.S. Open at Winged Foot in September.
If the last three weeks have proved nothing else, it's that quality golf can be played without having to endure "get in the hole!" shouts when someone is teeing off on a 550-yard par 5. The absence of fans has also helped immeasurably with pace of play.
Don't get me wrong: I want to see fans back on golf courses as soon as it's safe, and I'll be fascinated to see what will happen if the Memorial goes ahead with its plan to let 8,000 fans onto Muirfield Village next month. But the presence of fans—even when they go over the top at times with boorish behavior—is as much a part of the Ryder Cup as the 17-inch-high gold trophy.
Consider two stories from two decorated Ryder Cuppers.
Davis Love III first played for the American team in 1993 at The Belfry. The night before the matches began, captain Tom Watson told the four rookies on the team—Love, Lee Janzen, Jim Gallagher Jr. and John Cook—"This is the only event in golf where your legs will shake on the first tee."
Love thought that was ludicrous; he'd played in all four majors. Heck, Janzen had just won the U.S. Open. And their legs were going to shake on the first tee? "I just figured Tom was exaggerating to make a point," Love said.
The next morning was so foggy that the start of play was delayed by two hours. Finally, Love and Tom Kite were called to the first tee for their match with Seve Ballesteros and Jose Maria Olazabal. The players walked through a cordon of fans pressing against the ropes, just about all shouting encouragement to the Spaniards. "I saw the looks on their faces," Love says, "and I knew what Tom was talking about. This meant so much to them. There was no meanness in them at all, just an incredible desire to do anything they could to help their team win."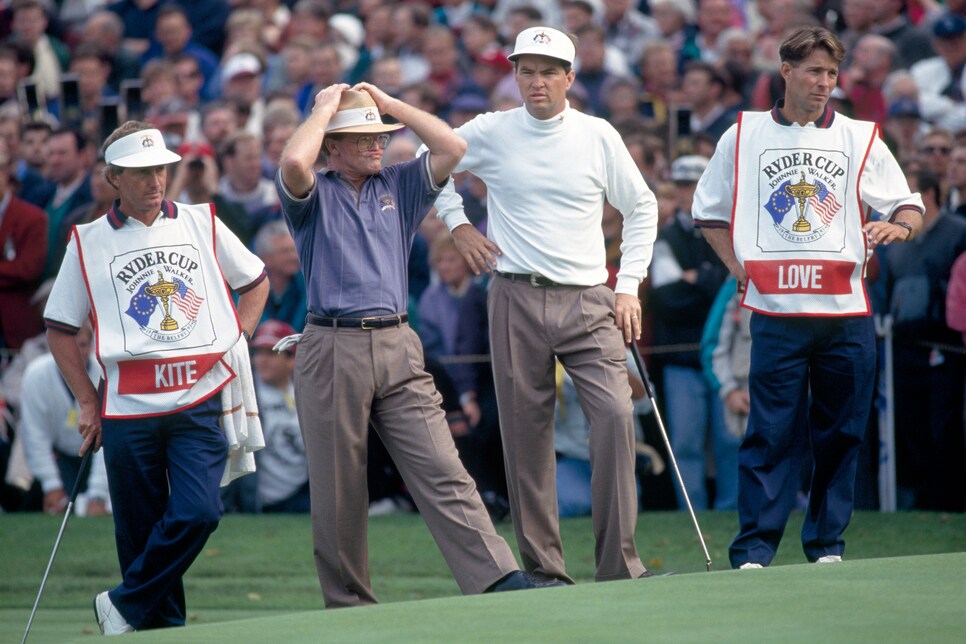 Tom Kite (center left) and Davis Love III (centre right) with their caddies during the 1993 Ryder Cup.
Phil Sheldon/Popperfoto
It was foursomes (alternate shot), and Love and Kite had decided Love would have the tee on the odd holes because the two par 5s on the back nine were 15 and 17. Realizing that the first hole was also an odd number, Love turned to Kite and said, "You know what, Tom, maybe you should take the odd holes."
Kite, who was playing his seventh Ryder Cup, understood. "You'll be OK, Davis," he said. "Just take a deep breath."
Love, hands and legs shaking, managed to get his ball in the fairway on the first hole. Months later, Love and Watson were paired at the Players Championship. On the first hole of their round on Thursday, Love striped his drive. "Just like at The Belfry," Watson said with a smile.
"One difference," Love said. "My legs weren't shaking."
Rory McIlroy didn't need to wait until Friday at his first Ryder Cup to understand why it was unique. When it became apparent in 2009 that McIlroy was going to make Colin Montgomerie's team for the matches in Wales in 2010, McIlroy was asked about it.
"I remember thinking, Yeah, this is a good thing, but it's not that big a deal," McIlroy said several years later. "To be honest, I was probably being selfish."
McIlroy told the media back then that his first goal in golf was to win major championships, and the Ryder Cup was a nice exhibition, but not much more.
"Then I got there," he said. "First practice day, I looked around at all the people. It didn't feel at all the same as any other tournament. That's when I knew I'd been wrong. Dead wrong. This wasa big deal."
McIlroy is now the clear leader of Europe's team and will be playing in his sixth Ryder Cup. In 2016, during the Americans' win at Hazeltine (McIlroy's only team loss), Rory had to deal with some remarkably boorish and presumably very drunk fans. At one point on Saturday afternoon, as he walked through the ropes from green to tee, he was confronted by a man standing up against the ropes. The guy had a beer in each hand and was shouting lewd comments almost into McIlroy's face.
"That was the only time I've ever asked to have a fan taken out," he said later. "It was either that or I was going over the ropes after him. I was a little wound up."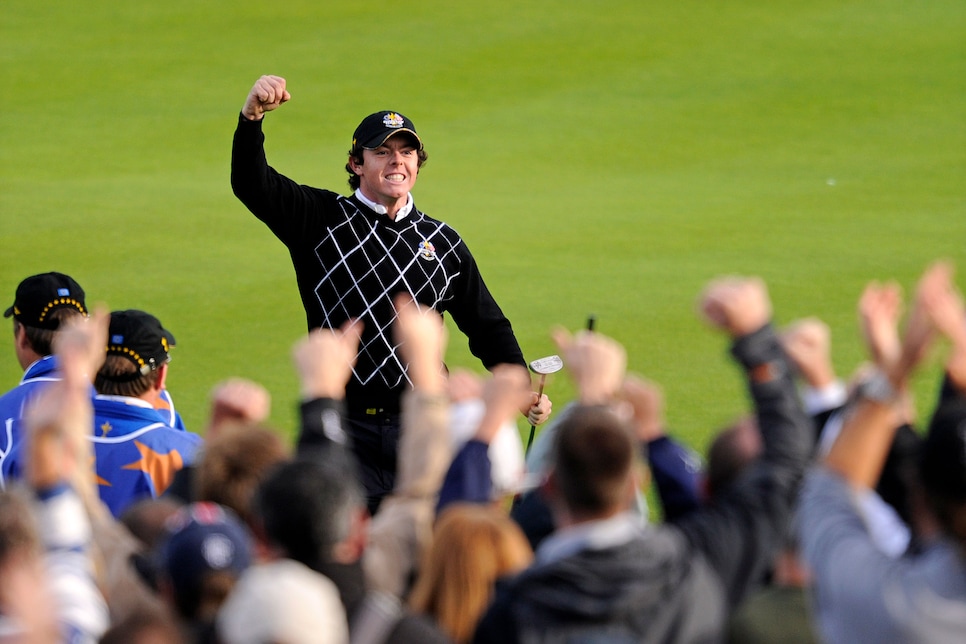 Rory McIlroy came to realize the Ryder Cup is more than just an exhibition when he played for the first time in 2010.
GLYN KIRK
There's no excuse for fan behavior like that, but, unfortunately, history shows that the worst behavior comes in America when Europe holds the Cup: Kiawah in 1991, The Country Club in 1999, Hazeltine in 2016. Whistling Straits, regardless of when the matches are played, is potentially dangerous that way, and the PGA of America should take steps to limit alcohol consumption.
Even knowing that bad fan behavior is a very real possibility, McIlroy was one of the first players to say the Ryder Cup should be delayed a year if a full house isn't possible. In 2016, there were 55,000 people on the grounds on Sunday. Almost 50,000 showed up Friday and Saturday. Even if there was some way to safely allow 10,000 fans into Whistling Straits, it wouldn't be close to the same.
There are also serious logistical issues to consider: Will players coming from Europe have to come early and quarantine? Will everyone entering the golf course have to (at least) be subjected to a temperature check? What if one of the players or caddies tests positive during the week? Or more than one player?
Anyone who somehow thinks the COVID-19 outbreak will be behind us come September has listened to too many White House Fantasy Island press conferences. We are a long way from the end of this tragic tunnel. In fact, there's no guarantee that a full-throated Ryder Cup can be played in September 2021—but the odds are much better.
The question right now is this: Who benefits from trying to play this year? NBC, perhaps, because it doesn't lose three days of programming. But even that's questionable because a silent Ryder Cup hardly makes for the kind of television we've all gotten used to since Europe became part of the matches 41 years ago. The PGA of America? Well, it would get its TV money, but the loss of ticket, licensing and concession income would be massive. Plus, the Americans' chances of winning would go down if Whistling Straits became, essentially, a neutral site.
In truth, playing this year is a lose-lose for everyone. Even the Europeans would rather face a hostile crowd rather than no crowd at all. Plus, even being in the minority on the road, the European fans serenading everyone with their singing is part of the Ryder Cup.
After the tragedy of Sept. 11, the 2001 Ryder Cup was delayed a year. Because the matches were scheduled so close to that awful day, there was a clear understanding that this was the only thing to do. COVID-19 hasn't been as dramatic as the sight of the airplanes crashing into the twin towers, but it has and continues to be a killer with more than 125,000 people dead in the United States and the numbers still climbing.
There's no need to put anyone at risk or to play what will be—at best—only a whisper of a Ryder Cup. Moving the Cup back a year—and the 2021 Presidents Cup to 2022—isn't really a matter of choice anymore.