No fans? Wait until 2021? Uncertainty still surrounds Ryder Cup at Whistling Straits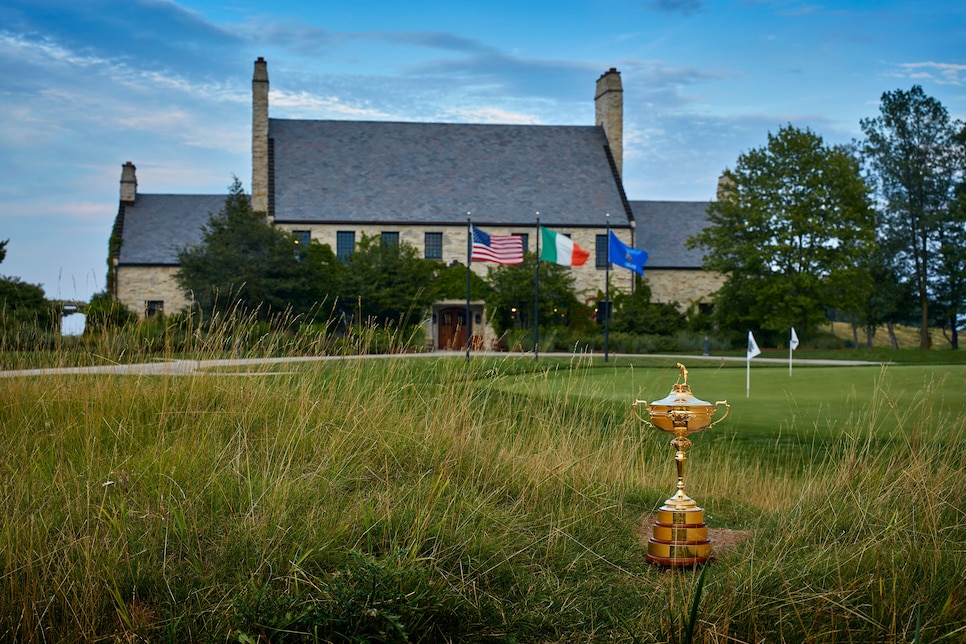 It goes without saying that a recent Wisconsin Supreme Court decision was of high interest to the PGA of America and the European PGA Tour. But how that development affects the upcoming Ryder Cup at Whistling Straits in Haven, Wis., is as muddied as the ruling.
On Wednesday, the state's highest court, in a 4-3 decision, nullified Governor Tony Evers' stay-at-home order in response to the COVID-19 pandemic, but the outcome of that case was controversial because lawmakers had yet to formulate legislative plans for safely reopening the state's economy. Wisconsin was one of 43 states to issue shelter-in-place orders for its citizens.
PGA of America CEO Seth Waugh wasn't about to weigh in on the politics of the case. He's simply waiting for clarity on his organization's ability to stage one of golf's biggest events in the manner desired by all interested parties—which ultimately means welcoming fans. The 43rd Ryder Cup is scheduled for Sept. 25-27, one of the few events on the reorganized golf calendar still occupying its original dates.
You are using an unsupported version of Internet Explorer. Please upgrade to Internet Explorer 11 or use a different web browser.
"We have a call coming up with the governor and state officials to get their temperature on having the Ryder Cup and what that would entail," Waugh said Thursday as part of a wide-ranging conversation with Golf Digest that also covered his organization's options for the PGA Championship.
"It goes without saying, really, that we're hopeful that we can do it with fans, but that remains to be seen," Waugh continued. "If we can't have fans, I think we have to kind of go back to the drawing board and talk about it at length. The Ryder Cup is unique. I mean, every event needs fans and every major needs fans. But certainly our event or the Masters would not be the same. The Ryder Cup is all about the fans. The first tee on the first day is a more important moment, to a large degree, than the last putt on the last day. And that's because of the fans and the tribalism and nationalism and all those things. Given the sports environment this year, it would be a real exclamation point, especially with the Olympics being postponed."
A decision on the Ryder Cup won't be made for a month or more, perhaps in conjunction with the PGA of America's plans for the 102nd PGA Championship that was to have been held this week at TPC Harding Park in San Francisco before being pushed back to early August. There is consideration for holding the event without fans—which is not popular option among potential players or captains Steve Stricker, a Wisconsin native, and Padraig Harrington. Or it could be postponed.
"If it looks like we can't have fans, we'll sit down as a group and decide what's kind of the best interest of the game," Waugh said. "You know, it creates a lot of moving parts if we have to postpone it a year. You've got the Presidents Cup next year and then other years get affected and the Olympics now are next year. You have to move other tournaments around. So it's a Rubik's cube. It's not an easy decision, but it'll be a team decision. The captains have both been pretty vocal. A lot of the players have been vocal, like Brooks [Koepka] was this week. They see the importance of having fans."
Of course, postponing or canceling the Ryder Cup is not unprecedented. There was a 10-year gap between matches, from 1937 to 1947, because of World War II, and the 2001 edition was rescheduled for the following year in the wake of the Sept. 11 terrorist attack on the United States.
Next year's Presidents Cup, at Quail Hollow Club in Charlotte, is set for Sept. 30-Oct 3. The 2022 Ryder Cup is to be played in Italy, one of the countries hardest hit by the coronavirus pandemic.
"Maybe the court ruling helped," Waugh said. "But there is a lot of golf before us, potentially, including the PGA Championship. The world is so ready for something big, and the Ryder Cup, let's face it, it speaks for itself as far as generating interest and excitement. It would be super cool for the sporting world … the world in general, perhaps. But it has to be done responsibly. And when we sit around the table and weigh all of our options, that has to be at the forefront."