News
Spectators unlikely at PGA Championship, but hope remains that major can be staged in San Francisco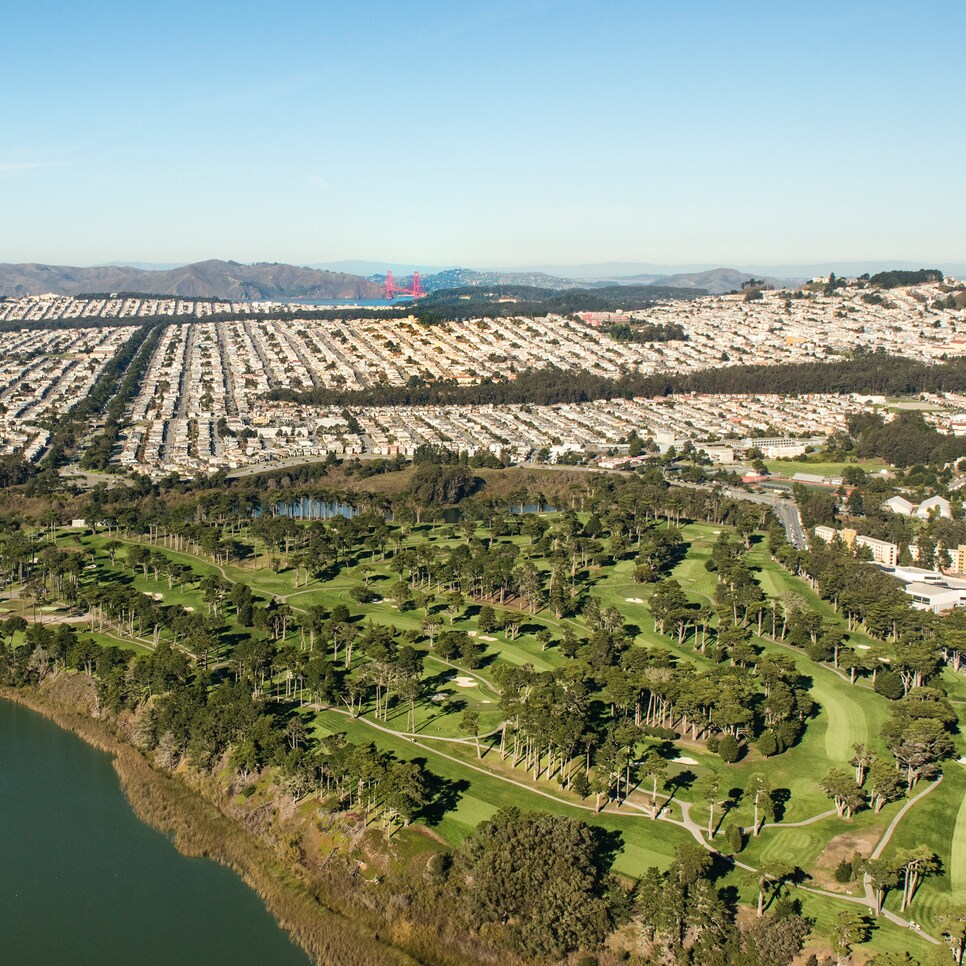 An aerial view of San Francisco's Harding Park.
Dom Furore
Seth Waugh's first thought when reached by telephone in Florida Thursday morning was, reflexively, the hour of the day three time zones away. "Yeah, it's around 8 o'clock out there, so we'd be on about our fifth tee time right about now. Kind of a shame to think about, but, obviously, nothing compared to the pain going on in the world," the CEO of the PGA of America said.
"Out there" is San Francisco, where the 102nd PGA Championship was scheduled to begin Thursday at TPC Harding Park. Instead, the premier event of the PGA of America has been postponed to early August as part of a reconfigured 2020 professional golf calendar in response to the coronavirus pandemic.
August isn't strange to the PGA Championship, having been contested in the eighth month of the calendar every year since 1972. At the behest of the PGA Tour, which wanted to realign its split-calendar season, the PGA agreed to push its major championship into May last year. Now it's back to an Aug. 6 start date, and it's set to be the first of three majors tentatively re-scheduled for this year. (The Open Championship at Royal St. George's has been canceled.)
The PGA led off the majors season once before, in February 1971, at PGA National in Palm Beach Gardens, Fla., when a local boy named Jack Nicklaus won the second of his five PGA titles.
"We are excited to be the first major out, if things work out, but there is a lot of uncertainty," Waugh said haltingly. "Obviously, a lot more important things going on. We can't make any assumptions, really, so we are going about this looking at several different scenarios, and it probably won't be until early summer until things become more clear."
Amplifying the comments from earlier this week by Kerry Haigh, the chief championships officer for the PGA of America, who spoke to GolfChannel.com, Waugh said the PGA is considering four scenarios for the championship, with Plan B being a tournament without fans in attendance. Plan A, which was to proceed as normal with fans and corporate hospitality sales, already has been tossed out.
"The governor of California, Gavin Newsom, has been pretty vocal about his opinion on things," Waugh said. "He's basically saying no fans at any sporting event until phase four, which for them is where the vaccine is available, and the chances of that are, well, who knows. So we're assuming no fans, but we're still planning for both scenarios.
"They [Harding Park] want to have it, and so do we, but we only want to do something that's in their best interest to be a good partner. And if for some reason something changes or they aren't comfortable committing to doing it even without fans, then we'll look to go somewhere else."
Going somewhere else is Plan C, and it sounds as if moving the PGA Championship to another venue at least has been discussed in more detail in the halls of PGA headquarters in recent days. Waugh said that several courses have reached out to the PGA with the offer of hosting the championship. "The game of golf is an amazing community," he said.
Ultimately, he said, the PGA, should it have to be moved, would likely migrate to a venue familiar to its broadcast partner, CBS Sports. "Because you can't just plop them down without the camera sites and tower placements and all of those kind of pre-tournament decisions already familiar to them," Waugh said. "It has to be a kind of a pre-existing venue that CBS effectively has done in the past. And, obviously, we do own one golf course, so there's a list of possibilities."
The course that the PGA of America owns is Valhalla Golf Club, near Louisville, Ky. Valhalla, designed by Nicklaus, has hosted three PGA Championships, in 1996, 2000 and 2014, as well as the 2008 Ryder Cup.
As for major-caliber layouts on the CBS schedule, once you eliminate California contenders Riviera Country Club and Torrey Pines, the leaders would be Muirfield Village Golf Club, in Dublin, Ohio, and Quail Hollow Club in Charlotte. It's doubtful Muirfield Village, which has held a Ryder Cup and Presidents Cup, would get the nod when its annual Memorial Tournament, hosted by Nicklaus, is rescheduled for July 16-19. Quail Hollow was the site of the 2017 PGA, won by Justin Thomas, and was just announced Thursday that it was being awarded the 2025 PGA Championship. The course wouldn't require much extra effort to get into shape, because the Wells Fargo Championship that Quail Hollow was slated to host through May 3 was among the nine tournaments the PGA Tour was forced to cancel during the pandemic.
The preference, though, is to keep the PGA at Harding Park. It's where Waugh and his organization wanted to be on Thursday. But August works—like it has for many years before.
"You think of the air times [on television] and the event becomes even that much more important, right?" Waugh asks wistfully. "People are hungry for content, and for viewers to be able to sit back on the East Coast and watch it in prime time, you know, it would be great for the PGA Championship and great for the sporting world, if you will. So we remain excited about it, and we remain hopeful. We are truly hopeful."