News
Why the Memorial was praised for a setup that would have been ridiculed at the U.S. Open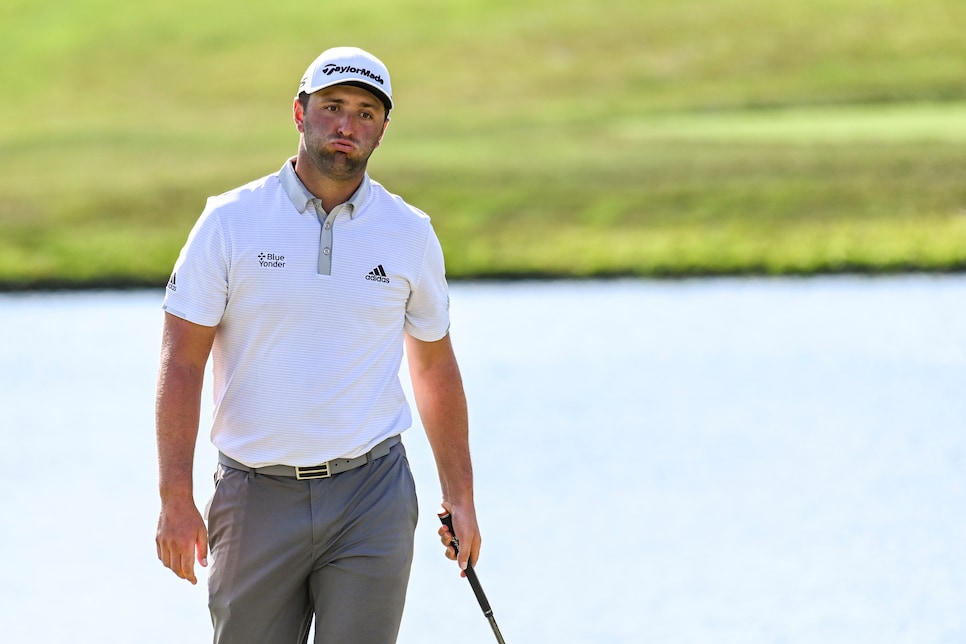 Jon Rahm exhales after a birdie putt on the 16th hole during the third round of the 2020 Memorial.
Keyur Khamar
It was supposed to be Open Championship week. Maybe that's why Jack Nicklaus delivered a Memorial masquerading as a major, a brutal tournament setup that received unanimous praise from the field and observers.
Which has to marvel, and perhaps vex, the good folks in Liberty Corner, N.J.
Those who think its hyperbolic to compare a PGA Tour event to the U.S. Open are forgiven, but they also didn't watch the proceedings at Muirfield Village over the weekend. What appeared to be fairways were replaced with runways, and the greens resembled trampolines. The rough was so lush and high that Danny Willett wandered in and a search party was convened. On Sunday the par-3 16th, already harder to hold than a dog covered in shampoo, rejected so many approaches that Phil Mickelson chose to lay up. On a par 3.
Throw in 20-plus mph winds and it's no surprise just one player broke 70 on Sunday compared to nine who shot 80 or worse. It was the highest scoring average (75.959) for any round on tour outside of a major in four years, and the highest round at the Memorial in four decades. Yet Sunday wasn't an aberration: Only two players broke 70 on Saturday, and Thursday's 73.923 from the field was the highest Round 1 average on tour this season.
Here's the damndest thing: To a man, the players spoke to the challenge without questioning whether it was "too" challenging. Tiger Woods, who has won the tournament five times, called it "one of the more difficult conditions I've played in a long time." Winner Jon Rahm said it was "surreal" to survive the test, while Collin Morikawa—who triumphed at Muirfield Village last week to the tune of 19 under par—said it was a completely different course after finishing with 27 more strokes this week. None of them, however, said anything that intimated the setup was unfair or had gone too far.
Even Mickelson, arguably the best wedge player in the past 30 yards who felt it was easier to hold a green from 78 yards away with a putter, was complimentary.
"Yeah, it's hard. It's a firm, fast, difficult test. I enjoy the mixture," Mickelson said after a 78. "I enjoyed playing the golf course last week where it was soft and you could get it, and then I enjoyed it today where I couldn't hit—I missed three or four greens with sand wedges. I enjoy the challenge both ways."
But would it have been a challenge, or a provocation, if someone else was running the show? You don't have to squint too hard, what with the thick rough and ricocheted approach shots—and we mentioned the par-3 lay up, yes?—to see what was celebrated at the Memorial would have been panned at the U.S. Open. Instead, the question is why the difference in tones.
You don't have to look much farther than the man in charge to find the main reason. Jack Nicklaus has engendered 60 years of goodwill to his name, including more than 40 overseeing one of the most successful stops on the tour schedule. His event also usually caters to low scoring: Rahm's nine-under total was just the second time since 2009 that the winner didn't finish at 12 under or lower. Moreover, the tour is technically in charge of setup, and the players rarely have qualms with how they do it.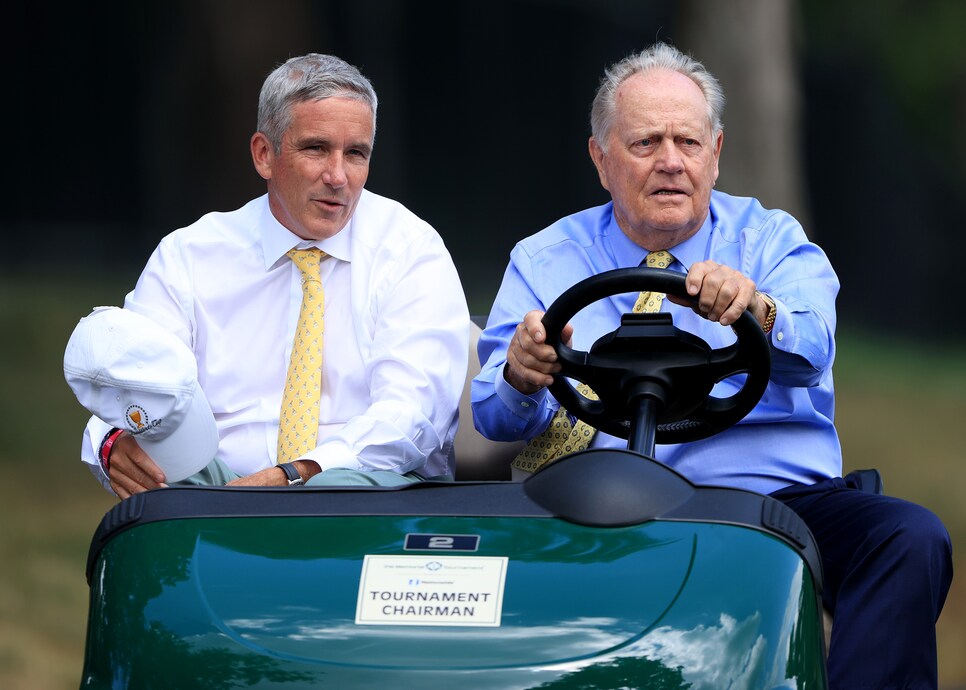 PGA Tour commissioner Jay Monahan and Jack Nicklaus ride in a cart during the first round of the 2020 Memorial.
Sam Greenwood
The USGA, as officials with the governing body have admitted, has had some notable misfires over the last six years at its flagship tournament. Last year's U.S. Open at Pebble Beach was controversy-free, stopping the bleeding from the Shinnecock Hills blunder of 2018. But scars take time to heal.
Then there's the dynamics of what constitutes a U.S. Open setup and the walking-on-eggshells vibe that accompanies it. It is the USGA's annual dilemma, making a course punishing yet not sadistically so while being cognizant of past woes. What made Saturday's round at Shinnecock in 2018 such a public relations hit wasn't that it happened, but that it happened after the USGA insisted it wouldn't happen again. It, frankly, creates a fog that's not entirely lifted until the tournament is over.
Meanwhile, Jack was as transparent as lemon Jell-O.
A frequent advocate of curbing distance, Nicklaus ripped golf's governing bodies on Thursday for their lack of policing on increasing driving gains. "The USGA and the R&A have got to wake up sooner or later," Nicklaus said during Golf Channel's first-round telecast. "They can't just keep burying their heads on this. They see it, they watch television, they see where these guys hit the golf ball. It isn't about how far they hit it. You just can't keep making golf courses longer. You just don't have enough land, you don't have enough money to do it."
It's a fear that has prompted Nicklaus to do a two-year overhaul of his beloved Muirfield Village. And just in case you forgot, he made sure to let you know by having construction crews tearing up the course as the tournament and its telecast was ongoing. This tournament and its difficulty was his statement: If golf won't take care of this problem, I'll do it myself.
Which leads to the biggest rationale of why the Memorial received the latitude it did, a climate created in part by the USGA.
The distance debate is far from new, but its frequency and inflection have seen a noticeable shift this year. Some of that is attributed to the USGA and R&A's joint Distance Insights Project. Released in February, the two-year study of how far the golf ball is flying was resoundingly clear on one specific conclusion: Distance must be stopped. Aiding in that sentiment has been the very public work of Bryson DeChambeau. One can be simultaneously amazed at his pursuit of eye-popping distance while wondering where the game is headed when 400-yard drives become weekly occurrences.
Throw in the parade of low scores since the tour's return from its pandemic sabbatical, and the kindling was right for the Memorial to fight back.
Does this mean the USGA will receive the same amount of freedom come September? Likely, no. The USGA's new U.S. Open setup chief, John Bodenhamer, won over many in the locker room with how Pebble Beach was configured in 2019. But it's worth noting USGA icon Sandy Tatum's infamous line—"We're not trying to humiliate the best players in the world; we're simply trying to identify who they are"—was made at Winged Foot, site of this year's championship. The USGA insists Tatum's line is its aspiration, while critics believe it epitomizes a sense of self-importance. Both sides have been right, depending on the year.
If this weekend was any indication, should the USGA want a teflon coating at Winged Foot from criticism, perhaps its best move is installing Nicklaus on the greens committee.