News
Tiger says there's work to do with his putter after closing 76, but is happy to finish his first tournament in five months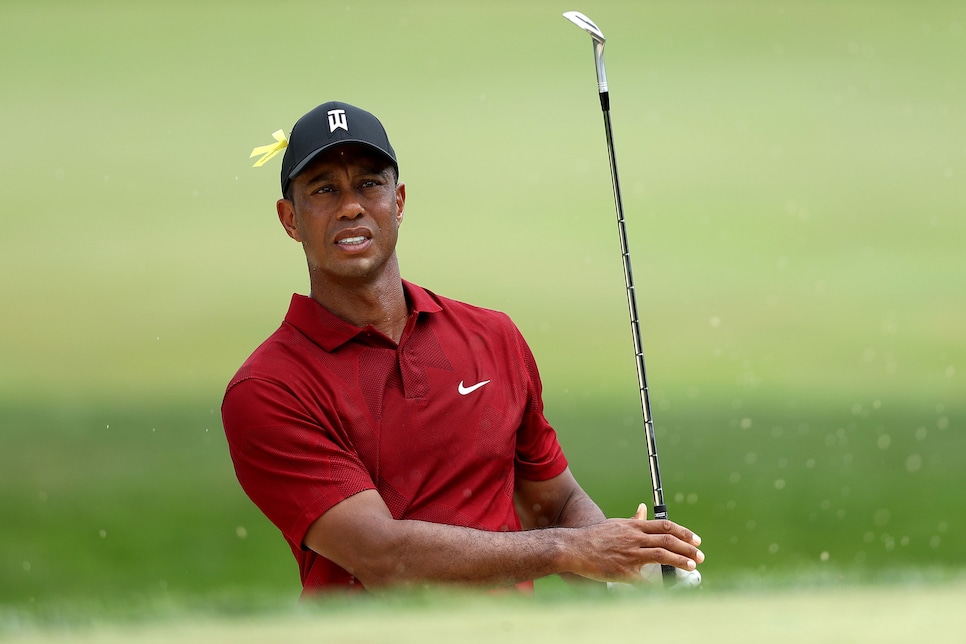 Tiger Woods closed with a 76 on Sunday at the Memorial, as he wrapped up his first PGA Tour start in more than five months.
Jamie Squire
DUBLIN, Ohio — This was Tiger Woods' 71st competitive round at Muirfield Village. He has won here five times and seen it in virtually every weather condition. He knows the place inside and out.
Yet while you could have called the golf course he played on Sunday "Muirfield Village," and the holes were more or less the same, it was in fact a completely different beast.
"These were some of the more difficult conditions I've played in a long time," Woods said.
Woods struggled in the final round of the Memorial—as did everyone—making five bogeys and a double en route to a four-over 76. At six-over 294 for the tournament, he was just outside the top 40 when he signed his card, eventually finishing T-40, 15 strokes behind winner Jon Rahm. His Sunday score, however, was right around the field average on what can only be described as a brutally difficult day with temperatures in the 90s, steady wins and a firm golf course.
The week started well enough, with Woods shooting a one-under 71 on Thursday in his first competitive round on the PGA Tour in more than five months. But he struggled with his game and his body on Friday—Woods said there was nothing structurally wrong, nothing concerning, just that those kind of days are unavoidable at 44-years-old with his injury history—and needed two late birdies to make the cut on the number after shooting a 76.
A one-under 71 early Saturday morning saw him creep up the leader board as the afternoon wore on. And he began Sunday's final 18 by making a 35-footer for birdie, followed by two pars before failing to get up-and-down from a hairy lie just right of the par-3 fourth green.
Woods was once again making his way up the board after two more pars, which had him at even par for the day. This was one of those U.S. Open-like days where pars are gold, a day when you're just trying to avoid the big mistake. Woods fell into one of those, however, on the par-5 seventh after having just a wedge into the green. It played into a stiff wind, and he tried to flight one close to the hole, but it ballooned and caught the front bunker. An out from there left a slippery 12-footer for par, which he ran four feet by before missing the comebacker.
Those missed shorties, that was a bit of a theme all week.
"I didn't putt well," Woods said. He lost just more than 1.3 shots to the field for the week on these lightning-quick surfaces, which will be torn up for renovations beginning Monday. "I didn't feel comfortable playing break. I've been in Florida playing Bermuda and seeing minimal break, come out here and playing 10, 12 feet of break was a bit different and something I'm going to have to get used to."
Woods also bogeyed 8 and 9 to make the turn in four-over 40. Another unforced error with a wedge led to yet another bogey on a par 5, this time the 11th hole. He played Muirfield Village's four par 5s in just even par for the week.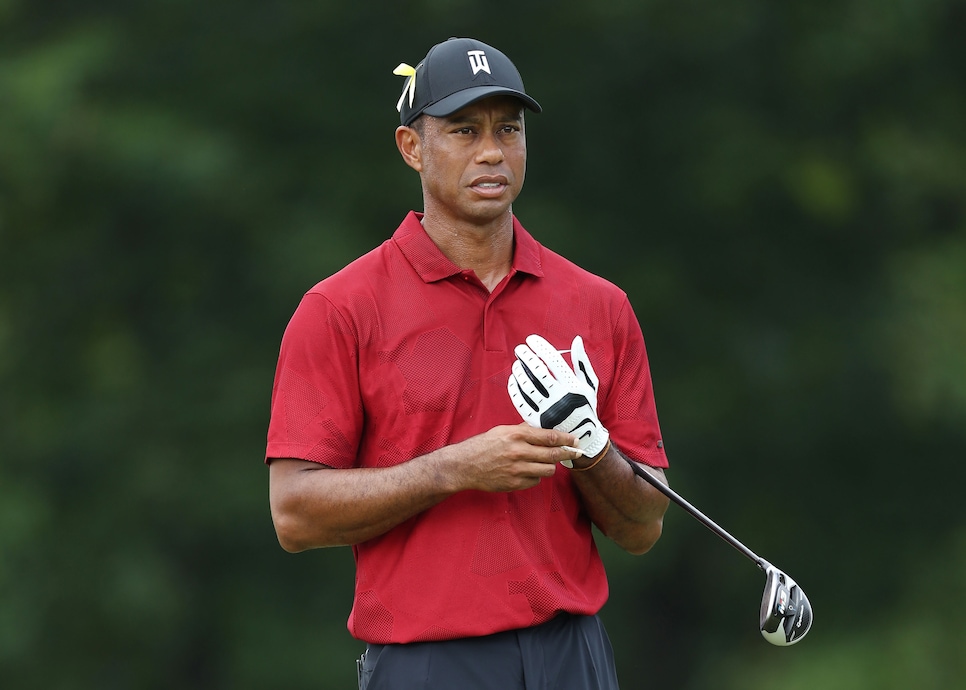 Tiger prepares to play from the first tee during the final round of 2020 Memorial.
Jamie Squire
Woods added two late birdies at 16 and 17, both coming on putts outside 20 feet, before a weather delay forced him to head to the locker room with his ball in the greenside bunker on 18. He splashed out to five feet but couldn't convert the par effort.
When we'll see Woods next, and whether that will be before next month's PGA Championship at Harding Park, remains a mystery, Woods not offering an answer on Sunday.
"I definitely need more reps," Woods said, though he stopped short of saying he needed more competitive reps.