News
Jon Rahm hangs on, ascends to World No. 1 and three other takeaways from Sunday at the Memorial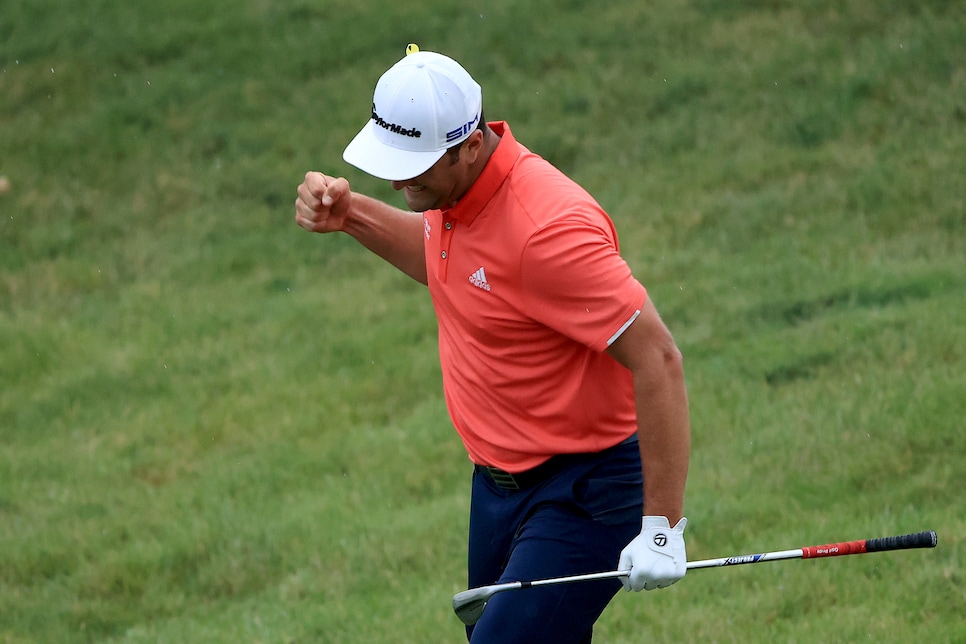 Even without the presence of Bryson DeChambeau, the PGA Tour still managed to provide some soap-opera-level drama late on Sunday at the Memorial.
While opening up an eight-shot lead at one point, things got interesting for Jon Rahm coming down the stretch at Muirfield Village. A little too interesting, perhaps. Ryan Palmer had cut Rahm's lead to three with three to play, and even just one birdie would have done wonders given the rules issue that bubbled up on the 16th hole.
Ultimately, the two-stroke penalty that Rahm received (more on that in a minute) left him winning by three instead of five. It's his third solo victory on the PGA Tour, and given the conditions and the strength of field, it's by far his most impressive. The new World No. 1 certainly earned that title.
Here are our four takeaways from Sunday at Muirfield Village.
Jon Rahm hung on, and that's all that matters
First, we should point out just how good Rahm's front nine on Sunday was. Coming off a Saturday 68 that he called "one of the rounds of my life," he backed it up with a front-nine 34 that all but closed the door on everyone. Yes, he quickly gave a few back on 10 and 11, and seemed to begin running a little hot, as he tends to do. But he managed to play the final seven holes in even par (before the two-shot penalty). He hung on, which was all he needed to do to ascend to the World No. 1 ranking, which he absolutely deserves.
One can't help but wonder if someone truly challenged him, especially now that he was actually hit with the two-stroke penalty for moving his ball, albeit mistakenly, on the 16th hole when he prepared to hit the chip shot from behind the green, how those final few holes may have shaken out. Palmer battled all day, but never really put intense pressure on his Zurich Classic teammate. Rahm was afforded the opportunity to limp home, which he did up until the 16th, when he ended the tournament with an incredible (and controversial chip-in):
Turns out, that was for bogey, which (checks notes) still gives Rahm a three-shot win. He was dominant this week, and a back-nine 41 with a two-stroke penalty in brutal conditions does not change that fact.
Was Jack Nicklaus sending a message this week?
This seems to be a theory among many of Golf Twitter's most-trusted voices: That the Golden Bear cranked up the pain-meter at Muirfield Village this week to counteract the way tournament golf is tilting these days. The question is, does Jack have that much say in the setup, which is handled by the PGA Tour? One would think he has a little given it's his golf course. It certainly seemed that way, what with how Muirfield Village played like the U.S. Opens of old this week. And by U.S. Opens of old, we mean the ones where the course went all the way to, or just over, the proverbial edge.
I think I speak for many when I say I enjoyed it, especially after the barrage of birdie fests over the previous few weeks since the PGA Tour resumed play. Carnage is often entertaining, except when it borderline unfair carnage (see: Shinnecock (twice), Merion, Oakmont, etc.). Then you wonder if it's really testing the best players or does it become a clown show? It was still more the former than the latter this week in Ohio, although seeing Phil Mickelson use a putter from the fairway 78 yards from the hole hints that things got close.
Considering Nicklaus' comments earlier the week on a ball roll back, however, you do have to wonder if the Golden Bear was making a point, too. Is letting the rough grow knee deep, narrowing the fairways, hoping the wind blows like crazy and making the greens more slippery than a freshly zamboni'd hockey rink the only way to make it tough on these guys now? Sure starting to feel that way.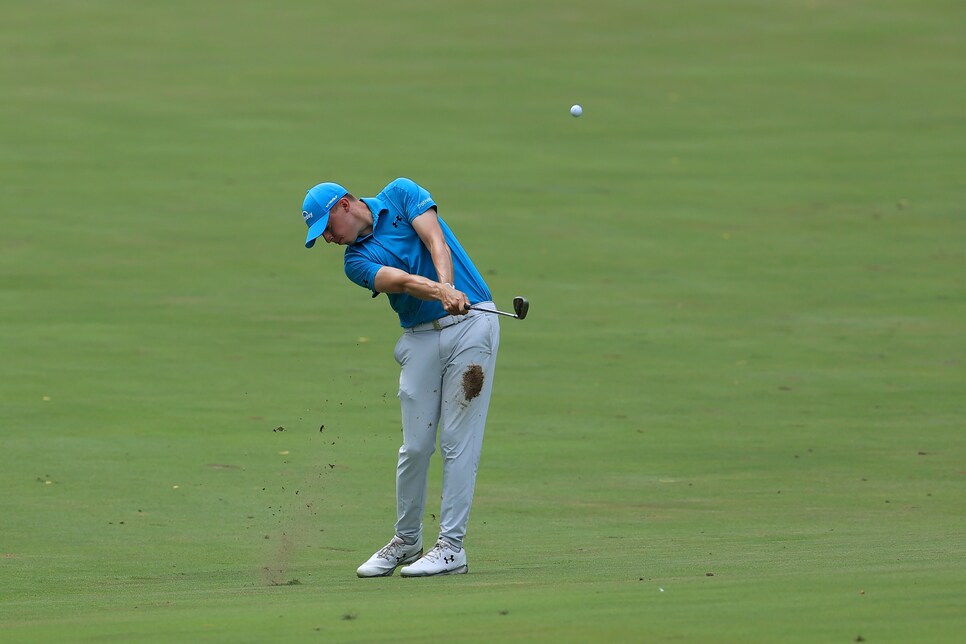 Nobody goes low in absurdly difficult conditions like Matt Fitzpatrick
Seriously, does anybody live for carnage more than Matty Fitz? Somehow the 5-foot-10, 155-pounds-soaking-wet Englishman shot a four-under 68 despite Sunday's absurdly difficult conditions. He was one of just five players under par, and the only one to shoot a round lower than two under. His only bogey came at the opening hole, after which he played the remaining 17 in a ridiculous five under. For his efforts, he jumped 15 spots on the leader board, ultimately finishing in solo third, which should also help him make a significant jump in the OWGR (currently 27th).
Anyway, back to Fitz living for chaos. At the 2016 Masters, Fitzpatrick entered the final round at five over, eight back of Jordan Spieth's 54-hole lead. On an incredibly blustery day at Augusta National, he proceeded to post a final-round, five-under 67. It was one of three 67s on the day, the other two shot by fellow countrymen Paul Casey, who finished T-4, and Danny Willett, who won. Fitzpatrick tied for seventh.
Two years later, during a brutal week at Shinnecock, which hosted the 2018 U.S. Open, Fitzpatrick managed to post an even-par 70 on Friday and another 70 on Sunday, which earned him a T-12. Last year, at Pebble Beach, a final-round 68 earned him a second straight T-12 finish in the U.S. Open. This past year he finished T-9 at the Arnold Palmer Invitational thanks to a three-under 69 on Sunday, the lowest round in the field. We could go on, but you get the point. Turn up the fan, bake out the greens and watch as everyone in the field melts into a puddle. While all that's happening, Matt Fitzpatrick is probably shooting a 67.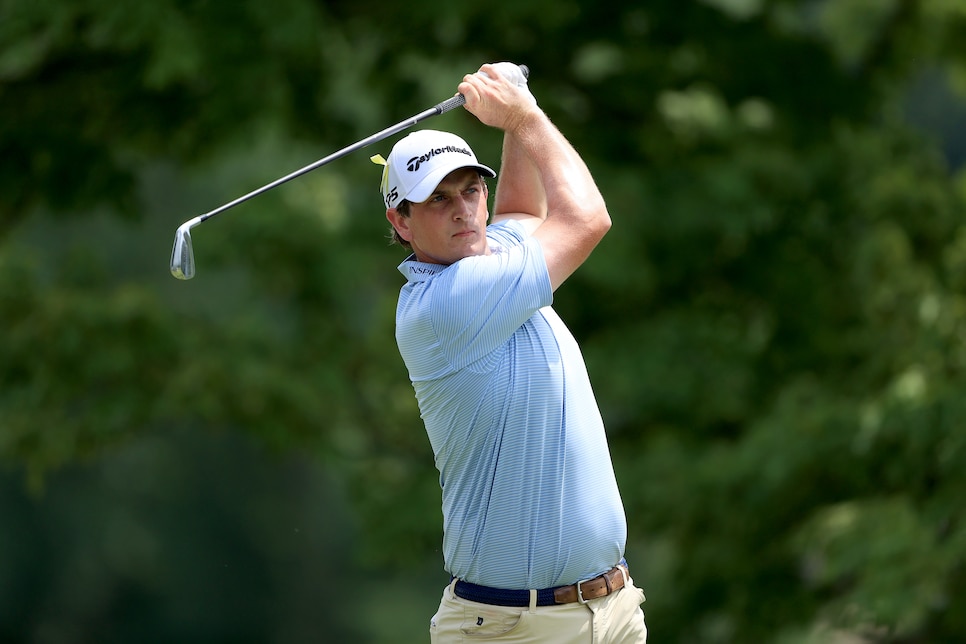 Pray for Henrik Norlander
The "Pray for" someone thing is a bit of a joke on social media, but seriously, pray for Norlander. On Sunday, the Swede had a chance to lock up a U.S. Open bid by finishing inside the top 10. The catch: He was battling for two spots with Ryan Palmer and Mackenzie Hughes, who were also inside the top 10 at day's end. Palmer was safe thanks to his solo second, meaning Norlander just had to finish higher than Hughes. A par on 18 would have helped him clip the Canadian by one, but he made bogey, so they tied at three under. They both get in then, right?
Oh, so wrong. There was a tiebreaker between Hughes and Norlander, and it came down to each player's position in the Official World Golf Ranking. Hughes is 97th. Norlander 189th. The second spot went to Hughes.
Brutal, brutal stuff for Norlander. But he'll still have his chances over the next five weeks, as players can still earn spots into the U.S. Open in those events. But he'd feel a lot better about his T-6 right now had it gotten him into Winged Foot.