News
Jim (Bones) Mackay's two-week return to caddieing turns out to be more fun than he imagined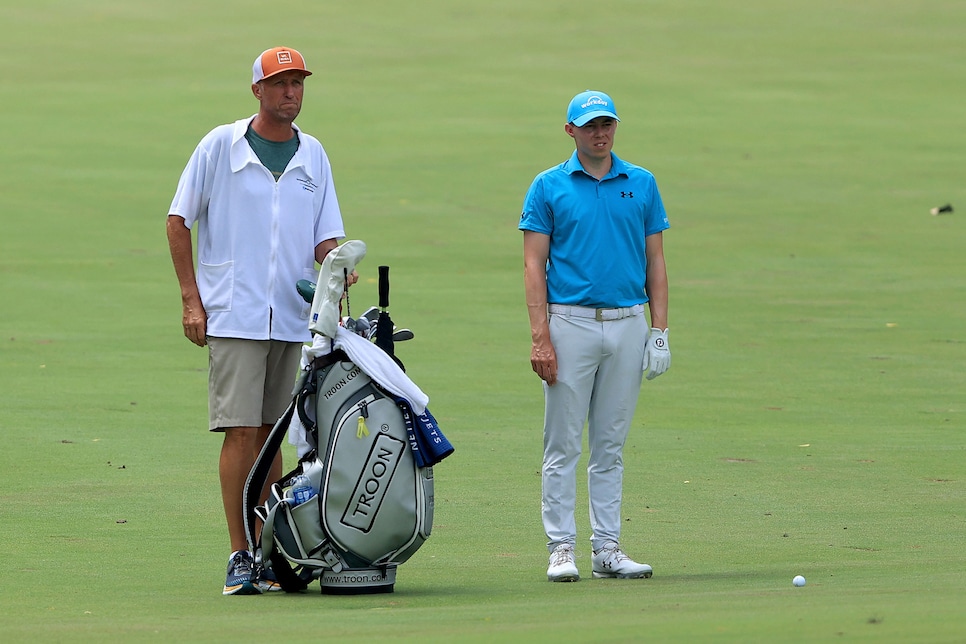 Matthew Fitzpatrick and caddie Jim (Bones) Mackay look on from the second hole during the final round of 2020 Memorial.
Sam Greenwood
DUBLIN, Ohio — Turns out, Bones still knows what he's doing.
Jim (Bones) Mackay, who spent more than 25 years as Phil Mickelson's caddie before becoming an on-course analyst with NBC/Golf Channel, decided to dust off the trainers and return to the caddie ranks for the Muirfield Village double. He knew Matthew Fitzpatrick was in search of a fill-in looper—Fitz's full-time guy, Billy Foster, remained in England due to the COVID-19 pandemic—texted the young Englishman, and soon they had an agreement to work together for the back-to-back starts in Ohio.
Two profitable weeks, as it turns out.
Fitzpatrick shot a four-under 68 on Sunday amid brutal conditions to vault up the Memorial leader board, all but assuring himself a top-five finish as the leaders were just beginning their back nines. This comes one week after Fitzpatrick and Mackay teamed for a T-27 finish at the Workday Charity Open.
In typical caddie fashion, Bones was quick to redirect any credit to his player.
"He's a very, very good player, and it was a joy to be with him," Mackay said. "He was great out there. I mean, 68 today, what more could you ask for from the guy?
"He's got a ton of shots," Mackay continued, "and to me the most underrated skill a professional golfer can have—which he has in spades—is the ability to read greens. He's an amazing green reader, and I think that's going to take him a long way in this game. He's longer than I thought he was going to be. He's good. He's really good."
Fitzpatrick said having Mackay on the bag was rather helpful given the conditions, which were among the toughest you'll see on a golf course. The wind blew a consistent 25 miles per hour all day, with gusts north of 30, which only exacerbated the already brutal setup that included juicy rough and concrete-like greens.
"I mean, he's seen conditions like this plenty of times, and to have him on the bag was brilliant," Fitzpatrick said. "I definitely learned a couple things off him, and I'll be picking his brain to see what I can improve on."
Despite their success, the partnership will not be extended. Foster, who spent years on the bag as Seve Ballesteros and Lee Westwood, will return to Fitzpatrick's bag for the WGC-FedEx St. Jude Invitational later this month.
But Mackay stopped well short of closing the caddie door.
"I work 22 weeks a year," Mackay said. "That means there's 30 other weeks I can go caddie if I want to. You know, if someone says that their caddie has got a twisted ankle, that's something—I love caddieing. I consider myself a caddie, even when I'm doing TV."