News
Why Rory McIlroy's attitude might be the best it's ever been heading into the Masters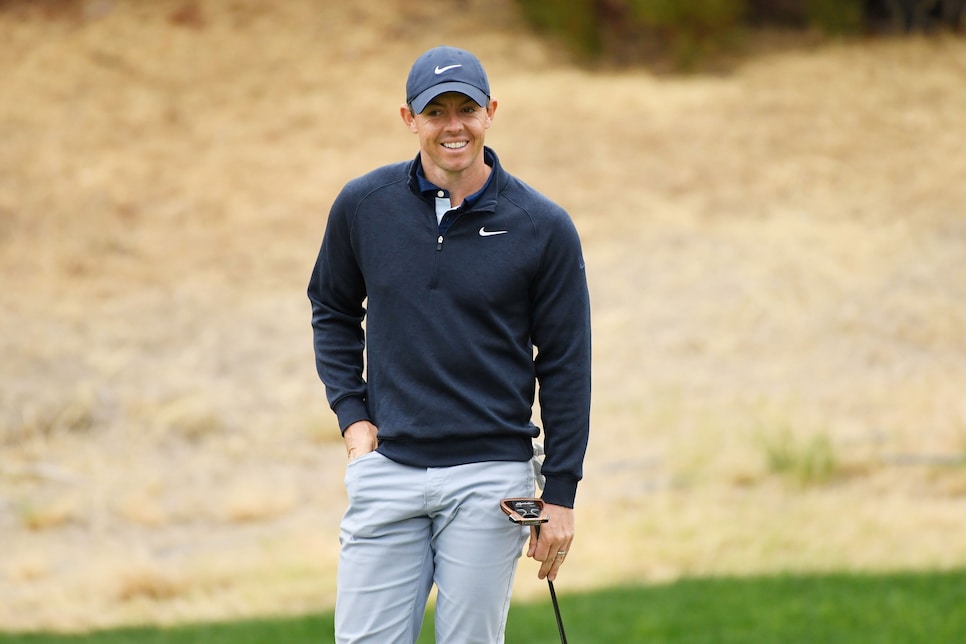 Rory McIlroy finsihed T-17 at the Zozo Championship, his last start before the Masters.
Harry How
It wasn't relief in Rory McIlroy's voice, but something akin to it. After a frustrating start to the Zozo Championship on Thursday—as evidence by a very visible club snap en route to a one-over 73—the final three days at Sherwood Country Club had been more to the Northern Irishman's liking.
Matching 67s on Friday and Saturday were followed by a Sunday 66 that including a run of five birdies in six holes to start the back nine. It also offered enough evidence that McIlroy's swing was in good enough shape that his plan to make Zozo the last competitive appearance before next month's Masters still made sense.
"Look, game's there, hitting plenty of good shots, giving myself plenty of chances," McIlroy said after finishing T-17, eight strokes back of winner Patrick Cantlay. "Obviously it's a pretty easy golf course as the scores suggest this week, but I felt like I played pretty good the last three days. Game is definitely feeling better more than it did when I headed out here."
Indeed, McIlroy made 29 birdies on the week, his career best in a PGA Tour start. And he was very aware of that fact, as evidence by his disappointment with missing a 43-footer on the final hole that would have given him an even 30.
More importantly, by Sunday, the big numbers that offset those birdies had seemed to fade. "I think it's easier to eradicate bogeys than it is to find birdies," he said.
McIlroy says that will be the focus—limiting the mistakes—over the next two weeks as he makes his final preparations for his 12th career appearance at Augusta National. He says that he intends to make at least one visit to the club, likely staying overnight, ahead of the tournament to get the lay of the land as he joins his peers in trying to prep for a Masters unlike anything anyone has experienced.
In an ordinary year, the build-up to Augusta is unhindered, anticipation bubbling over weeks and months as winter turns into spring and a nine-month wait for the next major makes everyone restless. But in 2020, with the COVID-19 pandemic throwing the schedule asunder and the most recent major only a month removed, the expectancy is different. And the newness of it all is something McIlroy seems to have come to embrace.
"I like this more," he said. "There's not as much hype, not as much, yeah, just noise. I sort of like this better, yeah."
Mind you, the run-up to the Masters is always something that McIlroy will view differently than others. He arrives each year at Augusta under unique circumstances given that a victory would complete the career Grand Slam. With less time to focus—or dwell on—the historic significance of the event, perhaps it will free up McIlroy, who has had four top-10 finishes in the event since 2015, the first year a win would have capped the Slam.
Where McIlroy is more like his peers is seeing the upcoming Masters as the cumulation of the craziest year of their professional lives.
"Everyone's just trying to end their year on a high note and take a bit of time off, enjoy the holidays and come back in the new year."
A new year in which McIlroy hopes he doesn't have to face an old question when the Masters rolls around again next April.