The Loop
If any PGA Tour pros are looking for a last-minute caddie this week, we suggest this guy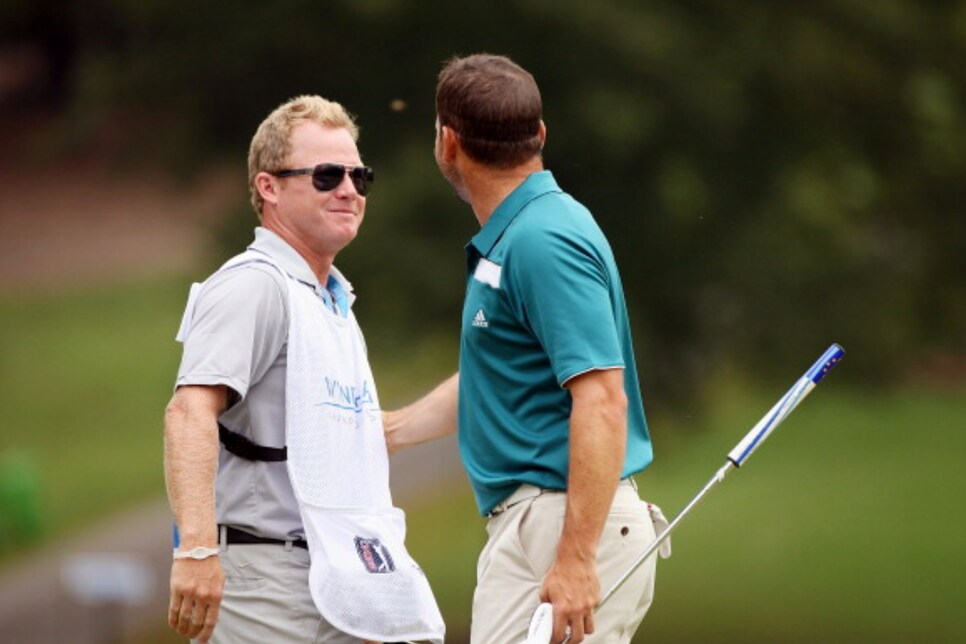 Eagle Point Golf Club is a great unknown to most of the golfers teeing it up this week at the Wells Fargo Championship. The stunning course in Wilmington, N.C., is making its PGA Tour debut, subbing in for Quail Hollow, which is hosting the PGA Championship later this year.
But a human bundle of local knowledge was available for hire. Too bad no player took advantage.
We're guessing golf fans don't remember the name David Faircloth, but they probably remember his story. Faircloth was the local caddie filled in perfectly as Sergio Garcia's caddie during the 2012 Wyndham Championship. Still doesn't ring a bell? Let's back up.
Long before Garcia was a green jacket winner, there was a time when he was struggling just to make the FedEx Cup Playoffs. In August 2012, the Spaniard added the Wyndham to his schedule because he needed a big week just to continue his PGA Tour season and to wrap up a spot on the Ryder Cup team. Making matters more complicated was Garcia's need of a caddie after letting go of Gary Matthews following a missed cut at the PGA Championship.
On the eve of the tournament, Garcia asked Wyndham tournament director Bobby Long for help in finding a caddie. Long, the president of Eagle Point Golf Club, recommended his regular caddie, Faircloth, who was on hand at Sedgefield CC to work the pro-ams. Faircloth met Garcia an hour before his tee time on Thursday and the rest is history as Garcia broke a four-plus-year drought on tour and Faircloth had the most lucrative loop of his life.
Although Garcia isn't playing this week, you might think that with the PGA Tour coming to Eagle Point, Faircloth, who still works at the club, would get another shot. But the tour confirmed that Faircloth isn't on the event's official list of caddies as of Wednesday afternoon.
Obviously, most tour pros are settled on their caddies, but if there was ever a time to hire someone local for a one-week trial, this was it. Unfortunately, it doesn't look like Faircloth will be carrying anyone's bag at the Wells Fargo (There's still a few hours to hire this man!), but on the bright side, he'll maintain his perfect record as a PGA Tour caddie.