Travelers Championship
Why Patrick Cantlay could have more crowd support than ever this week (no matter how he plays)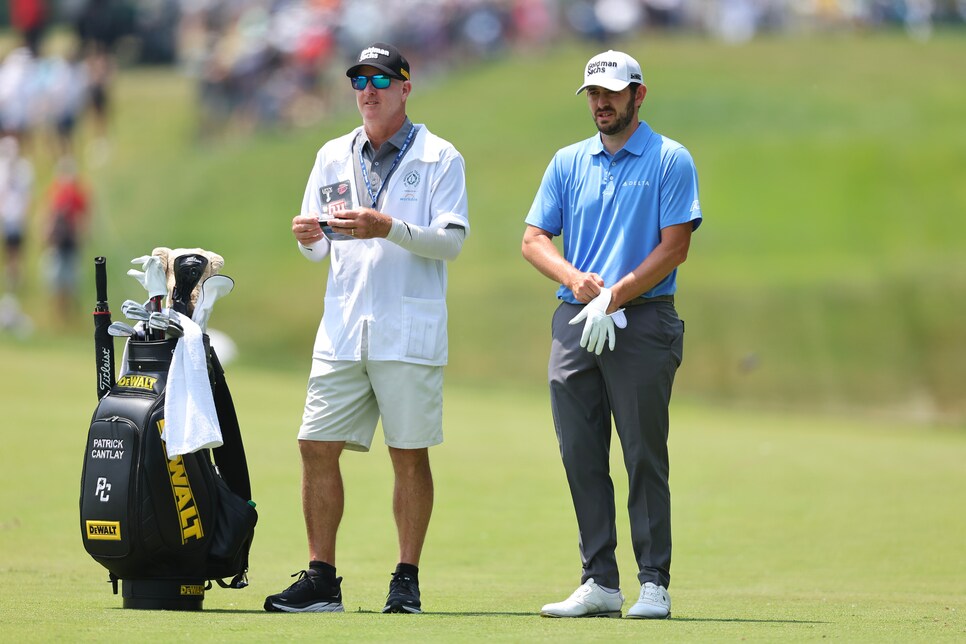 CROMWELL, Conn. — As a SoCal native and UCLA product, Patrick Cantlay is coming off a week in which he received plenty of crowd support at Los Angeles Country Club. But the 31-year-old might get some of the biggest cheers directed his way at TPC River Highlands this week. They just might not be directed precisely at, well, him.
Cantlay is playing in the Travelers Championship for a ninth time, the most he's played any event on the PGA Tour. Of course, it helps when you start playing in a PGA Tour event while you're still a rising sophomore in college. It helps even more when you shoot the lowest score by an amateur in PGA Tour history.
That came during the second round in 2011 when Cantlay, then 19, fired a then course-record 60 ("Mr. 58" Jim Furyk broke it in 2016) to take the 36-hole lead. He failed to break par over the weekend, but the top-25 finish signaled the arrival of a future PGA Tour star and the following year he made his pro debut at the Travelers. Crazy enough, it took 11 more years for Cantlay to match that score on the PGA Tour, which he did at last year's Shriners Children's Open.
"Yeah, I think golf is a funny game like that," Cantlay said at his pre-tournament press conference on Tuesday. "I remember that day I just got in a rhythm and felt like every putt was going to go in and pretty much they all did."
But back to why this year could be different as Cantlay, now 31, tries to win the Travelers, one of the PGA Tour's designated events in 2023, for the first time. He'll have a different, but familiar face reading those putts now. And one that's especially familiar around these parts.
That would be Joe LaCava. The longtime caddie for Tiger Woods and Fred Couples among others began working with Cantlay full time last month with the 15-time major champ undergoing his latest surgery. Long before that, LaCava grew up in nearby Newtown, Conn.
But with Woods having never played in the annual tournament in the Constitution State, LaCava hasn't worked it many years. Not that he isn't still familiar with the course.
"It's been a long time," LaCava told CTInsider.com earlier this week. "I've been fortunate enough to play TPC enough times to know the course well. I think I did work there two times over 20 years."
Since joining forces full time, Cantlay and LaCava have played four events together. The results (T-21, T-9, T-30 and T-14) have been solid, and Cantlay is loving his new looper.
"He's been great," the eight-time PGA Tour winner said. "He's a pro. He's done this for a number of years for some great players. It's really nice to be out there with him. He's funny, too, so it's been a good hang."
Not that Cantlay needs much help around here. In addition to that spectacular debut a dozen years ago, the 2021 FedEx Cup champ arrives with five consecutive top-15 finishes. And he's also coming off another top 15 at last week's U.S. Open. So will the crowds be cheering louder for the World No. 4 or their local hero carrying his bag?
"I'm not sure," Cantlay said with a laugh. "We're a team, so I don't mind either way."