LIV Golf
Why are LIV players preemptively resigning from the PGA Tour? It's complicated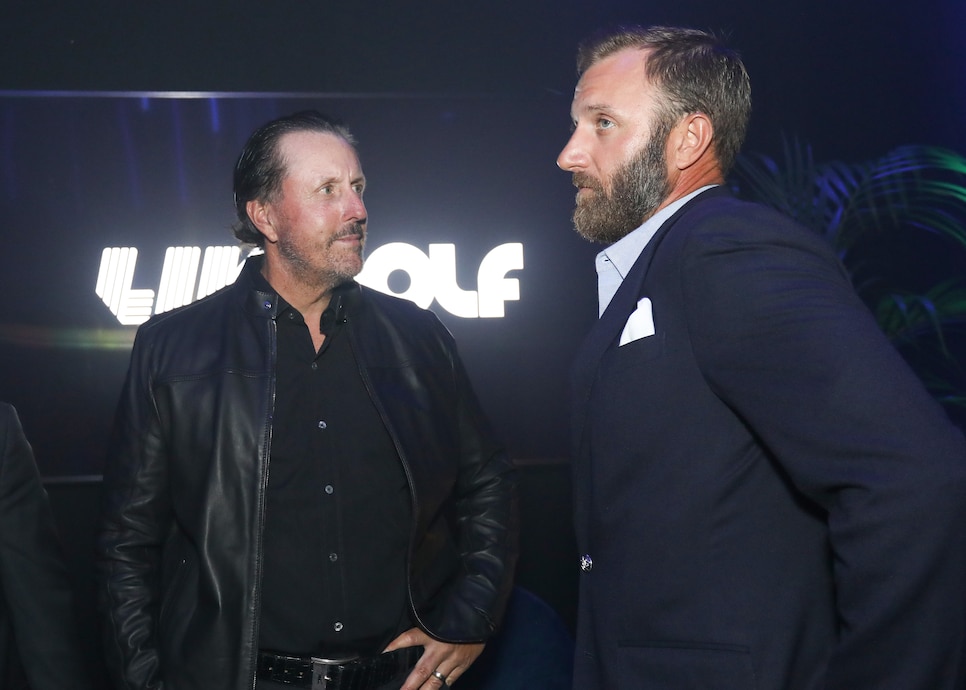 Phil Mickelson and Dustin Johnson talk during an LIV pre-tournament party.
Tristan Fewings/LIV Golf
Phil Mickelson wants to keep his PGA Tour membership—he made that clear in a carefully worded statement released Monday—but Dustin Johnson is grabbing his bag of cash and speeding away from Ponte Vedra Beach.
Johnson, the highest-ranked player in the field at this week's inaugural LIV Golf event outside London at World No. 15, has joined a growing list of players who have resigned from the PGA Tour in recent days. Kevin Na announced his decision to resign Saturday, and four other LIV-ers have followed, as first reported by the Associated Press: Sergio Garcia, Louis Oosthuizen, Charl Schwartzel and Branden Grace. Then, in the first-ever LIV pre-tournament player press conference Tuesday, Johnson shared that he, too, had walked away from the tour that has seen him earn more than $79 million on-course, trailing only Tiger Woods and Phil Mickelson.
Why, then, would these six voluntarily walk away—and disqualify themselves from the lucrative FedEx Cup—before the PGA Tour hands down any disciplinary action?
"It's to avoid any type of sanctioning," says one high-powered agent. "It's a perceived leverage play. Basically, you can't fire me if I quit."
The PGA Tour has insisted that, since it denied all requests for a conflicting-event release to allow players to compete in the LIV event, any of its members that put a tee in the ground at Centurion Golf Club on Thursday will be subject to discipline. That could include suspension or, though unlikely, a permanent expulsion. That punishment will no doubt be challenged in court, either by an individual player or LIV Golf itself, arguing that the PGA Tour cannot tell its members, who are independent contractors, where they can and cannot play. But removing yourself from the PGA Tour ecosystem would seem to pre-empt any of that ugliness.
"Me going over to LIV without resigning was going to provoke disciplinary action, maybe legal actions against me," he says. "Whether I can win that battle or not in court, I just didn't want to deal with it. I wanted to be able to play golf and focus on my game. Golf is a very demanding game. You have to be sharp mentally, and I just didn't want any of that to distract me."
Na doesn't want to deal with that headache, nor does he want to be burdened with a suspension from the PGA Tour. Graeme McDowell, who will play in the LIV event but has not resigned from the PGA Tour, feels similarly.
"They have given me phenomenal opportunities over the last 20 years," McDowell said Tuesday. "It's just, why as a player would I want to get involved in some sort of legal situation with one of the greatest tours in the world?"
Greg Norman poses for a photograph with Kevin Na during the LIV Golf Invitational-London Draft.
John Phillips/LIV Golf
There has been speculation that the resignations have been made with major championships in mind. The line of thinking goes like this: While the governing bodies for these events themselves have not decided publicly what they think about players competing on the LIV series, they could defer to the PGA Tour's eligibility rules, meaning a suspension from the tour could include a suspension from the majors. That's not going to happen, at least in the immediate future. The USGA confirmed as much on Tuesday afternoon, sending out a release stating all qualified players for the 2022 U.S. Open will be allowed to compete.
Multiple sources from across the game have suggested that it is virtually certain the R&A will follow suit and permit all qualified players to compete at the 150th Open Championship at St. Andrews next month. The majors could adopt a different stance beginning in 2023, but that remains unclear.
There are other, more practical reasons for the pre-emptive resignations. "They're giving themselves a chance to take unrestricted sponsor's exemptions as non-members," says a different agent.
Non-major, non-FedEx Cup playoff events offer sponsor's invitations to a few hand-selected players. The PGA Tour has a rule that some of the sponsor's invites must be given to full members of the tour who did not get into the event on their priority number, but there are "unrestricted" sponsor's invites that can go to any player. Johnson, for example, is listed in the field for the Travelers Championship the week after the U.S. Open. Theoretically, he could be given a sponsor's exemption from the tournament itself. The PGA Tour declined to comment on that possibility.
Speaking of sponsors … the LIV guys want to keep them. Mickelson's endorsers all dropped him after his controversial Saudi comments from February, and Royal Bank of Canada ended its relationship with Johnson and McDowell after they announced their intentions to play in the LIV event. But Johnson still has his TaylorMade deal, and he and Oosthuizen turned up to London in shirts littered with corporate logos, NASCAR-style.
"[With the resignations] there is likely a view as to how a suspension would affect standing in existing corporate and endemic deals that don't account for this situation but do account for suspensions under morals and ethics," the first agent said. "Resigning membership potentially creates a legal loophole by avoiding suspension."
Translation: Companies don't have to pay players if they are suspended for a breach of moral and ethics, and while it is not clear whether a LIV suspension would be classified as such, a resignation makes it a moot point.
The PGA Tour's pension program, despite some suggestions, is not a factor in the resignation decision. The tour does not have grounds to rescind a player's pension no matter his status on the PGA Tour, including players who have resigned or are suspended. The pension is a form of deferred compensation to which players are entitled to under virtually any circumstance.
A resignation is also not permanent. At least in theory. The PGA Tour handbook states that a player who resigns his membership can apply for reinstatement after one full season. A player competing on a multi-year exemption—which includes Mickelson and Johnson—who resigns must also sit out a full season, but can rejoin the tour at the beginning of any season and would be entitled to the remainder of his exemption as though he had not resigned. Johnson, for example, is exempt through the 2025-26 season. Should he resign but decide he wants to rejoin, he would have to sit out the 2022-23 season but could apply to rejoin the tour for the 2023-24 season.
Still, another agent believes some guys aren't pouring over the handbook. For them, he says, it's far more simple: "Some of these guys might honestly just be done with the tour."