News
Where would a 15th major rank for Tiger? Survey says right at the top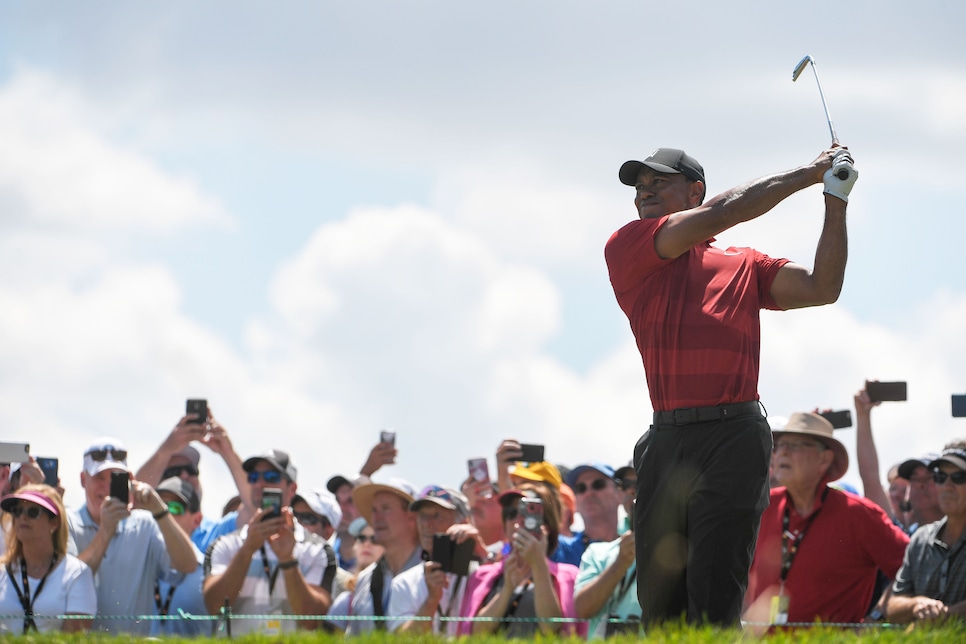 Photo By: Ryan Young/PGA Tour
Let's agree this is awfully premature. Tiger Woods hasn't yet reached the foot of Magnolia Lane, let alone played a round in the 2018 Masters, and there's no guarantee his encouraging play through the Florida Swing will extend across the state line.
But after consecutive top-fives, we've seen enough to suggest a win next month at Augusta National is no longer just fringe social media fodder, but a real possibility. Las Vegas even has the 42-year-old former No. 1 as the favorite, which begs the next question:
If Woods were to win his fifth green jacket in a few weeks, where would it rank among his all-time wins?
Golf Digest put the question to its social media followers and others around the game. Hundreds of responses later, the majority said yes, this one would top them all.
Specifically, we asked which of the five accomplishments (one hypothetical) would rank as the most impressive by Woods: a win next month; his 12-stroke win in his first Masters as a pro; his 15-stroke runaway at Pebble Beach in the 2000 U.S. Open; his completion of the Tiger Slam of four-straight majors at the 2001 Masters; or his playoff win in the 2008 U.S. Open on a broken leg. (Let's pause to consider these were all by the same person, and that there are 10 OTHER MAJORS NOT EVEN MENTIONED HERE).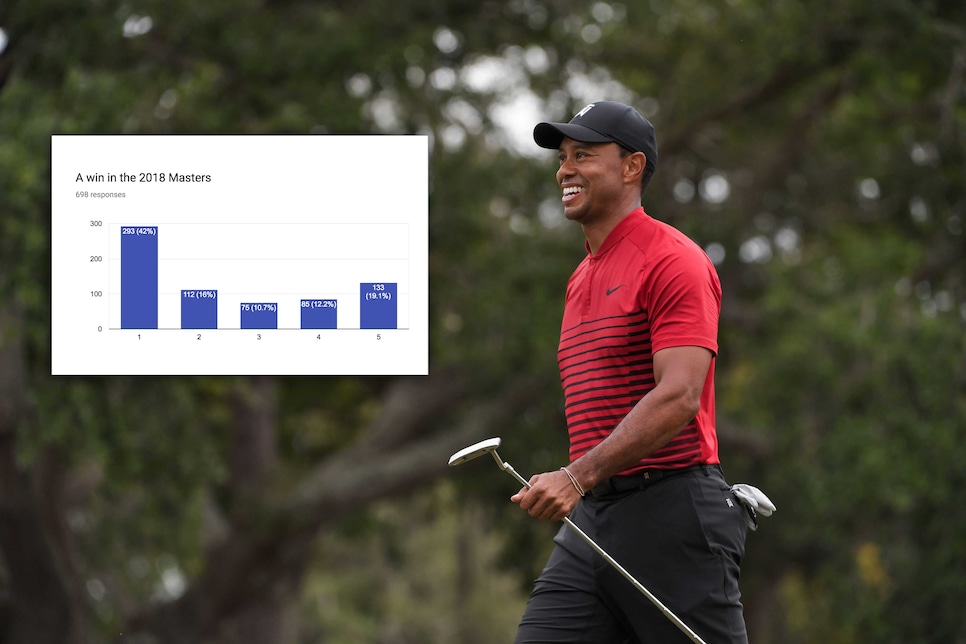 In all, more than 40 percent of respondents agreed a win next month would be the most impressive of his career, all based around the remarkable circumstances preceding it. Remember Woods hasn't won a major in 10 years. He hasn't played the Masters in three. As recently as a few months ago, he cast doubt on whether he'd be able to play competitive golf again. Yet here he is, boasting an absurdly high swing speed and revealing the same short-game magic and sense of the big moment that defined his best years.
"The fact we are talking about it, and it seeming a realistic possibility, is amazing enough, but if he were to pull it off, it would be one of the best golf stories of all time," said 2006 U.S. Open champion Geoff Ogilvy. "It's hard to rate major wins, as they are all incredible, but the physical and more importantly mental hurdles he will have cleared to win another one would be an astonishing achievement."
According to Randy Smith, one of Golf Digest's 50 Best Teachers, a win by Woods next month would not just exceed any other win in his career, it would rank only behind Ben Crenshaw's improbable win in 1995 as the greatest in golf history.
"If Tiger were to win, I'd put that and Nicklaus in a tie for second," Smith said. "But for the game of golf as a whole? Tiger's win would be No. 1 by a lot. That'd be a shot for the game of golf. Recreational golf. Club golf. Down through the food chain. If he's in position to win, that'll be the highest-rated telecast ever."
Of course, the definition of impressive depends on who you ask. To many it would be overcoming all the injuries, self-doubt and high scores of the past few years to win again. Others would argue the social ramifications of Woods' 12-stroke win in the 1997 Masters can never be topped. "From a historical perspective, that one broke the most barriers," said Golf Digest Editor-in-Chief Jerry Tarde. "A black man not only wins the Masters, but stomps on the field, literally. It personified, 'Hello, World!' "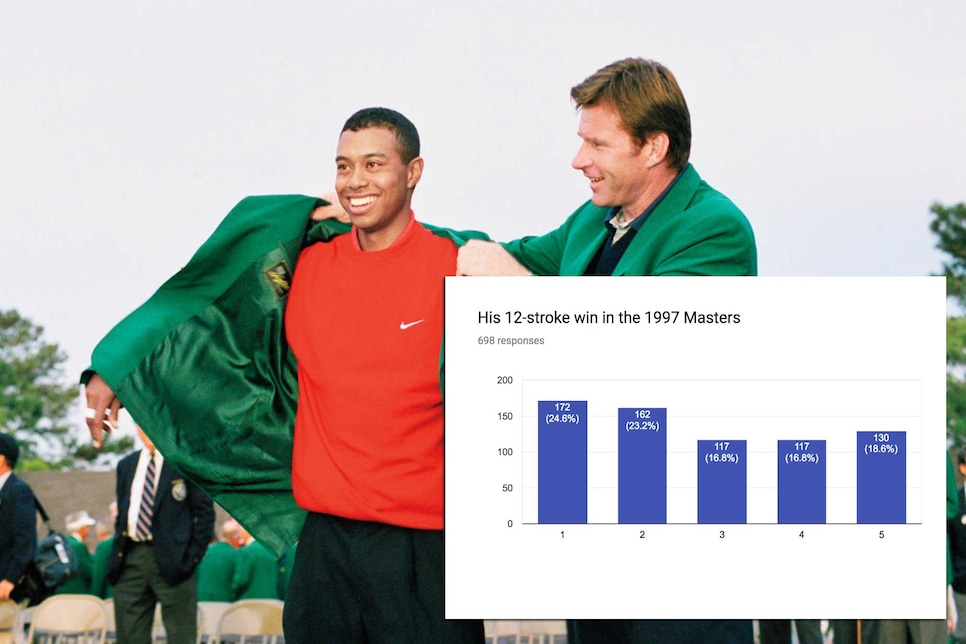 Tarde would also rank Woods' dominant win at Pebble Beach ahead of whatever he can muster this year. And he'd also give the nod to Woods' improbable win on a broken leg in 2008. Not surprisingly, so would the man who saw Woods' compromised state up close.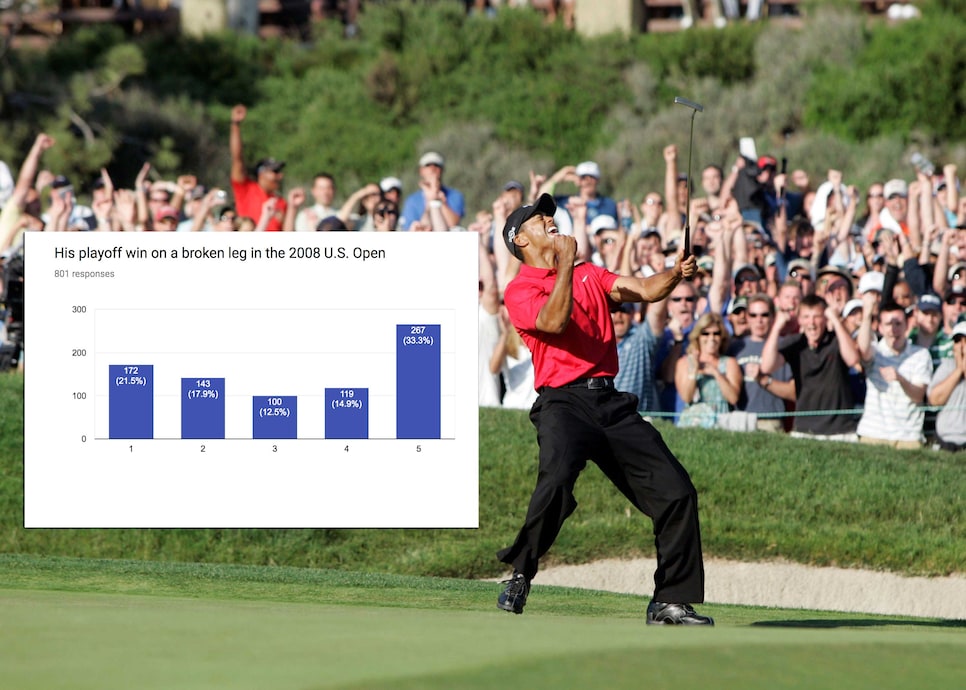 "Tiger winning the 2008 U.S. Open on a broken leg and no ACL is the most amazing thing I've ever seen," said Hank Haney, Woods' swing coach from 2004 to 2010. "The week before the tournament, he couldn't even walk, and he had to sit down after hitting a couple of balls. It's not that winning a major again after the surgeries he's had wouldn't be a big deal. It would. But I don't think anything he could do now could top that."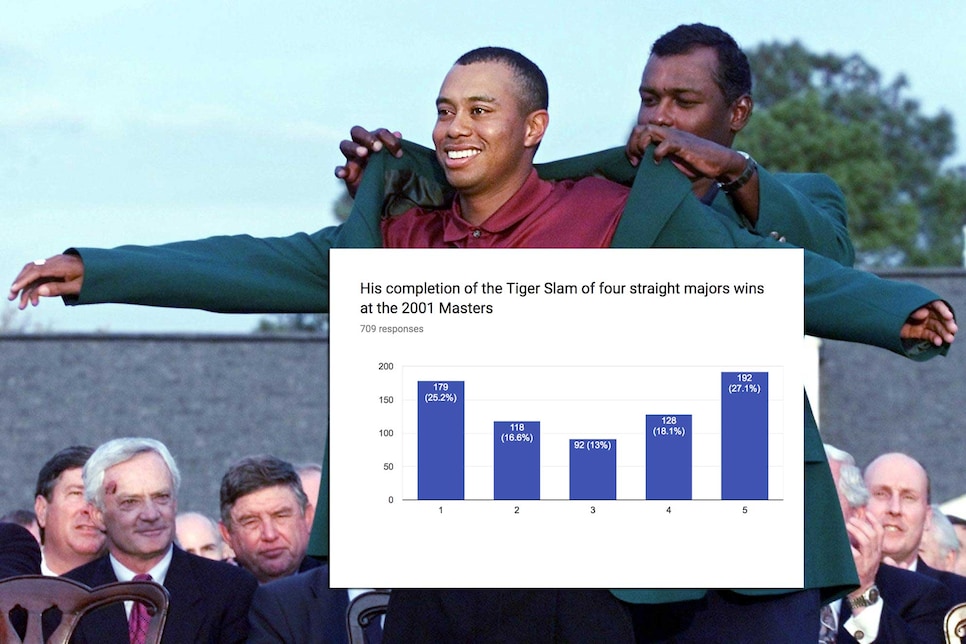 If you were to take this year out of the equation, the debate about which Woods' win ranks highest becomes even more difficult. The four remaining options received a remarkably even number of votes as the most impressive, with the 1997 Masters holding the slight edge. Somewhat comically, the "least impressive" win of the options was his fourth-straight major win in 2001. No one had done it before, and no one has since, but when it comes to Tiger Woods, it's not that big a deal.