The next one's good
What's the secret of longevity and good golf?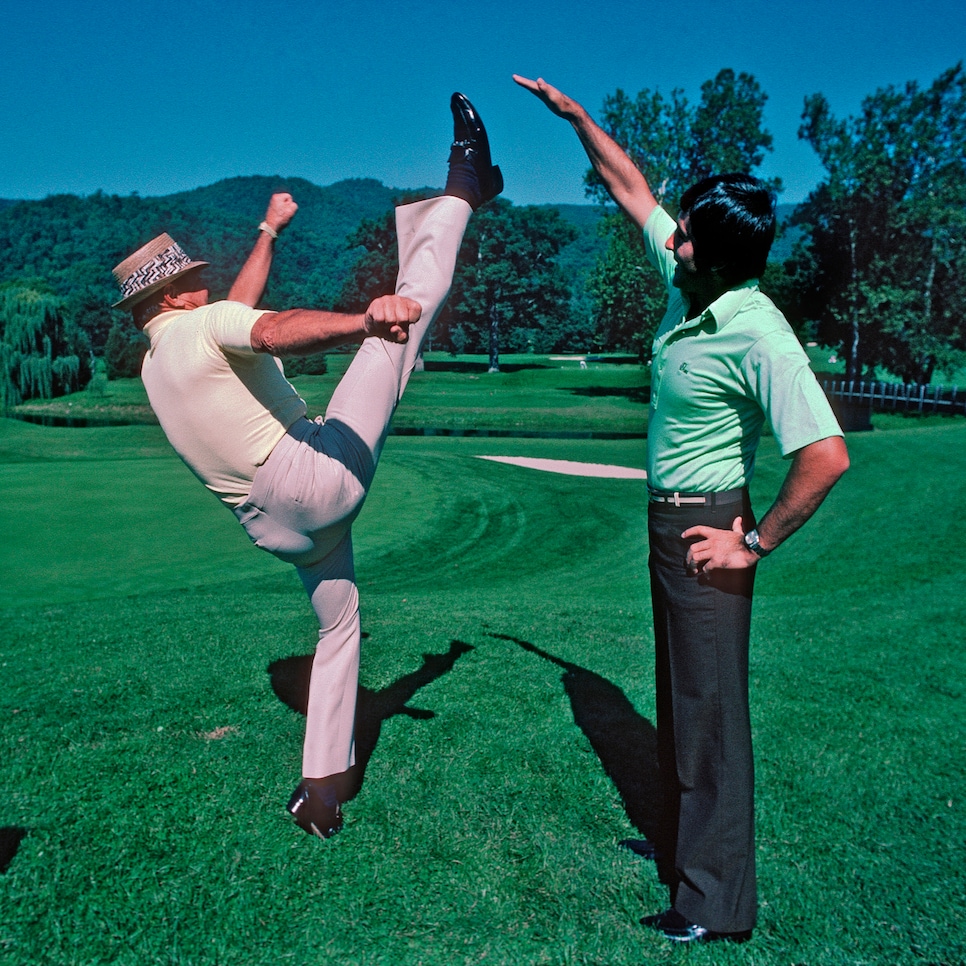 HIGH-KICKIN' AT AGE 67. Sam Snead with Seve Ballesteros at the 1979 Ryder Cup. Photograph by Phil Sheldon/Popperfoto/Getty Images
Phil Sheldon/Popperfoto
I once wrote a book with Sam Snead, and the most remarkable thing about it was the title: Pigeons, Marks, Hustlers and Other Golf Bettors You Can Beat. The cover showed Sam holding two pigeons. He had an instinctive way with all critters and was a natural wonder himself. Nothing could be more indelible than watching Sam kick the top of a door jamb from a standing start to win a bet, which he could do well into his 80s. He had good genes—his great grandmother lived till 106. Fred Couples may be breaking his age and Bernhard Langer may be the oldest winner on the Champions Tour, but Sam grew old the most gracefully.
When I asked him the secret to longevity and good golf, Snead gave me his stock answer: "If you swing it back short when you're young, you'll never get it back when you're old." And he talked about tempo: "The harder you hit the nail, the slower you take the hammer back." Sam was also known as a teetotaler, but I personally observed him stop at the clubhouse bar during tournament play and order a "daiquiri—extra sweet." Could that have been his secret?
The first celebrity I ever played golf with was Joan Fontaine, the glamorous movie star of the 1940s whose chauffeur drove her to meet me at Winged Foot in a Rolls-Royce Silver Shadow. She said her secret was to always walk the course: "It's good for your health and your swing." Just last year, Clint Eastwood told me his secret to aging was simply: "I wake up every morning and don't let the old man in. If you think you're old, if you talk about it enough, you will be."
I've been searching ever since the sport psychologist Bob Rotella quoted Satchel Paige to me: "How old would you be if you didn't know how old you was?" This question about aging I've come to ask all my golf buddies, especially doctor friends. What's your secret?
Bill Perocchi has no medical training, but the co-chairman of Pebble Beach Company gave me the best advice that I have the hardest time following: Drink 100 ounces of water and walk 10,000 steps every day. A new study published by the Journal of the American Medical Association shows that vigorous walking not only extends life but significantly reduces the risk of dementia. (Actually 6,000 to 8,000 steps might be optimal, the equivalent of about 12 holes.)
When I asked Dr. Neal ElAttrache, the lead physician for the Los Angeles Dodgers and Rams, he said: "Avoid carbs and foods that cause inflammation." That's all the stuff we like—sugars, processed snacks, red meat, bread, fried food, soda. I think it was Bette Davis who said, "Old age ain't no place for sissies."
"A happy life is a longer life," says Dr. Phil Ozuah, CEO of Montefiore Medical Center. "The happiest people are grateful. The unhappiest are entitled. Be grateful."
"Approach every day as another opportunity to excel," says Dr. Frank Camissa of the Hospital for Special Surgery. His colleague Dr. David Altchek says, "Always focus on posture" to escape the back pain that shortens a golfer's life. "Eat and drink in moderation and don't ever have smoked," says Dr. Jeff Small, a urologist at Bridgeport Hospital.
I like the two things Dr. Steve Packer, who runs Community Hospital of the Monterey Peninsula, told me. "In the world's Blue Zones, where the largest percentage of people over 100 live, there's a tremendous sense of community and being engaged," he says. (1) Join a club. Golf is the rare endeavor that allows older men to make friends. (2) Do everything with a purpose—from exercise to hitting a golf shot. Don't just go through the motions.
Dr. Rotella, the author of Golf Is Not a Game of Perfect, said he once studied centenarians: "They're all highly committed to something—whatever it is, it should get you up in the morning. They have an optimistic attitude. My father lived till 101, and by then all his classmates were gone, so survival was about staying positive. Keep the legs in shape—it not only helps your golf swing but maintains good balance and prevents falling."
If you play golf, you don't need a doctor to tell you: Get a skin cancer exam every year. Use twice as much 30+ SPF sunscreen as you think you need. I skipped my annual at the start of the pandemic and eventually was diagnosed with melanoma on my face, requiring three surgeries, but fortunately it was Stage 0. Golfers need to be extremely vigilant about skin care and medical checkups.
I called my friend Doc Giffin, age 94, who was Arnold Palmer's amanuensis, and asked him what Arnie would say: "Keep hitting golf balls as long as you're able," he replied. It reminded me of Ben Hogan's advice: "Every day you miss practicing takes you two days to get back to where you were." Hogan also said: "Drink ginger ale—it improves the feel in your fingertips" (although I think he preferred gimlets). One other tip from Arnie: "Get the ball to the hole, no matter what."
Spider Miller, legendary Walker Cup captain, told me: "Keep looking through the windshield, not the rear-view mirror." Sam Reeves, the cotton merchant who knows everybody in golf, said: "Be a host in this world, not a guest. Live with urgency. Soak in the beauty of His eternal creation."
Barney Adams, the Texas Golf Hall of Famer, said: "Tee off from the set of tees where you can find the golf course. Leave your ego in the clubhouse."
"Mine is simple," Tom Watson emailed me. "Do the next right thing. Give yourself to people less fortunate than yourself. And have faith in a higher power. Simple, isn't it?"
What else have I learned about long living? There's no excuse for not wearing comfortable shoes. Make your bed in the morning. Take a half-hour nap in the afternoon. Drink a glass of red wine at night—it will improve your disposition and your spouse's. Avoid all ladders and chainsaws. Change your wedges every other year so that you always have sharp grooves. Never follow a bad shot with a dumb shot. When you're going to lay up, lay up. Give and you shall receive. As is often the case, Nick Price had the most sensible answer to my question: "Spend more time with the people who make you laugh, and always have something to look forward to."
Keep traveling to places you haven't been. I remember Sandy Tatum telling me to make your "circle of life" as wide as possible because one day it'll be a bedroom, and then it'll be a bed.
I think most golfers don't want to die in their sleep. Surrounded by family and friends may sound ideal in theory, but who doesn't envy Bing Crosby's finale: The Associated Press reported that he collapsed after a golf game with three friends on a course in Spain. When reached for comment, his widow, Kathryn Crosby, said: "I can't think of any better way for a golfer who sings for a living to finish a round." She spoke to one of his pals who played with him and remarked. "He told me that Bing had a very good round, and I'd like that to be said."
Maybe the secret to a long life and good golf is knowing when it's over.