News
What you missed this weekend: Tway's breakthrough, milestone for Couples, more Ryder Cup drama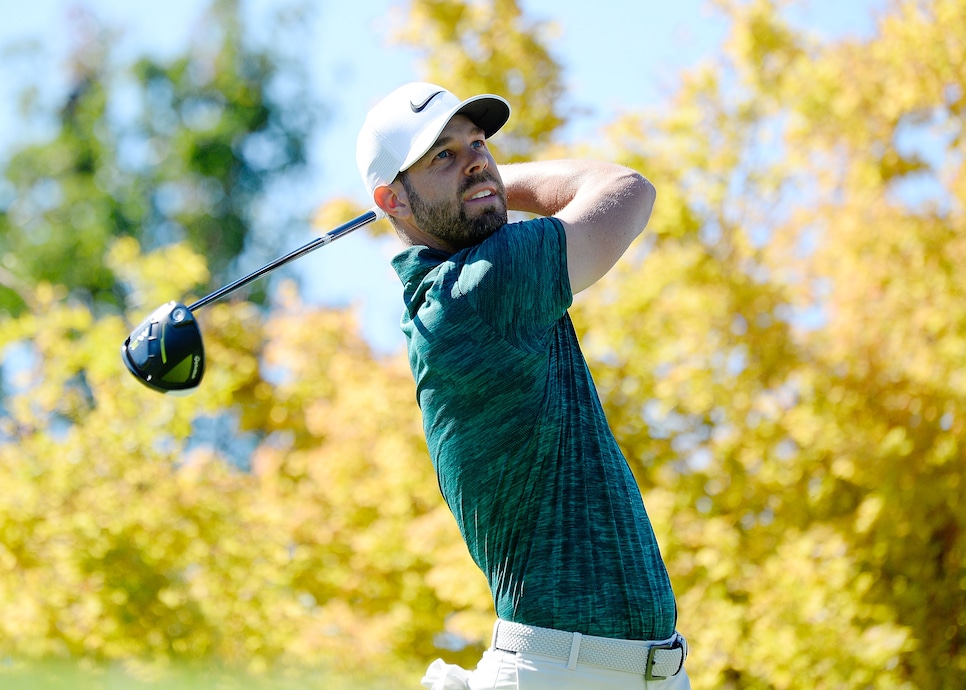 Welcome to the Dew Sweeper, your one-stop shop to catch up on the weekend action from the golf world. From the professional tours, trending news, social media headlines and upcoming events, here's every golf-related thing you need to know for the morning of Oct. 8.
Tway grabs first win in Silverado
It took the dissipation of a five-shot lead and three playoff holes, but Kevin Tway finally got his W. Tway defeated Ryan Moore and Brandt Snedeker in sudden death to win the 2018 Safeway Open.
And how. On a windy day at Silverado that caused scores to sky, Tway birded the final two holes in regulation for a one-under 71, then watched Snedeker, who held a five-shot advantage with 11 holes to play, bogey four of his final eight to allow Tway and Ryan Moore (who shot a Sunday-low 67) in to a playoff. Snedeker was quickly out with a par after Tway and Moore birded the 18th, with the two trading birdies again on the third go-around of the final hole. Tway broke through when overtime moved to the 10th, sealing the tournament with his fifth-straight birdie.
''It was nice to get hot at the end,'' Tway said. ''I wasn't really in it on the front nine. Brandt made a couple bogeys starting the back. I was kind of right there, but kind of hanging around. Birdied 17, 18 to get into the playoff and then kept it going in the playoff—and here I am.''
Tway, son of former major champion Bob Tway, was once a can't-miss prospect who took a few years to find his footing on the big-league circuit. With his first career victory at 30, he and Bob became the 10th father-son combo to win on tour.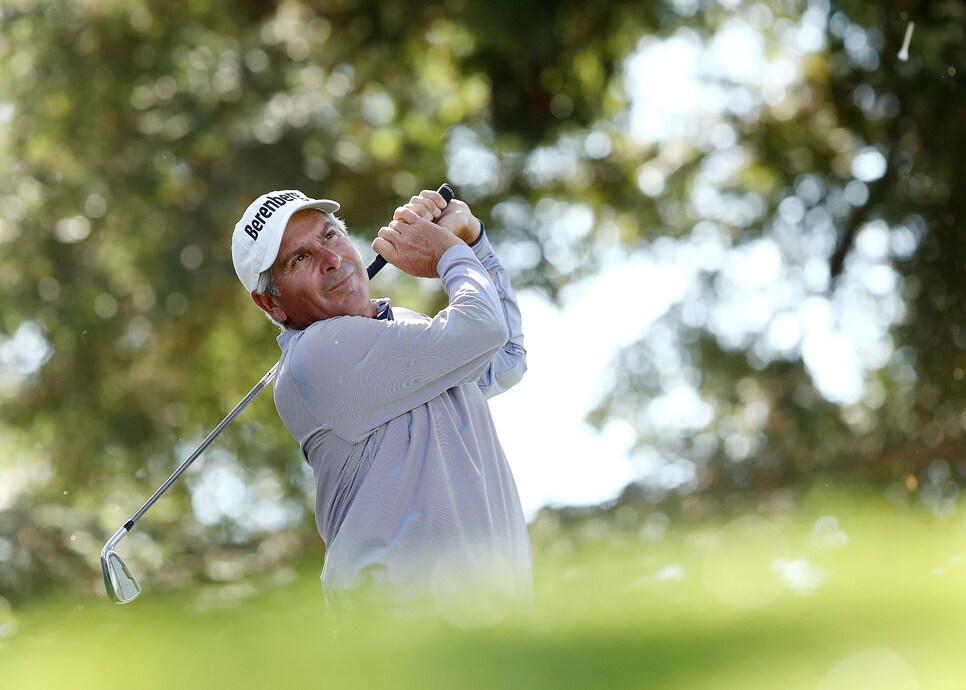 Marianna Massey/Getty Images
Couples reaches milestone
Golf, a game for all ages. A sentiment seen at the Safeway Open as Fred Couples, celebrating his 59th birthday, made his 500th career cut on the PGA Tour thanks to a Friday 65 to make the weekend.
Officially it's 492; eight other cuts came via the Open Championship, which wasn't considered a tour event until 1995. Although Couples asserted they better register.
"If they're cheating me from British Open cuts, those are better than a lot of other cuts I made on the PGA Tour," Couples said. "So whatever it is, let's just say it's 500 and we're counting the British Open, I was kind of stunned."
He was more than just a ceremonial player—following a front-nine 33 on Saturday, Couples had moved up to T-3 on the leader board. Unfortunately the back nine was not as fortunate, and a final-round 75 dropped Couples to a T-41 finish. Nevertheless, it was good enough for Couples' first cut at a non-major since the 2013 Memorial.
Couples, who played at the Safeway on a sponsor's exemption, said this would be likely be his final start at a non-major. Couples had played just eight tournaments in 2018 on the PGA Tour and PGA Tour Champions, nursing his chronic bad back. Three have come since the end of August.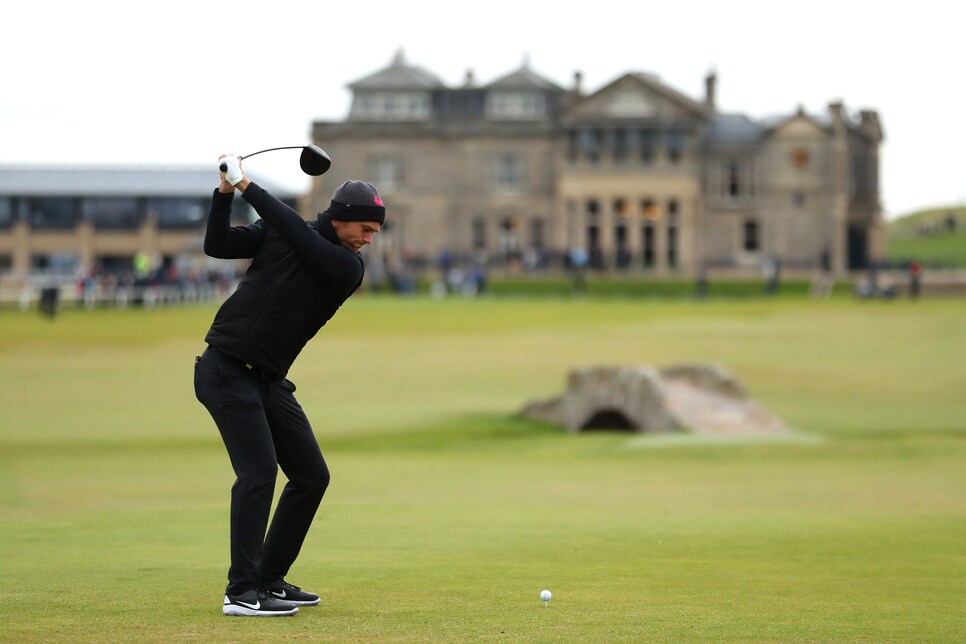 Bjerregaard claims Dunhill Links
Snedeker wasn't the only player to cough up a five-shot lead over the weekend.
Tyrrell Hatton, fresh off a Ryder Cup triumph, was four under through nine holes during the final round of the Dunhill Links at the Old Course in St. Andrews, seemingly locking up his third consecutive Dunhill win. But Hatton stumbled home in blustery conditions, his 40 opening the door for Lucas Bjerregaard. The Dane answered Hatton's struggle with a 34 on his final nine (because of weather, the final round was a shotgun start), a number good enough for a one-shot victory over Hatton and Tommy Fleetwood.
"This was a great day and one of the best rounds I've played all year," Bjerregaard said. "I've played well recently and come close a few times. I've never been to a Ryder Cup before, but Thomas invited me down, so I went. I saw the team room and the locker room, and I'd be lying if I said I wasn't inspired. It was amazing to see. I definitely want to make that team one day."
Brooks Koepka bogeyed his final two holes to finish in a tie for seventh, while his American teammate Tony Finau came in 10th.
South Korea claims International Crown
In front of the home crowd, the top-seeded South Korean team captured the International Crown on Sunday.
The biennial team event, played at the Jack Nicklaus Golf Club in Incheon, was mostly contested in wet conditions after a typhoon hit the Korean peninsula. That didn't stop the South Koreans from winning two of its four singles matches on the final day, securing a four-point win over the American and England clubs.
"We never really feel nervous before majors but we have been nervous for a couple of months before this," So Yeon Ryu said. "Turns out that because this was home field, we felt comfortable with all the fans that came out to support us, and we had a lot of benefits. The support was incredible."
It is the first win for South Korea in the event.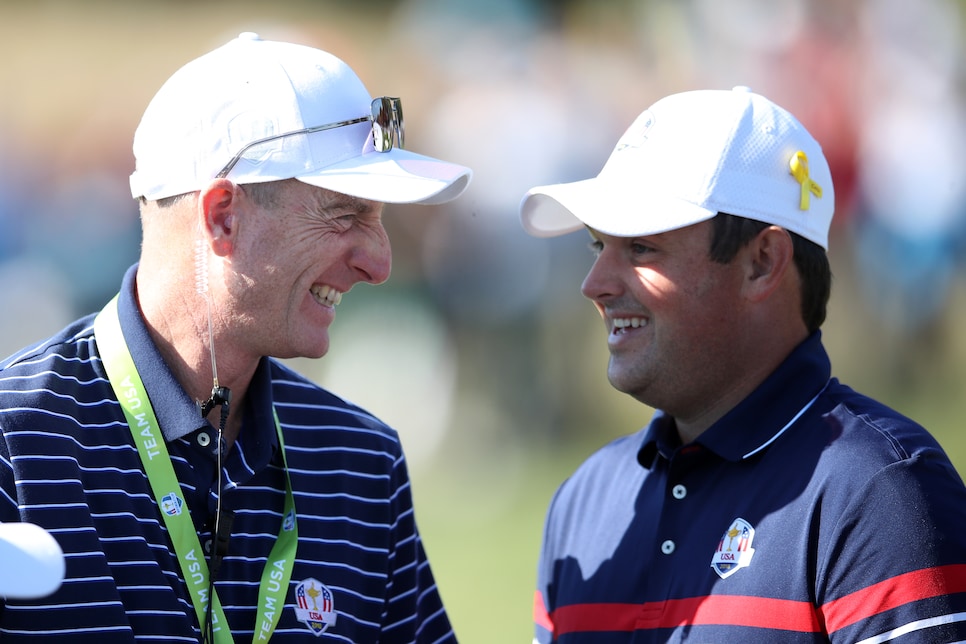 Furyk says Reed knew of pairings well before Ryder Cup
Patrick Reed sounded off following the Ryder Cup, throwing his captain and teammates under the bus. A week later, Jim Furyk has responded. A response that casts further doubt over Reed's comments.
Reed, in an interview with the New York Times, said he was "blindsided" when he found out he would be split from Jordan Spieth the week of the event. Spieth and Reed had formed a successful partnership starting at the 2014 Ryder Cup, a partnership that was carried over to ensuing Presidents Cups and the 2016 Ryder Cup. Reed instead played with Tiger Woods at Le Golf National, going 0-2 in fourball, while Spieth teamed with Justin Thomas, the later duo going 3-1 together.
However, according to Furyk, in an interview with the Golf Channel, Reed knew well before France that he'd be playing with Woods.
"When I started looking at who (Tiger) would pair well with, I kept coming back to Patrick Reed," Furyk told the Golf Channel. "There was always the idea that we could go Tiger and JT (Justin Thomas), and Patrick and Jordan, but ultimately they knew going into the week, weeks in advance, they knew they would start the Ryder Cup with Patrick and Tiger being partners."
Furyk likewise acknowledged reports regarding an altercation between Dustin Johnson and Brooks Koepka at a European team party following the Euro's win, but downplayed the severity of the incident.
"Whatever altercation started, or what happened, it was very brief. It was very short. Neither one of them really took anything out of it," Furyk said. "They're like brothers. Brothers may argue, brothers get into it. But they're as close as they've ever been, and it really had no effect on either one of them."
Furyk also said, despite the wide margin of defeat, he was happy with his choices and picks for the team.
"I'd take those 12 players into the fire any day, on any course. And I still would," Furyk said. "Last week didn't work out the way we wanted, but I love those guys and I love what we had together in the team room. And I'd do it all over again."