News
What you missed this weekend: Thomas locks up POY, Uihlein earns card and Lewis delivers story of the year
Welcome to the Dew Sweeper, your one-stop shop to catch up on the weekend action from the golf world. From the professional tours, trending news, social media headlines and upcoming events, here's every golf-related thing you need to know for the morning of Sept. 5.
It's been years since a handful of formidable cases could be made for Player of the Year. Both Dustin Johnson and Hideki Matsuyama have won four times, while Jordan Spieth's Open Championship and two other tour victories certainly warrant consideration. So it's quite the statement that, with two tournaments left in the season, one player has already wrapped up the honor.
Justin Thomas turned in a final-round 66 to capture the Dell Technologies Championship by three strokes. Thomas, who fired a Saturday 63 to share the 54-hole lead with Marc Leishman, battled the Aussie and Spieth after both toured TPC Boston's front in 30 strokes. However, both stumbled down the stretch, giving Thomas enough breathing room to cruise to the title.
It was the fifth win of the season for the 24-year-old Thomas, and sixth of his career. The five Ws -- most notably, his PGA triumph at Quail Hollow -- combined with a 63 at the U.S. Open and 59 at Sony Open is a résumé that rises above the rest. He joins Jack Nicklaus, Tiger Woods and Spieth as the only players since 1960 to win five times, including a major, in one season before the age of 25.
Not too shabby for a guy who didn't make the Ryder Cup team 12 months ago.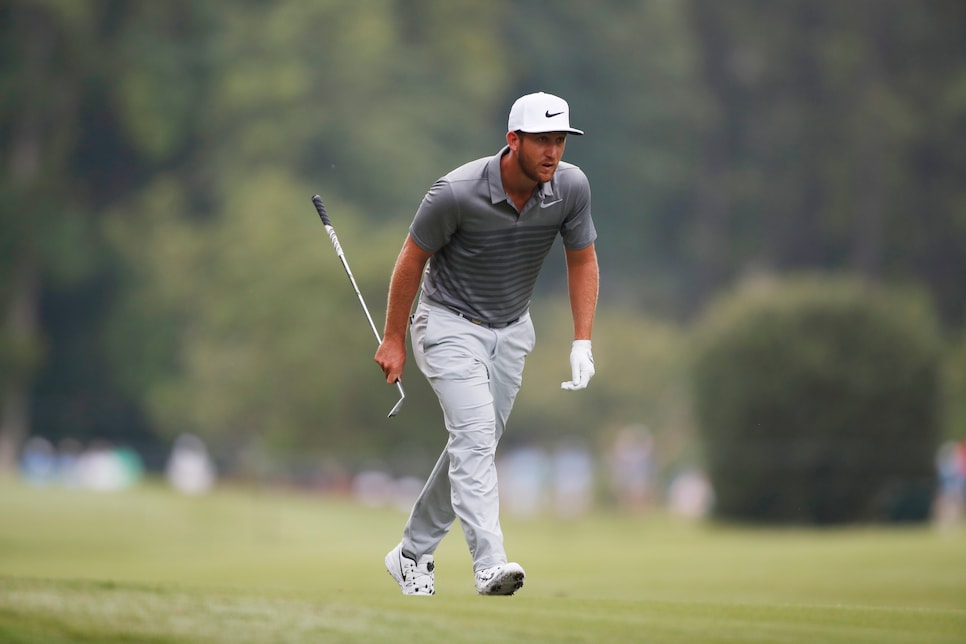 Presidents Cup qualification goes down to wire
Kevin Chappell and Charley Hoffman put together strong seasons the past two years, yet there was only room for one via automatic qualification to the United States Presidents Cup squad. Hoffman, who entered Boston in the final spot, struggled for most of the event but finished strong with a Sunday 68. On the other end of the spectrum, four bogeys in the final eight holes put Chappell's comeback bid, one that looked complete just hours before, in doubt.
However, Chappell's T-35 finish versus Hoffman's T-47 edged Chappell onto the team...by .23 points. The 31-year-old Chappell, who grabbed his first career win this spring, responded in proper fashion:
Hey, who said the Presidents Cup doesn't matter?
PGA Tour sticking with familiar faces
An earlier Sports Business Journal report said the tour had evaluated possible relationships with FOX, ESPN and Turner, or potentially launching its own channel.
Though commissioner Jay Monahan struck down this notion at this year's Players -- at least in the immediate future -- the tour could look into a partial ownership deal with the Golf Channel. The tour's current agreement with Golf Channel has no opt-out clause and is signed through 2021.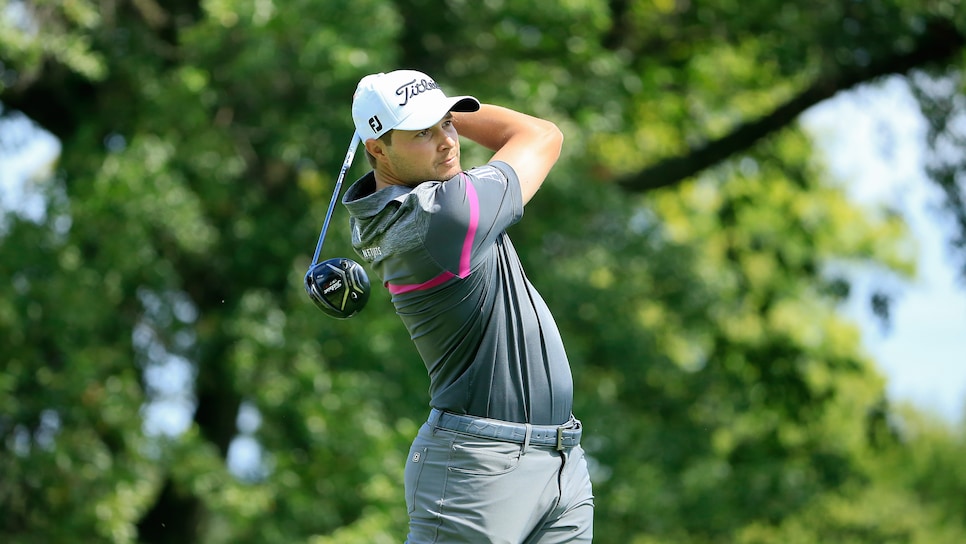 Globetrotter secures status
Peter Uihlein is a former No. 1 amateur and Ben Hogan winner, and won the European Tour's Rookie of the Year in 2013. But due to injuries the Oklahoma State product failed to gain traction in his ensuing campaigns, finishing outside the top 40 on the circuit's Order of Merit. Yet 2017 brought renewed health and conviction, posting five top 10s across the world. Gaining entrance to the Web.com Tour Finals, the 28-year-old made the most of his opportunity, winning the playoff's first leg in Columbus at the Nationwide Championship to secure his PGA Tour card for the first time in his career.
"This year in particular, with the way I've tried to change my game, I've become a lot more consistent," Uihlein said. "It's a good feeling to know that I can play golf just hitting it in one direction and eliminate one side of the golf course, which is something I've been just absolutely hammering. I really like where my game is headed."
The son of Wally Uihlein, the longtime CEO of Acushnet (parent company of Titleist), Uihlein hinted at keeping his options open, perhaps playing on both major tours next season. Where his next destination is unknown, there's no doubting the direction Uihlein's game is headed.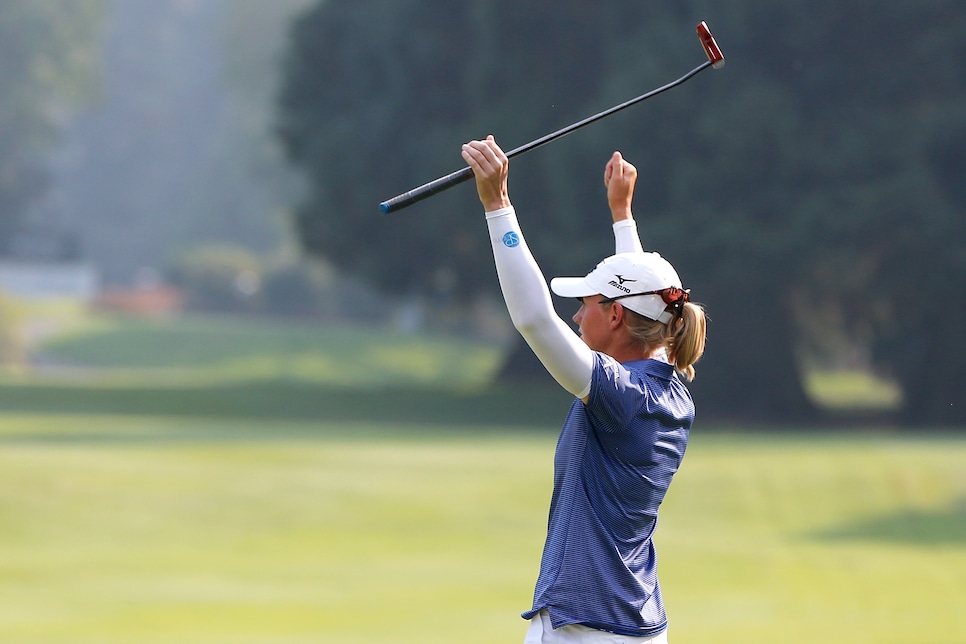 Stacy Lewis delivers story of the year
Take your Babe Ruth and Broadway Joe promises and shove 'em. Stacy Lewis delivered the best guarantee in sports history.
Lewis, a native and resident of Houston, pledged early last week that all of her earnings at the Cambia Portland Classic would be donated to Hurricane Harvey relief. A noble gesture, especially given that the 32-year-old has enjoyed another prosperous year on the LPGA Tour. Likewise, Lewis has been unable to get over the hump, her last visit to the winner's circle coming in 2014. Making the following remarkable: Lewis prevailed at Columbia Edgewater C.C., with a final-round 69 giving her a one-shot win over In Gee Chun.
"When I said that I had the goal of winning the tournament, you've got to get a lot of things right, to go your way," Lewis said. "Just what we're going to be able to do, we're going to be able to help me rebuild houses and get their homes back. That's more important than anything."
For her performance, Lewis earned $195,000, a number that will be matched by her sponsor KPMG. Already considered one of the more accomplished American players of her generation, her efforts in Portland transcended sport, a mix of heroic and humanitarian. Golf's not been short on captivation, drama and theater in 2017. But Lewis' performance earns a spot on the marquee.