WGC-Dell Match Play
It will be Match Play rookies against seasoned vets in Austin semifinals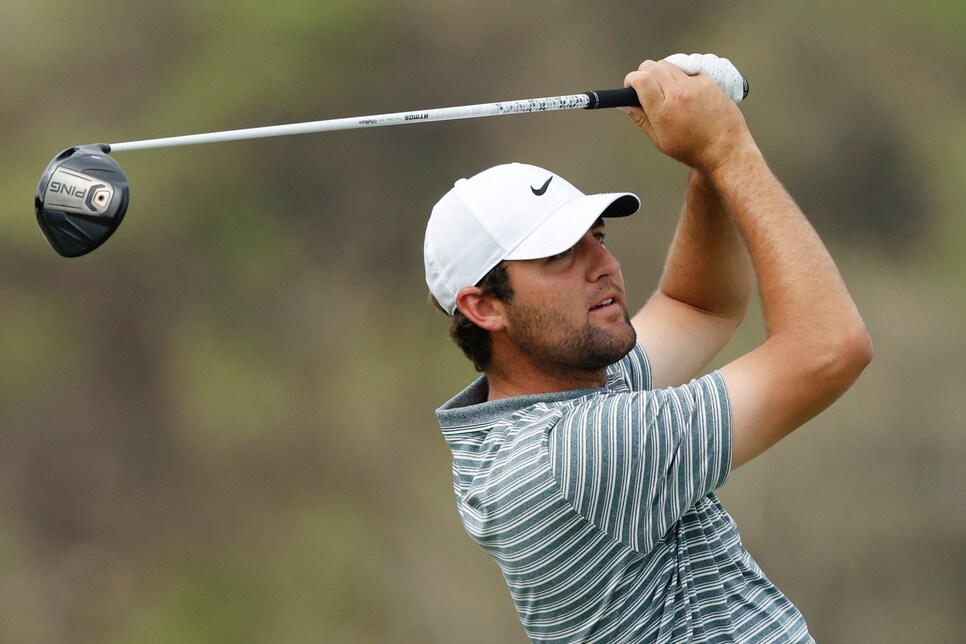 Scottie Scheffler plays his shot on the 13th tee in his match during the quarterfinal round of the World Golf Championships-Dell Technologies Match Play.
Michael Reaves
AUSTIN, Texas—In a match play format, it's incumbent upon TV crews and on-course interviewers to anticipate both when and especially where a given match will end. If you're sitting in a cart at the 18th green and a match ends 5 and 3 on the 15th hole, you can forget about getting an immediate interview with the winner.
So when Billy Horschel came to the par-3 17th, 1-down against Tommy Fleetwood in their Saturday afternoon quarterfinal, it was no surprise that NBC's Steve Sands was waiting on the hill that overlooks the green. After all, Fleetwood could clinch the match right there.
To Horschel's mind, though, the match wasn't ending on 17, and he turned that optimism into reality with a wedge to eight feet. When Fleetwood missed his long birdie putt, and Horschel converted, the match was all-square heading to 18. Horschel trudged up the hill, where he saw Sands waiting and couldn't resist a small jab.
"What the f--k are you doing on this hole?" he asked.
Billy Horschel plays his shot on the 18th hole in his match against Tommy Fleetwood.
Darren Carroll
A halved 18th later, Horschel and Fleetwood moved on to sudden death, and though Fleetwood did his best to recover from a penalty after a nightmarish drive out of bounds on the first extra hole, Horschel had a simple two-putt for par to win … which he converted, though not as simply as he'd like.
It's Horschel's first trip to the final four at this event, and he had to earn every bit of that ticket against Fleetwood, who held a lead for most of the afternoon. The situation looked dire after Horschel missed a golden chance to win the 13th when Fleetwood's tee shot hit the water, and only a converted 30-foot birdie putt on 14 kept him from falling 2-down with four to play. Fleetwood clung to 1-up margin, and it became a case of holding on, and holding on, until Horschel made birdie at the par-3 17th to get all-square against the 2018 Ryder Cup star who leaves Austin having reinforced his match play bona fides.
Horschel will meet Victor Perez in Sunday morning's semifinal after Perez defeated his friend Sergio Garcia with surprising ease, 4 and 3, in a match that lacked a certain something in the aesthetic qualities.
"We were both pretty gassed, and it showed," Perez said afterward. "I don't think it was the prettiest golf I think it was about hitting as many greens as possible, giving myself opportunities and really not giving any holes."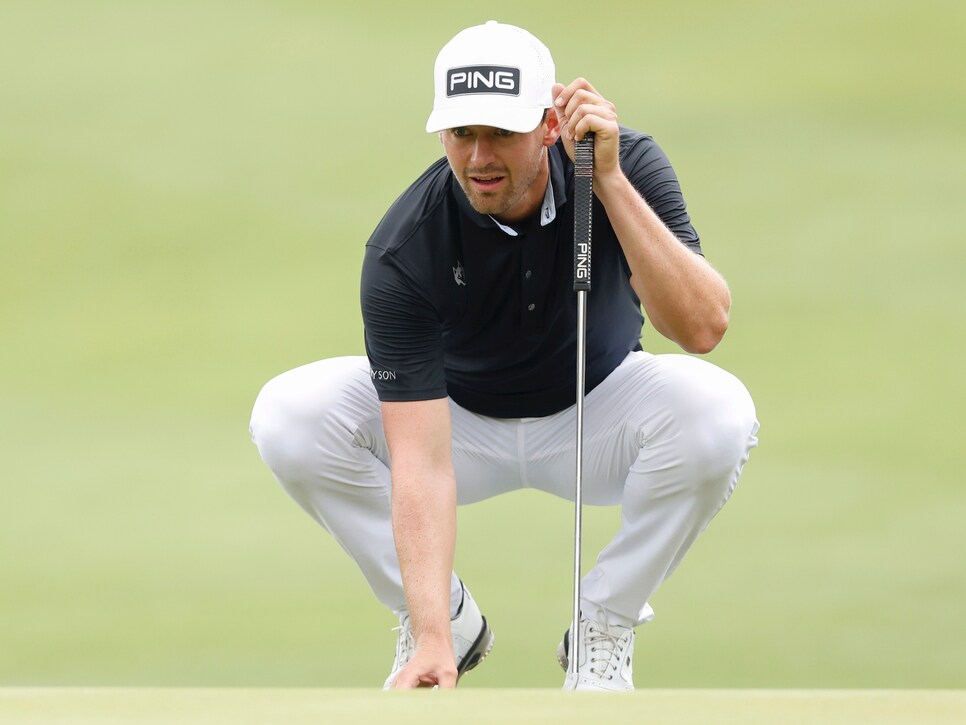 Victor Perez lines up a putt on the sixth green in his match against Sergio Garcia.
Michael Reaves
Perez's father was a rugby coach in France, and the son was attending the University of New Mexico when another French Victor—Dubuisson—made his legendary run at the final WGC-Match Play in Arizona before losing to Jason Day. Perez thinks he benefited from being a rookie in the Match Play. His ignorance of the course, and his lack of a record against the other golfers he faced, lent him a certain amount of freedom.
"Sometimes ignorance is a good thing in golf," he said, "not really knowing what's coming, not knowing the 36-hole day, you come out, you try to play your best."
Ironically, he also profited from his friendship with Garcia, who has given him advice on all facets of professional life, including match play. Perez spoke of the European philosophy Garcia conveyed of never giving up on a hole, even one you're bound to lose, because every bit of pressure you can put on your opponent pays dividends.
He put that guidance into practice on the fifth hole, when his approach landed in a rear greenside bunker while Sergio dropped a dart four feet from the pin. Knowing he might be dead barring a hole-out, Perez nonetheless committed to his bunker shot and managed to knock it inside Garcia. The Spaniard made the birdie anyway, but it was the last hole he'd win all match as Perez ground him down methodically over the next nine holes.
On the other side of the bracket, Scottie Scheffler had the Ryder Cup in mind when he took on Ian Poulter in the morning, followed in the quarters by Jon Rahm—the highest seed remaining in a draw full of upsets.
"I've watched Ian way too many times on TV just beat the crap out of us in the Ryder Cup," Scheffler said. "So I just have memories of me and my dad sitting on the couch and watching this guy make putt after putt ... it was nice to get one on him, at least for me."
The native Texan had a classic exchange with Poulter in the morning, following up his opponent's 41-foot birdie on the 12th hole with a 26-footer of his own, which stymied any nascent momentum and ended the final real challenge of the English Ryder Cup hero. He did it again in the afternoon, this time on the 14th hole. Rahm, 3-down, ignited the fireworks he wanted with a 49-foot bomb, but Scheffler answered yet again, maintaining his big lead and making the math exceedingly difficult for Rahm.
"I was standing there greenside and that was kind of the moment, it was his do or die moment for the round," Scheffler said after his round. "And I had a feeling he was going to hit a really good shot. It happened to go in, and I knew I had to roll that one in to keep things in check."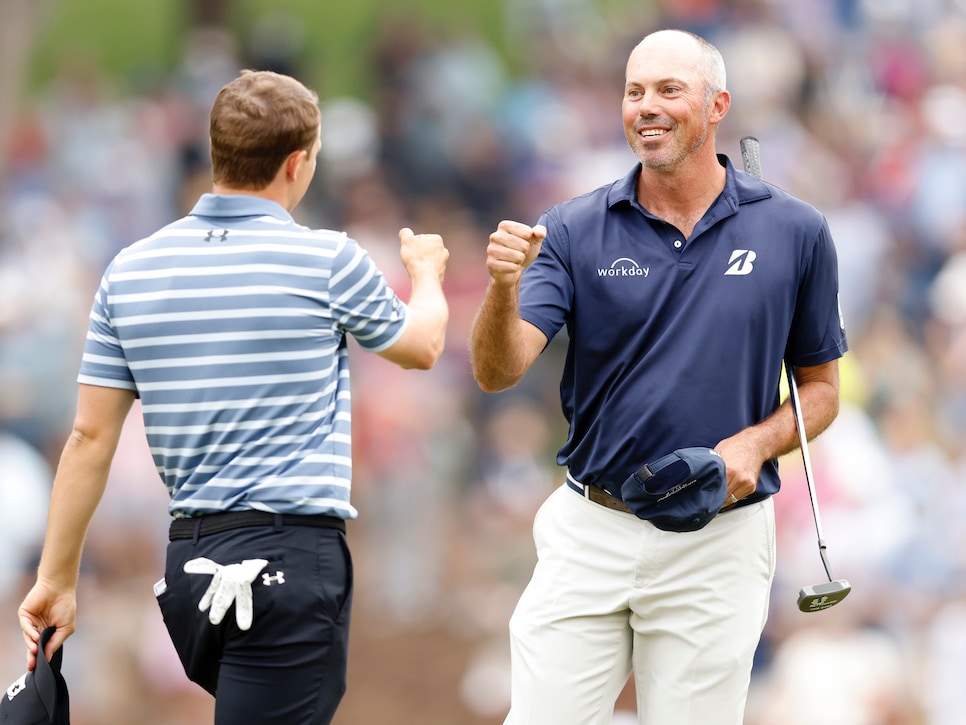 Matt Kuchar fist bumps Jordan Spieth after winning their match during the fourth round of the World Golf Championships-Dell Technologies Match Play.
Michael Reaves
At 24, Scheffler is so plainspoken that he almost comes off terse, and it's easy to miss the analytical gems he tosses off in his short sentences. And though he has New Jersey roots, he comes as every bit the Texan. As such, it's no surprise that while Perez enjoyed the mild south wind on Saturday, Scheffler is excited for the strong northerly winds forecast for Sunday.
"A gusty north wind around this course is something these guys may not have seen," he said, "and I think I'll have the upper hand with a little bit of experience."
Despite his native knowledge, the man he faces in the semifinals, Matt Kuchar, is anything but short of experience. In fact, with his quarterfinal win against Brian Harman, he moved into second all-time in WGC-Match Play wins, passing Poulter and standing behind only the inevitable figure of Tiger Woods. It's a welcome result for Kuchar, who has made no secret of his recent struggles as he returns to friendly ground.
"Listen, I had a number of years where I didn't miss many cuts, and then to have the last six months pack up more Fridays," he said. "It's no fun packing up Fridays. I was working hard, doing all the things that I thought I needed to do to get better and not seeing the improvement, and that's a tough thing when you're putting in time and not seeing results. But [I] thankfully stayed the course and finally got things clicking again."
Along with Harman, Kuchar added Jordan Spieth to his list of match play victims earlier in the morning, but he'll face his sternest challenge yet against Scheffler, who is proving to be a Match Play legend-killer. We're down to the last four, and come Sunday, the Texas winds will be howling.