News & Tours
Matt Kuchar beats Jordan Spieth thanks to using fans to help search for his ball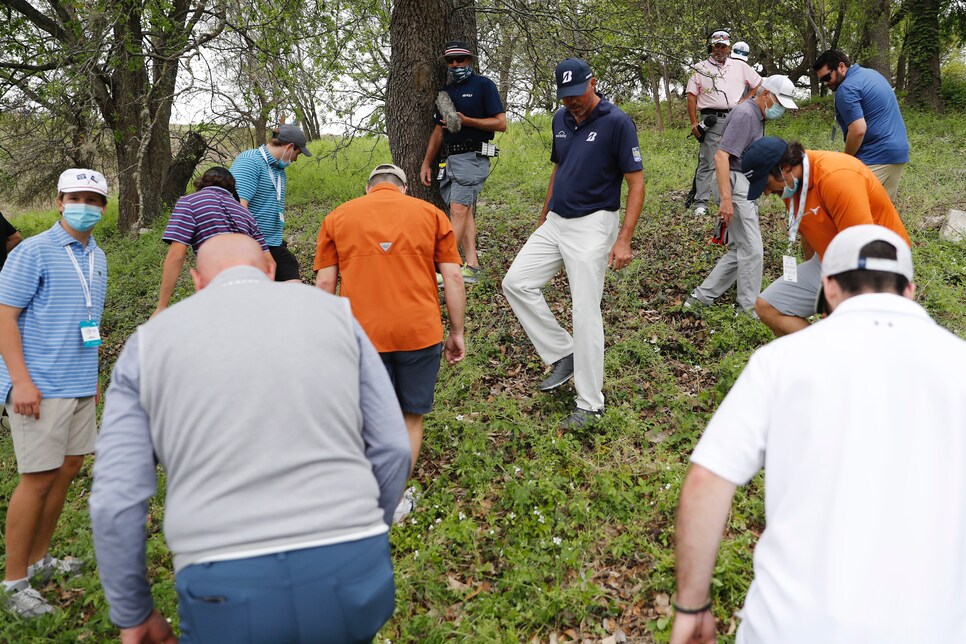 Fans help Matt Kuchar look for his ball on the 16th hole in his match against Jordan Spieth during the fourth round of the World Golf Championships-Dell Technologies Match Play.
Michael Reaves
The fans are beginning to return to PGA Tour events, with Austin C.C. welcoming a limited number of spectators for this weekend's WGC-Match Play. A development Matt Kuchar decided to use to his advantage.
Tied with Jordan Spieth through 15 holes Saturday afternoon, Kuchar misjudged the flight of a mudball, his second shot sailing far right into brush. Realizing a reload would put him in a bind, Kuchar called upon the fans to help look for his ball.
As the video shows, the move was the right one as Kuchar was able to find his rock. Better yet, thanks to a scoreboard in his line, the veteran was given a generous relief ruling and was able to punch-out. Kuchar ended up halving the hole, a hole that clearly appeared to be for Spieth.
And a hole that proved decisive, as Kuchar tied Spieth on the 17th before walking in a birdie at the final hole to win the match. Unfortunately Kuchar did not yell "Go get that!" as his birdie putt dropped, letting a golden content opportunity go to waste.
But you really have to feel for Spieth. Poor guy was betrayed by his fellow Texans. It's the ones you love who always hurt you the most.