WGC-Dell Match Play
Scottie Scheffler gives Ian Poulter a taste of his own match-play medicine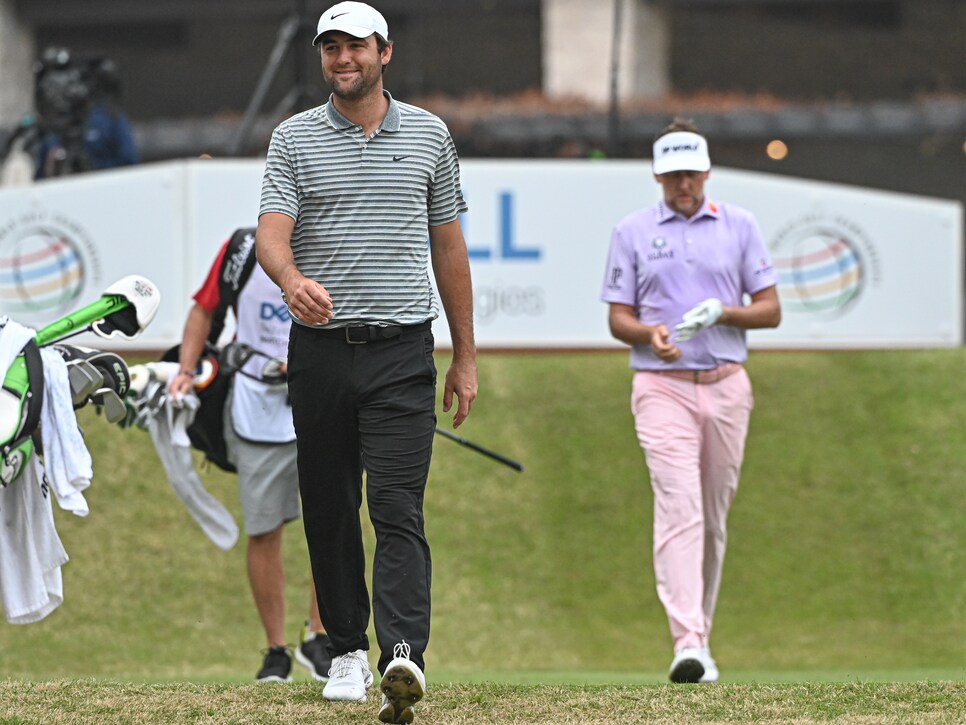 Scottie Scheffler and Ian Poulter walk off the first tee box during the round of 16 in the World Golf Championships-Dell Technologies Match Play.
Ben Jared
AUSTIN, Texas—It's one of the classics of the match play genre: Player A makes a long putt for birdie, believes in his heart he's just won the hole, and then watches in disbelief as Player B pours one in right after him. The most famous contemporary example came at the 2016 Ryder Cup in the ridiculous eighth hole exchange between Rory McIlroy and Patrick Reed, and the results are devastating every time.
No human being, with the possible exception of Tiger Woods, has been quite as devastating as Ian Poulter in match play, and if there's heartbreak to be handed, he's usually the one on the giving end. Saturday morning at the WGC-Match Play, though, the shoe was on the other foot. On the 11th green, 3-down and standing over a 41-foot birdie putt, Poulter needed some magic to give himself even the faintest hope of a comeback. But magic is exactly what Poulter is known for in this format, and once again, the Postman delivered.
With Scheffler off the green, it looked like he'd won the hole and reduced the margin to a more manageable 2-down. But Scheffler, who has appeared in zero Ryder Cups, had other ideas:
There's a lot to love here, from Poulter's quintessential glare as he marched to the hole after his bomb, to Scheffler's frankly excellent understated fist pump, to Poulter stalking away, the match play genius refusing to let an ounce of disappointment show.
Despite the stone face, though, it had to kill him inside ... at least a little. Scheffler, in his first Match play, routed Poulter 5 and 4, and he no doubt will look back at the 11th green as the moment when he took the last bit of momentum generated by Poulter and squashed it on the spot.