WGC-Dell Match Play
Max Homa is adding to his growing reputation as a guy you don't want to face in match play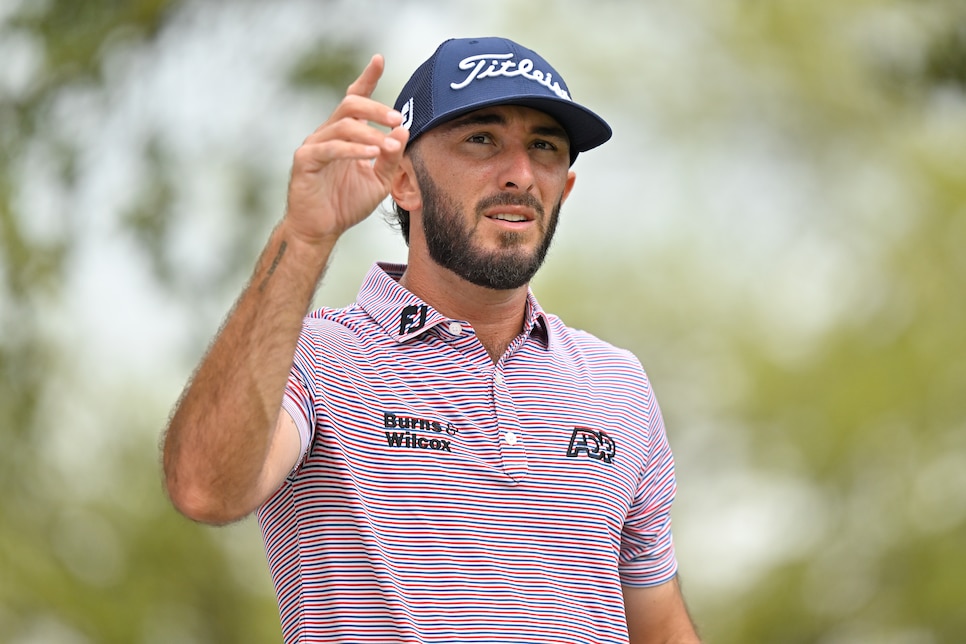 Max Homa waves on the first tee box during the first day of the WGC-Dell Technologies Match Play.
Ben Jared
AUSTIN — Ask Max Homa if he's officially a man to be feared in a match-play format, and he reacts with typical self-deprecation.
"I just think it's always difficult playing someone playing well who's confident, so I guess I would be ... if you're going to use the word 'feared,' I guess that would be something," he said, following his 3-and-2 victory over Justin Suh on the first day of the WGC-Dell Technologies Match Play. "But when it's just one-on-one, it helps if you're rolling because you probably don't get as far ahead of yourself. But I think I have a long way to go to be some kind of match-play terror for the rest of the field."
Indeed, coming into this year's event, Homa was just 3-3 all-time at the Match Play, and the closest he's come to reaching the weekend knockout round was a playoff loss to Billy Horschel on Friday in 2021. Nevertheless, he's never lost earlier than the 18th hole, and the biggest success of his match-play career came in a breakout performance at last fall's Presidents Cup in Charlotte, where he posted a 4-0 record that included a singles win against Tom Kim, the heart and soul of the International team.
Homa and Jordan Spieth were the only undefeated players at the event, and though his reputation as a combative match-play opponent is new, it's still built on solid ground.
"Presidents Cup, I won three of the matches with a partner, so I'm not going to take all the credit for that one," said Homa who shared two victories with Tony Finau and another with Billy Horschel.
On Wednesday, Homa was competent rather than spectacular. He didn't feel especially happy with his irons or putter, and he didn't make a birdie until the 12th hole. But Suh was similarly unremarkable, allowing Homa to preserve a tied match into the 12th hole. There, his approach on the par 5 was to six feet and he made the birdie to retake the lead. The pair traded birdies on the short par-4 13th after Homa drove the green, and a hiccup bogey by Suh on 15 gave Homa a 2-up lead. A match that had been razor tight throughout was suddenly teetering, and Homa ended things emphatically on the par-5 16th with a tap-in birdie that Suh couldn't match.
"I did a good job with my irons, just always kind of keeping pressure on Justin and hitting greens when I was in the fairway, or at the very least when I was off on distance, I was leaving it in the right spot to have an easy up-and-down," Homa said. "I just thought that I didn't score anything crazy low, but I felt like I made it somewhat easy on myself today."
Despite the fact that he's loath to give himself any credit, Homa admitted that he enjoys the personal nature of match play and adjusts his approach to the format.
"I think it's like the pure form of golf," he said. "We play it all the time at home, so it's nice to do it competitively every once in a while."
He also knows that his continued success in the format will make his life easier when it comes time for future Ryder Cup and Presidents Cups, if he ever needs the help of a captain's pick to make a team.
"Yeah, I don't think it can hurt," said Homa, who currently ranks No. 2 on the U.S. team standings for this year's Ryder Cup in Rome. "I think if you have a great match-play record it can bolster your chances of getting a pick to one of the team events just because—like [Kevin] Kisner is really good at this. I don't even know how you quantify that, but he's really good at match play ... there's something to it."
On Thursday, Homa will face Kisner, who lost to Hideki Matsuyama on Wednesday. And if Homa can win, he'll control his own destiny in his final group-stage match against Matsuyama on Friday.
There's a long way to go before he's a match-play terror on the level of Kisner, much less Ian Poulter, but the start of his reputation in the format might get a major infusion with a few more wins this week.