WGC-Match Play takeaways
The stars disappeared, Ian Poulter will never go away, and Jordan Spieth is heating up right ahead of Augusta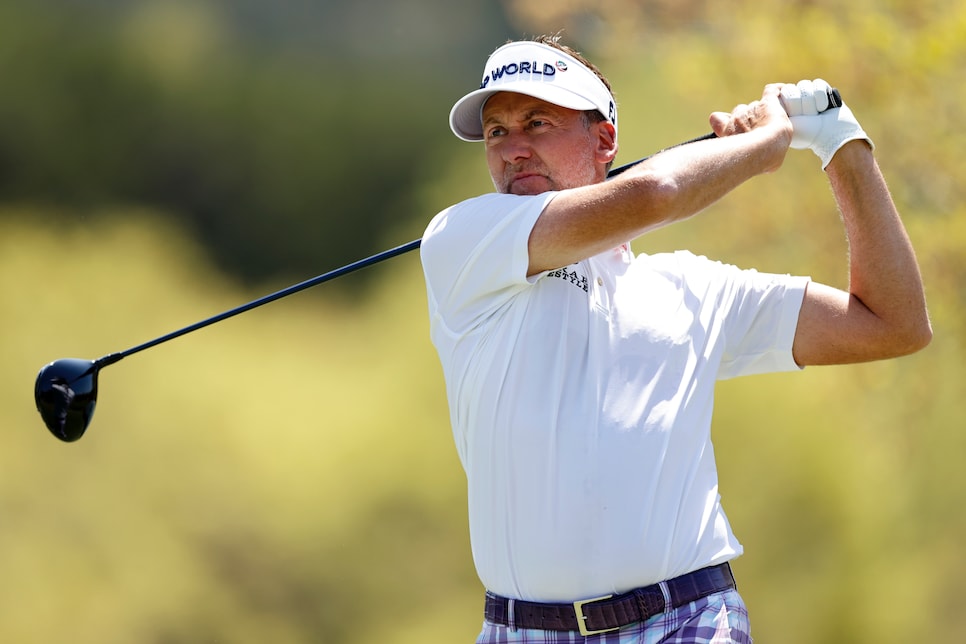 Ian Poulter plays his shot on the sixth tee in his match against Lanto Griffin during the third round of the World Golf Championships-Dell Technologies Match Play.
Michael Reaves
And you thought the college basketball tournament was tough to predict.
If you told us the results of this year's WGC-Dell Technologies Match Play were determined by a random number generator, we'd believe you. Seriously. The average seeding of the 16 players who advanced past the group stage is 43(!), with 19 of the top 20 seeds—No. 3 Jon Rahm as the only survivor—leaving Austin Country Club early.
We should know better than to be surprised by this. In the most recent edition of this tournament two years ago, the final pitted the No. 23 seed against the No. 48 seed. Naturally, the No. 48 seed, Kevin Kisner, won. Crazy stuff happens in this and every match-play tournament. On the first day of matches on Wednesday, Brian Harman had the second-highest strokes gained total of anyone in the field … and lost, because he had the misfortune of playing the guy with the best strokes gained total of anyone in the field, Patrick Cantlay. Year after year, the American side at the Ryder Cup has a higher average world ranking, and the Europeans have won nine of the last 12. Match play is beautifully chaotic, especially in a field where everyone is a top-70 player in the world.
The lowest-seeded player in the entire tournament, No. 64 and UT grad/Austin resident Dylan Frittelli, was the first player to clinch a berth in the knockout rounds. Interestingly enough, the tour switched to the group-play format in an effort to make sure there were more big names playing the weekend. Give these guys three matches, and the best player should emerge. Instead, you've got a weekend without the vast majority of the game's superstars. In summation: match play is impossible to forecast, and if you bet actual dollars on this tournament, you are much braver than I.
Here are three more takeaways from the final day of the group stage.
Ian Poulter will haunt American dreams for generations
We really thought Ian Poulter was finished. Not retired, or anything, but gone were the days of the Englishman terrorizing American Ryder Cup teams. He's 45, after all, and he's dropped outside the top 50 in the world, and surely captain Padraig Harrington would opt for some younger blood with eyes toward the future.
How foolish we were. Poulter was one of just three players to win all three of his matches in the group stage. He waxed Rory McIlroy on Wednesday, then hung tough to beat Cameron Smith 1 up on Thursday, and preserved the perfect record with a 2 and 1 win over Lanto Griffin on Friday. (Matt Kuchar is the only other player in the field to go 3-0-0.)
On Wednesday, he described his love for the "sh-t or bust" mentality of match play. On Friday, he elaborated on that a bit.
"I'm not sure I can ratchet my intensity up any more," the match-play assassin said. "I'm pretty focused right from Wednesday. I wanted to come out hard and fast Wednesday. I wanted to win every match. I didn't want to have to rely on someone else doing something to help me get through. That's what I've been focused on this week, just play real hard and try to be as aggressive as I can to every pin and try not to make any mistakes."
And he wasn't the only 40-plus Euro who sent a strong message to Harrington and a shiver down the spine of American golf fans. Lee Westwood beat world No. 8 Tyrrell Hatton 4 and 3 to get himself into a playoff against Sergio Garcia, only for Garcia to ace the fourth playoff hole for the victory. Not to make you jealous or anything, but that was Sergio's 13th hole-in-one. Must be nice.
The young guys did OK, too. Robert MacIntyre hit his tee shot on the 370-yard 18th hole to within three feet and had his eagle conceded. And, with the help of plucky Kevin Na beating World No. 1 Dustin Johnson, the young Scot advanced to the knockout rounds. Rising star Victor Perez beat Sungjae Im to get to the round of 16, and Viktor Hovland battled admirably to beat Abraham Ancer despite losing his first two matches of the tournament. No matter what happens between now and Whistling Straits, let us not forget this week, and lord forbid we think the U.S. has the upper hand based on an algorithm that deals with stroke play almost exclusively.
The Jordan Spieth redemption tour continues, with a key tournament on the horizon
Well, well, well … would you look at who is rounding into form with the Masters right around the corner. This wasn't the week to prove Jordan Spieth is back. That already happened, when he posted three top-five finishes in four starts. But the strong play has continued, with the former Texas Longhorn going undefeated in group play in his old stomping grounds to get to the knockout rounds.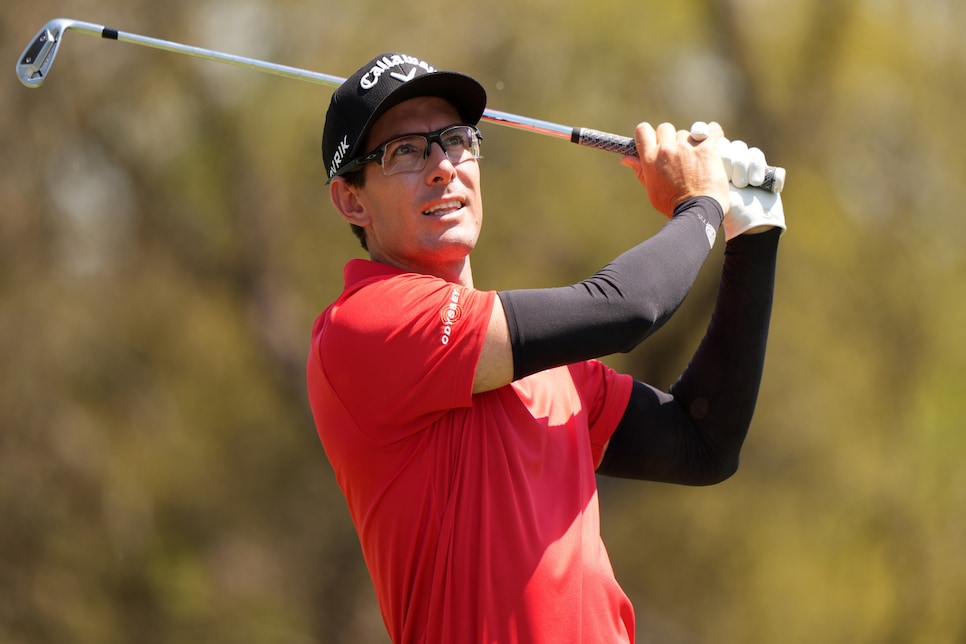 No 64 seed Dylan Frittelli advanced to thr knockout stage of the Match Play.
Darren Carroll
Spieth made five birdies in his first 12 holes en route to beating Corey Conners 3 and 2, a match he needed to win to avoid a playoff with Matt Fitzpatrick, who Spieth beat 3 and 1 on Friday. He is brimming with confidence—shaping the ball both ways off the tee, controlling his distance perfectly with his wedges, and looking rock-solid on the greens.
Incredibly, some sportsbooks now have Spieth listed at 12-1 to win the Masters, making him joint-fourth favorite. We're not quite ready to go that far, but considering Spieth's momentum and his record at Augusta—a win, two runner-ups and a third in seven career starts— would it be any surprise to see him in with a shot come Sunday afternoon?
The Texas Longhorns had themselves a day
Quite the day for former University of Texas golfers. Spieth is through to the knockout rounds. So is Frittelli, his teammate from the 2012 team that won the national championship. And Scottie Scheffler made it Longhorn trifecta when he halved his match with World No. 6 Xander Schauffele and then beat him in a sudden-death playoff to claim Group 6's spot in the knockout rounds.
This is the part where we write a cliché about home-town cooking, or sleeping in your own bed, or something like that.