Rules
Kevin Na confronts Dustin Johnson following quick-rake gimme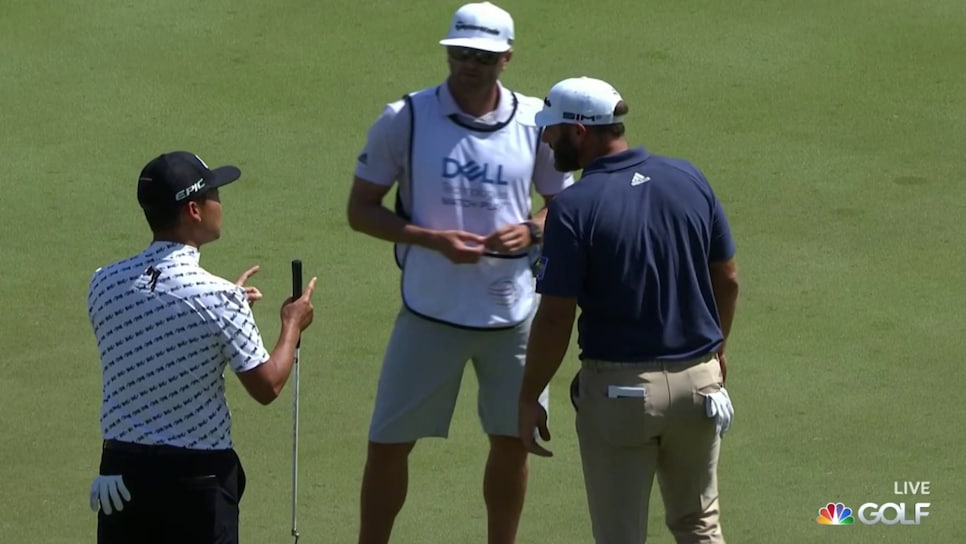 There were shades of the Matt Kuchar-Sergio Garcia 2019 controversy on Friday at the WGC-Dell Technologies Match Play. Only this time, it didn't cost anyone a hole.
Two years ago, as you may recall, Kuchar approached a rules official after Garcia missed a tap-in par putt that he assumed had been conceded. But Kuchar hadn't actually verbalized the concession, which is necessary under rule 3-2(b), and the rules official deemed that Garcia had lost the hole.
A similar situation played out between Kevin Na and world No. 1 Dustin Johnson on the 11th green at Austin Country Club. Johnson, who was 1 up at the time, had an eight-footer for a birdie that would have won the hole. The putt lipped out on the high side, and Johnson quickly picked up the ball to head to the 12th tee.
Not so fast! Apparently Na, who lost his first two matches and was thus already guaranteed not to advance past the group stage, did not actually say "it's good" or something to convey the message. So he called Johnson back and explained why he needed to wait for Na to affirmatively concede the hole, rather than assume the putt is good without actual confirmation.
It was a tense exchange, with both caddies listening intently as Johnson insisted that the putt was so short—Shotlink had it at 13 inches, but it looked even closer—it never crossed his mind that it wouldn't be conceded.
"I know it's like this," Na said, as picked up by greenside microphones, "but you still have to wait until I say something."
Johnson tersely apologized and began walking to the next tee. Na then affirmed that they had halved the whole—or, in other words, that he would not enforce any sort of penalty on Johnson for the quick-rake. Which he could have, under rule 3-2(b), which clearly states that "a concession is only made when it is clearly communicated."
It was a no harm, no foul situation in the end—but it surely added some oomph to the final eight holes. Na made four birdies after the incident, including one on each of the final two holes to flip the match. One down heading into 17, Na poured in a 21-footer for birdie and fist-pumped when it fell. He added a decisive birdie on 18 to win 1 up and knock Johnson out of the tournament.
After the round, Na was asked for his interpretation of what happened.
"I had about two and a half, just inside three feet for a par uphill. It's a straight putt, and his lipped out and everybody was like 'ah,' and he had six inches. Obviously it's good, but I hadn't said anything and he whacked it.
"And I froze there and looked at Kenny (Harms, Na's caddie) and I wasn't going to say 'that's a penalty, you're going to lose the hole.' I was going to say, you know what, that was good anyway. I didn't want to be over that putt and be thinking about that. So I called him over and said 'hey, I'm not going to take the hole from you but I want to let you know before I said something you whacked the ball. But I'm going to give that putt to you so we'll call it a halve and go to the next hole."
He was then asked if there's any lingering animosity.
"No, no, no. We took it well. Dustin was like, 'hey, it's your call.' I said 'no, it's a half. That's a par, It's a par.' Yeah."