WGC-Dell Match Play
Robert MacIntyre ties World No. 1 Dustin Johnson in bittersweet result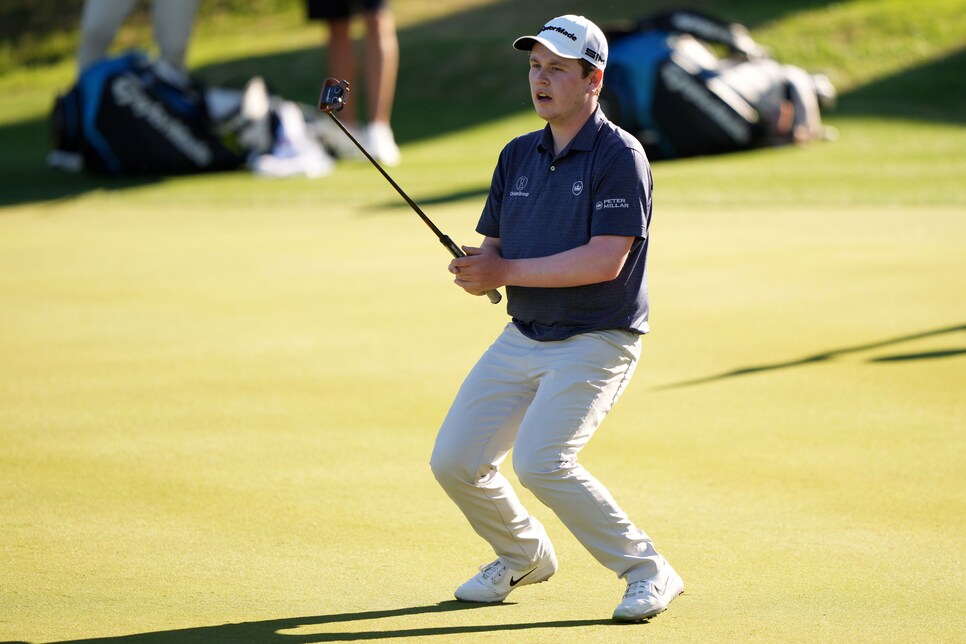 Robert MacIntyre reacts to missing a putt on the 17th green that could have prevented Dustin Johnson from completing a comeback in their Thursday match.
Darren Carroll
AUSTIN — Imagine this: You're an up-and-coming Scottish golfer, just 24 years old, getting one of your first tastes of American professional golf. There have been mixed results—a solid performance in a World Golf Championship followed by a missed cut at the Players Championship—but you come to the WGC-Dell Match Play and things start to go very well. You win your first match, and then, luck of the draw, you meet the No. 1 player in the world. All day long, you stand toe to toe with that American giant, and at the end of the day you come away with a tie and a great chance to advance to the knockout rounds.
Sounds pretty good, right?
Now, imagine this: With three holes to play against that No. 1 player in the world, you had a 2-up lead.
Digest that, and you're starting to enter the emotional shadow zone Robert MacIntyre occupied in the wake of his tie with Dustin Johnson. There's a famous headline from the Harvard Crimson after an Ivy League football game against Yale, and it reads: "Harvard Beats Yale, 29-29." The premise of the seeming paradox is that Harvard scored 16 points in the final 42 seconds of that game, so the tie felt more like a victory. Translated to Thursday afternoon's match, you might adapt that as "D.J. beats MacIntyre, All Square."
It had been a brilliant performance for MacIntyre through 15 holes, highlighted by a 22-foot birdie putts at the 10th and a conceded putt from a similar length on the 14th, which gave him the 2-up lead he maintained after making par from the fairway bunker. On the par-5 16th, he was left of the green in two facing an awkward third, and that's when Dustin Johnson began to reverse the tides with his first great shot, a 213-yard bullet that stopped 10 feet away. Johnson made the eagle putt to take the hole, which brought them to 17.
At the par 3, MacIntyre seemed to regain control with a lovely tee shot that landed five feet inside Johnson's effort. Johnson approached the hole first, walking his unmistakable slinky panther walk, and then seemed to spend an eternity analyzing his 17-foot birdie effort. If you couldn't see him, you might have assumed he was one of his more neurotic peers, but all that effort paid off when after long moments of analysis, he rolled the downhill put perfectly and watched the ball die in the hole. It was a bit much for MacIntyre, who pulled his 12-footer just by, and they were off to the 18th suddenly tied.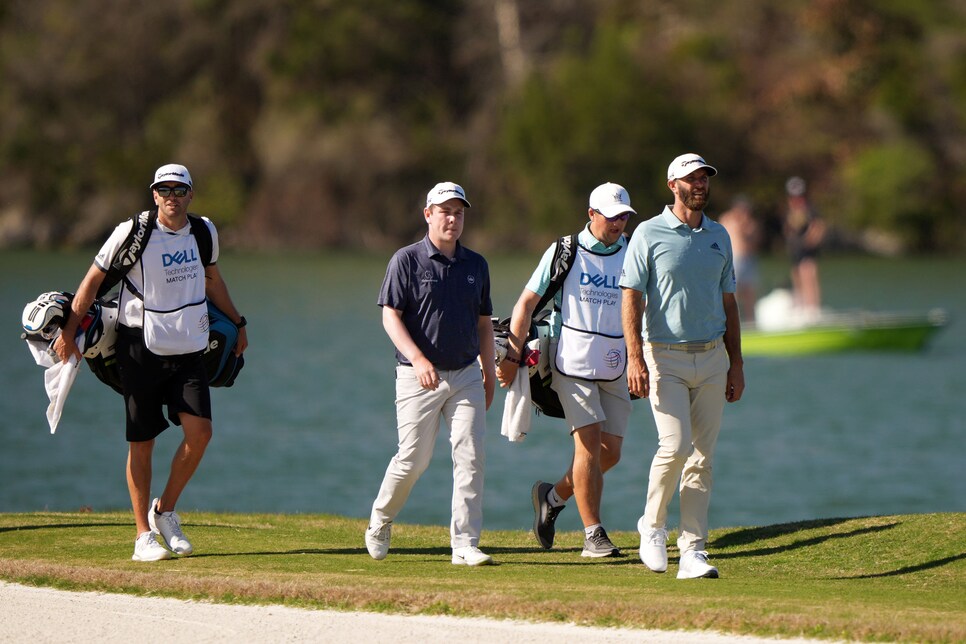 To MacIntyre's credit, he took little solace in a tie with Johnson when he knew a victory was within his grasp.
Darren Carroll
Going against type yet again, DJ laid up to the left side of the fairway, while MacIntyre bombed it to the upslope. The problem with the Scotsman's approach is that when you're far below the green on a front pin location, to get it close means flirting with the ledge, and he clearly wasn't prepared for that. Long story short, both approaches were mediocre enough that the match ended in two pars and a tie.
In the immediate aftermath, MacIntyre stood by the ropes with his agent Iain Stoddart, and rued the moment. "I thought I had him," he said, and later, "I had to make that putt on 17." The disappointment was palpable, and to his credit, this wasn't someone satisfied with a tie against the best player in the world when a win was within his grasp.
"He showed me why he's the No. 1 player in the world at the end," MacIntyre said later. "He holed putts when he had to hole putts. … I was dying to win that match. I was in such a great position to do it. But he threw everything at me, and I can be proud of finishing there all square, but obviously inside I'm a little disappointed not to win."
As for playing in America, MacIntyre feels optimistic about his adventure so far.
"It's different from the European Tour," he said. "You're playing against the best guys in the world week in, week out. So the margins are finer. I haven't had my golf game for the last kind of three and a half weeks, but this week it showed up.
"You see a lot of talk here and there that he's not ready to play against the best on the planet," he continued. "Do you know what, before I even teed off it gave me a right good buzz. I was like, You're the underdog, you're taking on the best player on the planet, just go out there and fight, fight until the end and see what happens. It showed. He had to fight for everything that he got in the end."
If you're keeping track at home, that's a player with a chip on his shoulder who wants desperately to prove himself in America—and is not satisfied with merely tying the world's greatest golfer. MacIntyre will have a chance to make the weekend in his Friday match against Adam Long, and there's an interesting possibility afoot: If he and Johnson both win, they'll meet again in a sudden-death playoff. DJ's pedigree needs no embellishment, and yet you can't help the thought: Don't bet against the Scotsman.