Takeaways
Jason Day is back to his old ways, Max Homa earns tasty snacks and Joel Dahmen goes full donkey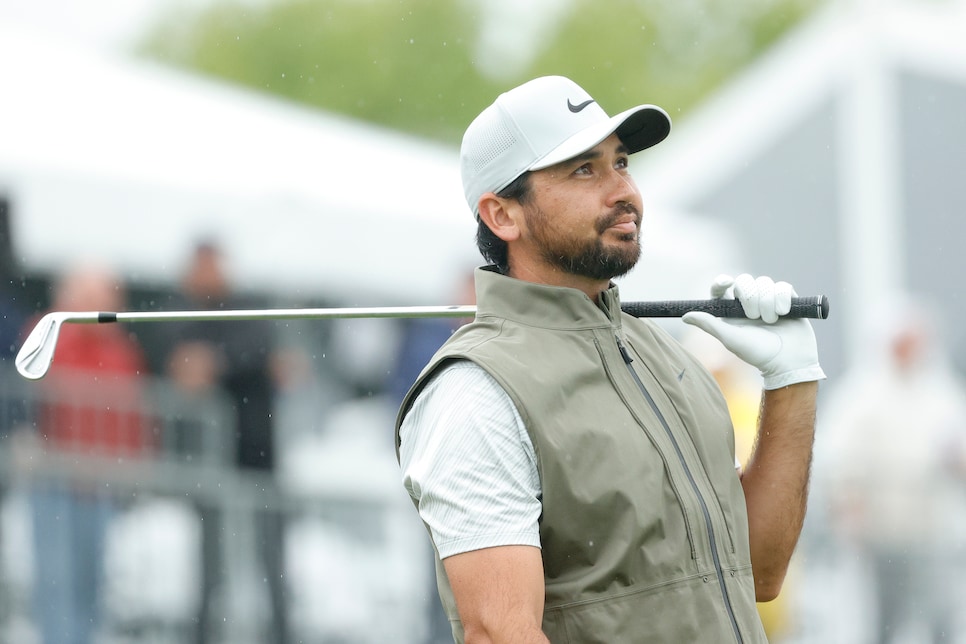 Jason Day watches his shot from the 17th tee during the second round of the Wells Fargo Championship.
Tim Nwachukwu
Perhaps more than any player in the world, Jason Day has been on the career roller coaster since the very start, with extremely high highs—his wins at the 2015 PGA Championship and 2016 Players Championship—and some shocking low lows, marked by totally unexpected droughts.
Since his last resurgence in 2018, when he won at the Farmers Insurance Open and the Wells Fargo to fight his way into the top 10 in the World Ranking, he's been on his latest long decline, to the point that he's basically disappeared from the discourse. While we obsess about Rory McIlroy or Jordan Spieth during their sojourns to the metaphorical desert, we seem to forget Day, such is the extent of his slump. There were signs of life here and there, but injuries, long strings of missed cuts and perhaps even a sense that he had lost his passion made those moments seem like anomalies, rather than the start of something significant. And late last fall, Day fell outside the world's top 100 for the first time in almost 12 years.
Now, after a 63-67 start at the Wells Fargo Championship that sees him three shots clear of the nearest competitor after 36 holes, we're forced to ask the standard question: Is Day back? As Dan Rapaport wrote on Thursday, we know at the very least that he's trying. A swing change, undertaken with the guidance of his coach, Chris Como, has him feeling optimistic, though after three missed cuts, there was no indication that he would light up the field at TPC Potomac the way he has. It's all the more impressive considering that his Friday 67 came in the midst of rainy weather. He dispensed with his hat, and played faster than normal, but the results were stellar:
"It was nice to get this round under my belt in these conditions," he said. "All the work that I put in kind of in the offseason, off weeks, it's starting to show a lot of signs and I'm finding a lot of confidence in that swing. Every now and then it kind of falls back to some of the old stuff, but the big thing for me is just to not kind of panic and just take a step back and go through my shots and try and trust it the best I can."
The forecast doesn't look much better for Saturday, and tee times have already been adjusted, but Day is up for the fight, and in fact would prefer the rocky road.
"I've always kind of liked U.S. Open formats in regards to how tough the golf course is," he said. "You kind of have to grind it out. Typically, when you have tough conditions, long golf courses, tough conditions, thick rough, the guys that are playing well, they kind of usually find their way towards the top."
Playing with Day, Max Homa nearly kept pace with the leader, making five birdies and an eagle en route to a 66 and a seven-under score for the tournament. At the start of the day, he thought they'd be lucky to get through the front nine and was pleased and surprised to finish the full 18.
"Jason and I have been talking about it for, like, two and a half hours, that we can't wait for it to be done and kick our feet up," he said. "I know he's got his bus here so he's going to go hang on the bus. I'm going to go sit on my bed and I think I deserve a soda after today, maybe some cookies, some kind of candy, I don't know. I'm going to kick my feet up."
When pressed, Homa expressed a preference for oatmeal raisin. With shots like these from 259 yards out, in a downpour, to set up eagle ... well, he probably deserves it:
McCarthy seemed like he would never bogey again, until he did
Joel Beall covered the hometown angle with Denny McCarthy on Thursday, and here we are talking about the D.C. native yet again. Why? Well, the man is simply Mr. Consistency this week, and while he wasn't quite as sharp as we saw in his opening round, he made zero big mistakes, and when he made a little error, his putter was there to rescue him, as when he saved par with an 18-footer on 9 and a 10-footer on 11. Coming into 16, he had a 20-hole bogey-free streak, but after a terrific shot from the left rough on the par 3, leaving himself five feet, he missed a short one to bring the streak to an end. He finished at six under, one behind Homa in a tie for third, and he remains, at least in my estimation, the best putter in the known universe.
When it comes to shot tracing, is arrow-straight the new curved?
All I can say is, I'm with the PGA Tour Twitter minds that there's something aesthetically very pleasing about this trajectory, courtesy of Rickie Fowler:
The comedic birdie of the week award goes to ...
Brandon Matthews. Take a bow for this expert club juggling and swamp hacking:
Matthews has a pretty amazing story dating back to his time on the Latinoamerica, and he's currently fourth on the Korn Ferry Tour money list. He missed the cut this week with a sponsor's exemption, but we'll be seeing plenty of him on the big tour next season. Which will be fun, because he hits the ball a mile and regularly achieves speeds of 200-plus mph.
Joel Dahmen called himself a donkey
I guess this is a nicer way of saying that one other reference to a donkey? Regardless, the best part of this video, for me, is not the "donkey" part, but the little wave to the camera. Not a bad birdie, either:
The part of this video you really need to see comes at the end, when Knaus gives his ball to a kid standing behind the ropes, then clearly feels bad that the other kids got nothing, and so he goes back to the pocket well. First, he draws a glove—cool gift. Then, I don't know what. Third, a single tee, which makes one parent (with very low standards) go "ohhhh!" like he's just given him a $500 bill. Finally, we're back to "I don't know what this is, some kind of paper?" All in all, a good showing from Knaus, though I'm glad we stopped before we got to the lint: