PGA Tour
Two leaders at the WGC-Workday took two remarkably different approaches to playing a new course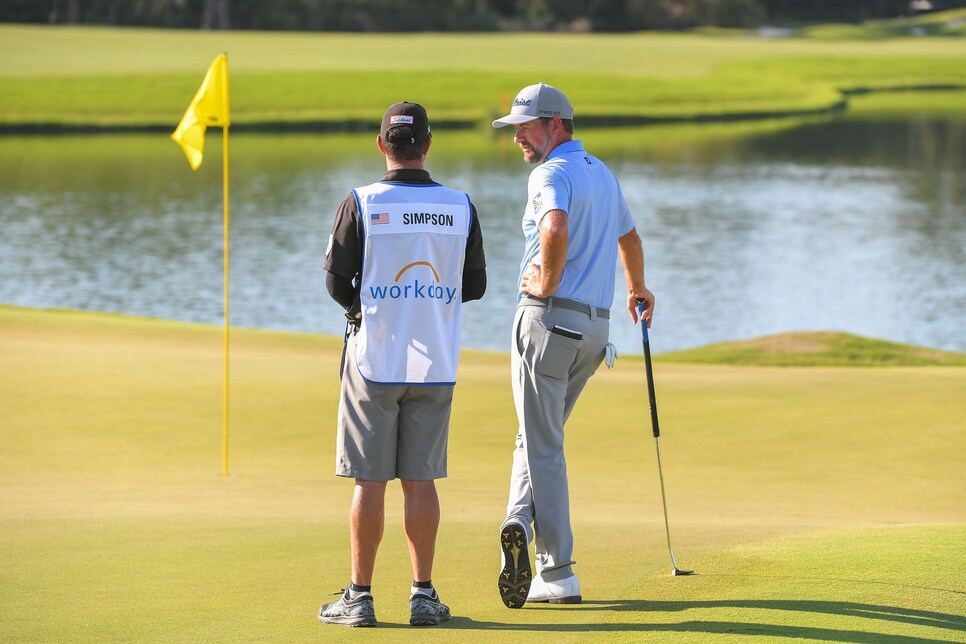 Webb Simpson talks with his caddie, Paul Tesori, on the 18th green during the first round of the WGC-Workday Championship at The Concession.
Ben Jared
BRADENTON, Fla. — At the end of the first round of the WGC-Workday Championship, it's no big surprise that two of the game's biggest talents, Webb Simpson and Brooks Koepka, are contending. Simpson claimed a share of the lead with a six-under 66, while Koepka was just one shot back.
Both pulled off the difficult feat of succeeding on a new course. Only a handful of players, Bryson DeChambeau and Xander Schauffele among them, have ever played at The Concession Golf Club competitively, and that was years ago at the 2015 NCAA Championship. For everyone else, it's a completely new venue, the Florida course temporarily hosting the tournament in 2021 when COVID-19 made kept the event from being held at its regular home in Mexico.
The natural question asked in the days prior to the opening round was, "How do you prepare for that?" Simpson offered insight into his process after Thursday's round when he outlined the methodical steps he and caddie Paul Tesori took earlier this week.
"We were a little slow in our practice rounds, there was more to talk about, more conversation," Simpson said. "We do have a system of how we plot golf courses and so we still did that the same way we always do. We just took our time a little more and tried to be a little more observant on the greens and around the greens ... you know, probably an extra question or two or conversation or two per hole.
"We go to some of these courses and we don't even talk about anything because we know where to hit it, we know where to miss it," Simpson noted. "Here we say every tee shot, if we're downwind, what are we doing, if we're into the wind, what are we doing. And then around the greens he's already done his work without me, so he's … I'm kind of double-checking what he's doing and agreeing with him. So he did a lot of work himself. I think he did 18 holes besides what I did."
Compare that with Koepka, the swaggering alpha male of the PGA Tour, who was asked the same question:
"I mean, Ricky [Elliott, his caddie] walked it, I get a yardage book, it's not too difficult. I don't think anything of it. It is what it is. You've got to look up on the tee, you know on 10 water's right, there's bunkers on the left, so put it in the fairway."
Sure, it's just that simple. For one player, anyway.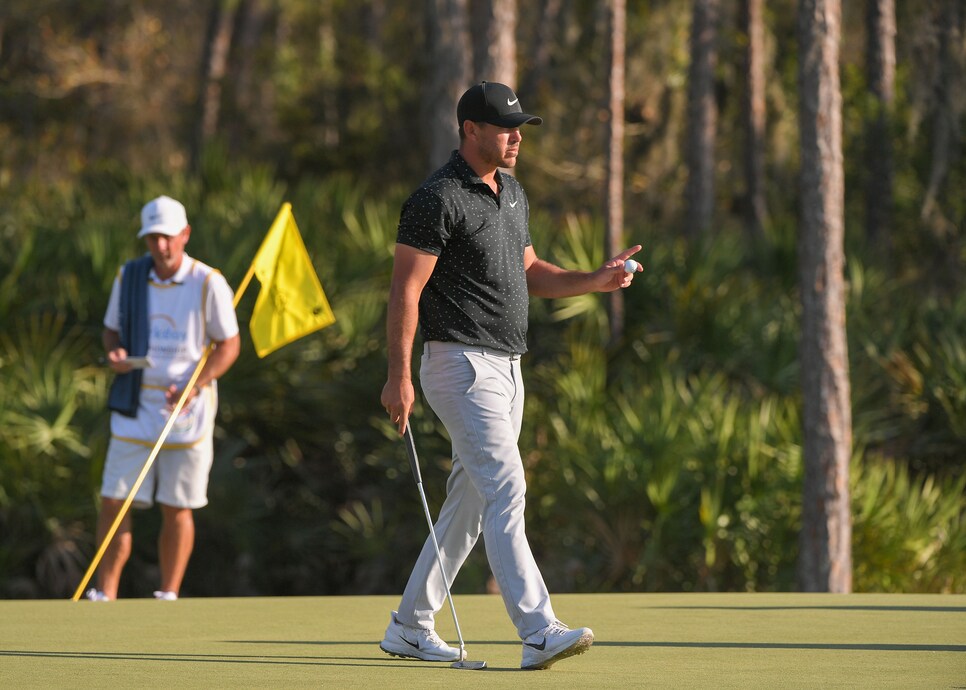 Brooks Koepka waves his ball to fans after finishing his round on the ninth green, posting a 67 that left him one shot off the lead.
Ben Jared
Simpson's deliberate method is likely the most common approach among tour pros, and the one we're most familiar with. Think Jordan Spieth and Michael Greller as they prepared for majors in their heyday, a process that looked more like a military campaign than a golf plan. But Koepka's quote is vintage, and very on brand for the guy who patented the claim that "nobody plays that well in majors and the fields are weak, so they're easy to win." If you saw above quote without knowing who said it, the only player you might guess besides Koepka is Dustin Johnson, who belongs to the same breed of uncomplicated, "just get it done" golfer.
There's nobody like Koepka, though, for making his contemporaries look like neurotic lunatics while he just goes out and crushes golf courses. Later in that presser, he put a fine point on his approach.
"I don't think too much," he said. "I just try to keep it pretty simple. If it's 300 yards to the bunker or there's a bunker that cuts out, OK, then it's just 3-wood. It's just, try to make golf as simple as possible and I think that's where some of the confusion with me gets thrown in there. I try to make it very simple and I don't overcomplicate it. I'm not thinking the club's got to be in a certain position to do this, do that; just get up there, see it and go hit it."
The bad news for Koepka is that his neck stiffened a few times, leading to a handful of loose shots, and he said afterward that he has to "make the best of a bad situation." The week might get more difficult as it goes on, and Simpson's methodical preparation might bear fruit, but for now it's somehow both comical and thought-provoking to watch a player like Koepka reduce the game to its basics and succeed on his own terms.