News
We spent the day with Tiger Woods
The 14-time major champion has a more relaxed air these days, even when he's tending to business
Professional golfers have work days, too. All the practice resembles too closely what the rest of us call fun, and tournament golf is something else entirely—to paraphrase Ben Hogan. That Tiger Woods is again tugging up his sleeves for photo shoots is just another sign the game's most electric figure is really back. His spinal fusion surgery passed the competitive test in early December in the Bahamas, and we're happy to report it recently stood up to six hours in front of cameras in Jupiter, Fla. And if you don't think that's real work, obviously you've never had a foil reflector scrub the shadows from your face on a hot day.
"I'm Tiger," he says with a grin when you introduce yourself, and the handshake is as strong as it gets.
Actually, it was more than a photo shoot. With a man whose time is as valuable as Big Cat's, you kill at least two birds. With cameras rolling on the south end of the driving range at Medalist Golf Club, TaylorMade's top equipment staff unboxed for Woods the new line of clubs he should soon be playing. So besides capturing marketing materials, it was also the first official custom-fitting session with the staffer who sat out nearly all of 2017 injured. TaylorMade invited Golf Digest along to witness the process.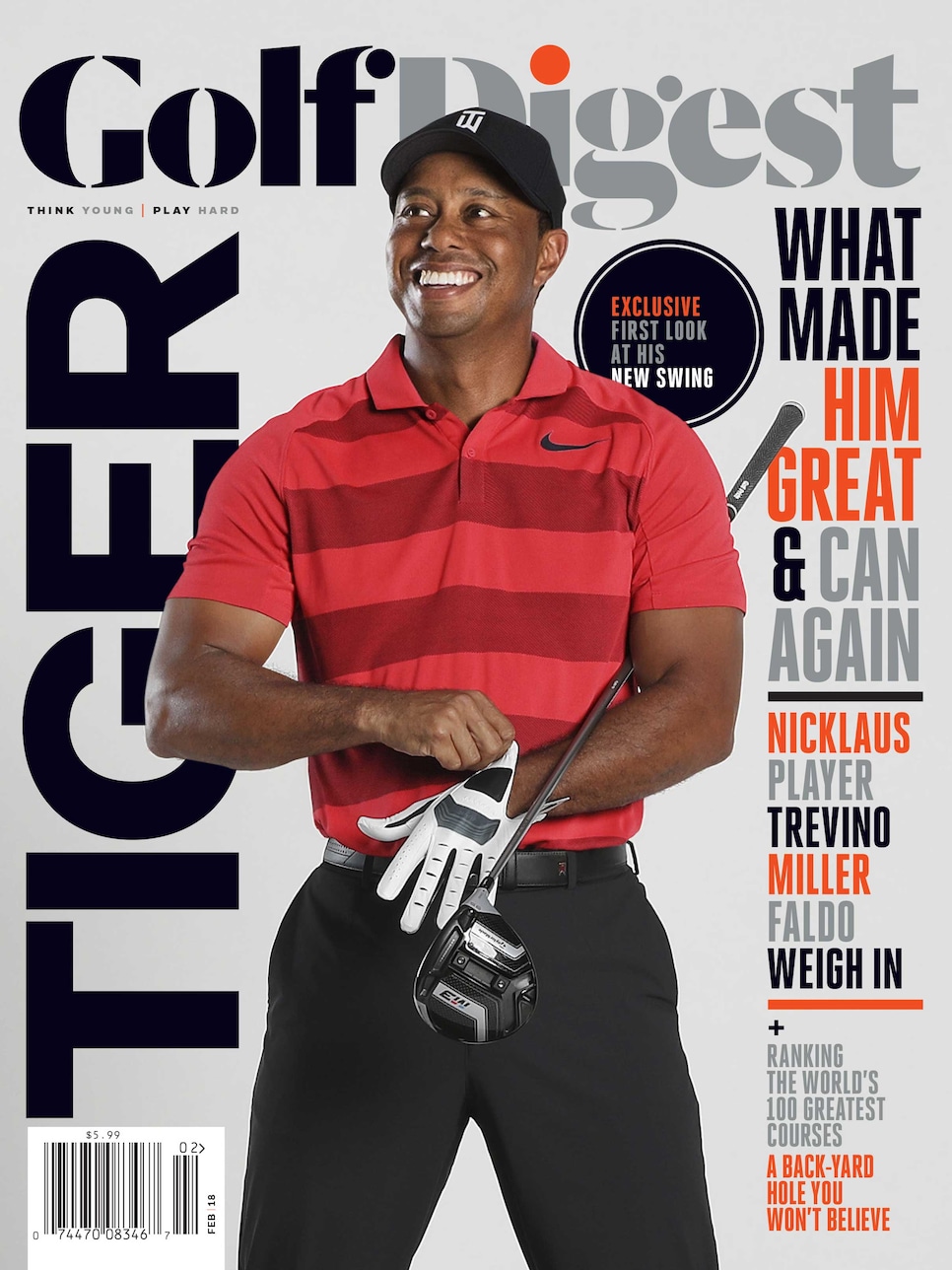 Woods bashed his M2 driver far and sure at the Hero World Challenge, and they call this particular one he loves his "snowflake." But could he find more yards with the M3 or M4, the latest offerings of TaylorMade's driver line? Before tinkering with any screws and settings, the first order of business is to pick a target.
Woods didn't like the suggestion of using a power-line on the horizon. "How about that guy in the yellow shirt?" Woods says. And so a middle-handicapper on the opposite end of the range unknowingly continues to beat balls. For what it's worth, the guy stays put the whole time.
Woods works through wedges, irons, driver. Back in the day, he used to pick and choose individual clubs from as many as nine iron sets to find the lineup that would ultimately go in his bag, and he hasn't lost that technician's exactitude. He's sweating, huffing a little, but declines all offers to break for water. There's an efficiency to these work days that cascades from the talent all the way to the lowliest grip—which is what you call the guy who does things like hold the reflector. Did we mention that Golf Digest's allotted shoot time with Woods is 1:59 to 2:59pm? Details like this underscore the importance of not wasting time.
But fast doesn't preclude fun. "How'd you like that ball speed?" Woods asks rhetorically after a corker. A couple cuss words convey his pleasure at how well he hits a few others. He's doing a lot of smiling. Some members at Medalist say they've noticed a change lately. A little happier, a little more likely to look you in the eye crossing paths around the club.
Still, business is business. There's a "pitch count," or a set number of swings Woods will not surpass today. His manager keeps the tab, and always errs on the side of protecting his man's back. With not even a minute budgeted for mulligans, a mild sense of dread overhangs each transition for production crews. The incorrect red shirt, a wrinkled trouser leg, a missing cart key, a full memory card—any number of small errors could disrupt the elegant orchestration of the day. When Woods arrives to the Golf Digest set, which is a makeshift white-room in the maintenance barn (full swings require high ceilings, and the superintendent has graciously parked his fleet of mowers elsewhere), the 14-time major champ doesn't flinch at the inglorious surrounds or smell of gasoline. He's up and out of the cart almost before it parks, and does a sweet, no-look, over-the-shoulder head-cover toss to his manager. Who makes the catch, but not quite like Joey LaCava would.
"Give me a phony smile," says Walter Iooss, Jr., Golf Digest Photographer-At-Large. The trick either works or doesn't, because the one Woods returns is genuine. Iooss has photographed Woods nine times over the years. Though it's for Golf Digest Senior Photographer Dom Furore whom Woods saves his biggest hug. Furore shot his wedding.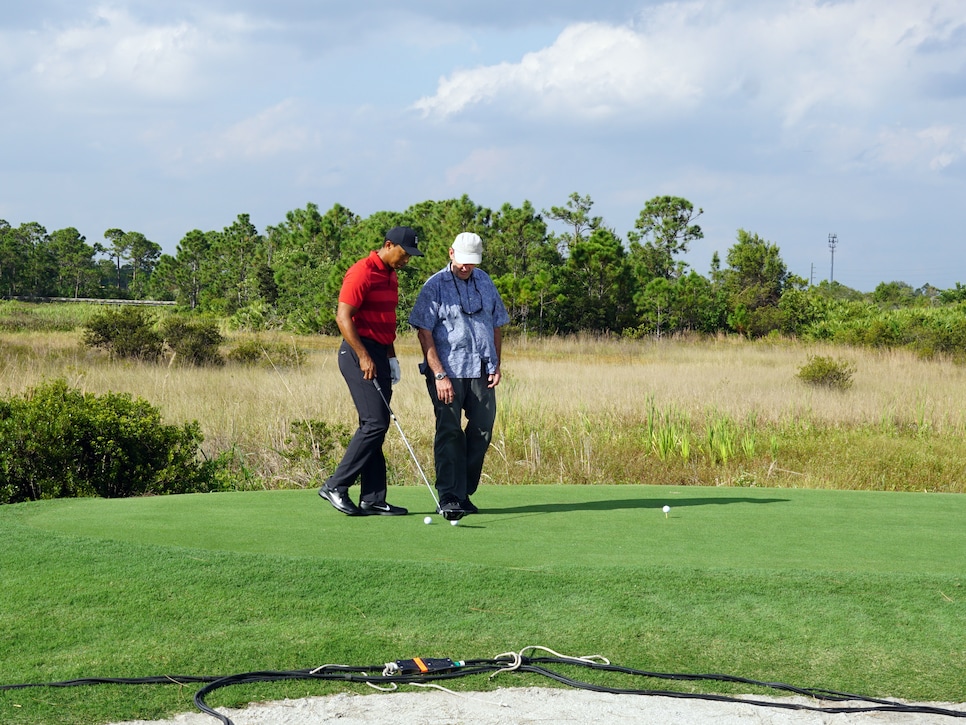 "Man, hit that one solid!" Woods exclaims after thumping a foam practice ball into a net, the echo resounding in the barn's rafters. Woods adds a wry comment for the fact the endorser of the foam ball is Hank Haney, his former instructor.
The bottom of the swing count is nigh. As Furore resets a camera, Woods hops in a cart to talk equipment. He likes the look and feel of the new clubs, but today is just the start of a process.
"It's nice that we can cheat out here and use Trackman, but ultimately I need to see how it fits on the course. Can it hit a low-cut, a low draw?" Woods says. "When you have to hit shots, carry a certain corner, the golf course will show that. It's not just about making it look good [on the range]."
If there's a revelation, it's that the greatest player of his generation is seeking advice from peers. In this case, TaylorMade's other marquee staffers. "Been talking to Jason [Day], been really picking Rosie's [Justin Rose] brain on it. Rory [McIlroy] especially, because we were switching at the same time and both from Nike . . . When I play with the guys I ask, 'What are you hitting into the wind, how are you hitting this shot?' That's been very helpful, because I haven't played. These guys are tournament tough. I haven't played a tournament in 10 1/2 months. So it's nice to pick guys' brains' who've been through the battles, putting clubs in, taking clubs out, and why."
Three more swings and the shoot is "a wrap." Woods has never met Golf Digest Visuals Editor Jenny Aborn, but of course notices the tiger tattoo stretching across her scapulae. "Badass!" he says, and gives her a high-five.
Tournament golf requires solemn intensity. A far looser mental space is as vital to surviving long days on photo shoots. Woods is a pro at both, and will surely excel in the third part of his job description when he resumes the "work" of testing new clubs in money games against guys like Dustin Johnson, Rickie Fowler, Justin Thomas and others this beautiful January at Medalist Golf Club.