News
When Tiger Woods tests equipment, no detail is too small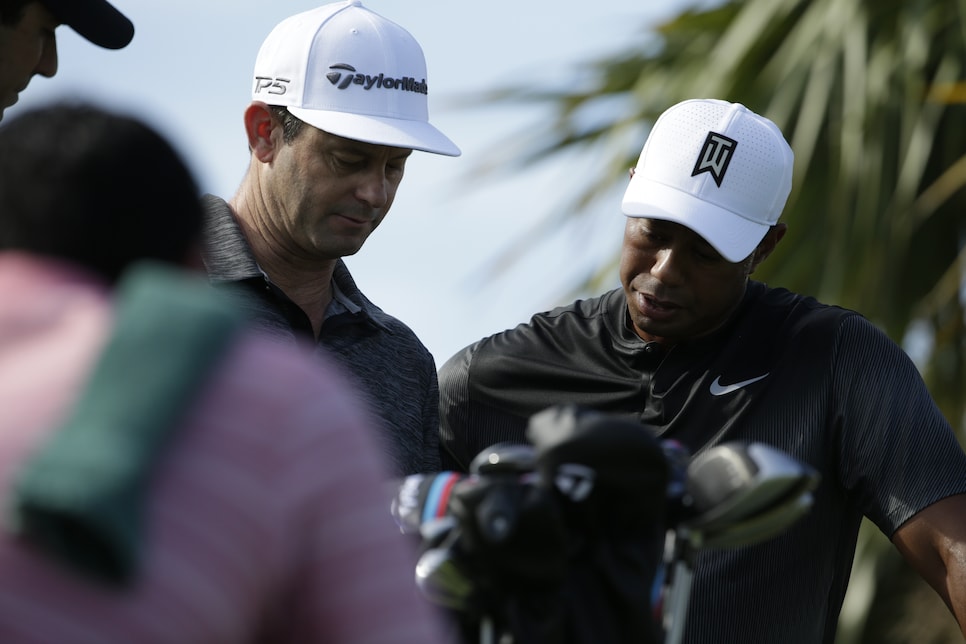 Having spent a day watching Tiger Woods test equipment in 2003 and afforded the same opportunity last month at Medalist G.C. in Hobe Sound, Fla., there came an inevitable question: How much has Woods' approach to equipment changed? As it turned out, not much.
In his first official testing session since joining TaylorMade in January of last year, Woods displayed the exacting attention to detail he did as a 28-year-old at the top of his game. Instead of projecting as a nearly 42-year-old seeking a magic elixir to boost his game, Woods displayed his vast knowledge about the nuances of golf equipment. If the company's tour reps thought they were getting a player who would gush about clubs like an equipment chat-room nerd, that was dashed quickly. Woods isn't built that way when it comes to his sticks.
"That's a lot higher," noted Woods on his first swing with a TW proto muscleback blade 6-iron, a club similar to his current gamers.
For Woods, ball flight is everything. In 2003, he said, "I'm all about how the ball flies, how it looks shortly after it leaves the club," Woods said. "If I look up and don't see the ball right there—I mean, right where I expect it to be—then we have a serious, serious problem."
Not that it's an insurmountable one by any measure. TaylorMade VP of tour operations Keith Sbarbaro noted it could be the center of gravity location and they would measure one of Woods' old sets to match it up. Additionally, the company has brought in former Nike employee Mike Taylor, who worked on Woods' irons and wedges when he used equipment with a swoosh.
Woods is well-equipped to notice anything amiss with his irons. He has used the same iron specs since he was a kid, saying he only changed the lie angle at times when a swing change called for it. He's also aware that alterations are easier to make today, recalling that during his early years as a pro he would need to go through eight or nine sets of irons and cherrypick clubs from each set to get the CGs to match.
Despite the trajectory issue, Woods seemed pleased with what he saw. With look being his self-proclaimed top criteria for an iron, that box was checked.
"The look is sweet [Woods prefers an iron with a longer blade length, thin sole and slightly squared off toe], but the window is different. But it feels great going through the ground; feels fantastic. Everything is right, we just need to bring that flight down." Despite the high shots, Woods consistently hit the 6-iron in the 195-yard range with 6,600 to 6,800 rpms of spin. He also tried the P790 long irons against his graphite-shafted TaylorMade UDI 2-iron, but indicated the UDI would be a tough club to get out of his bag.
Moving on to drivers, Woods hit the majority of shots well, with the occasional clunker thrown in. The velocity with which the ball left his clubface was impressive. His launch conditions habitually included ball speeds of 180 miles per hour, spin rates in the 2,200 to 2,400 range with launch angle between 11 and 13 degrees—all highly respectable numbers. His carry distance routinely reached 315 yards.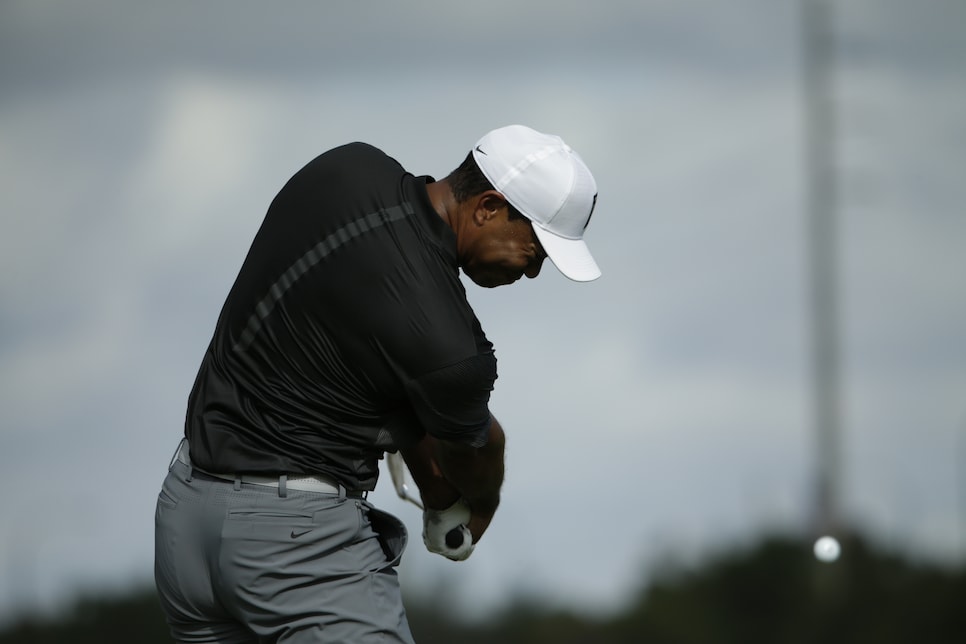 Woods started by hitting his TaylorMade M2 gamer—his "snowflake" as he refers to it for its uniqueness to him—before trying the new M4 model. The newer driver brought similar ball speed, but again, higher flight. "It looks a touch open to me. It's floating out there a bit," he said, then added, "It has a more solid sound and feel."
He then tried the new M3, a club with a technology called Twist Face, because the face is actually twisted slightly in a manner to produce optimum performance on mis-hits (more open on the high toe; slightly closed on the low heel). Asked if he noticed it at address, Woods said, "I don't see it at all, but the idea makes total sense."
Starting with a 9.5-degree model, Woods felt the club was too upright. A change was made to a 8.5-degree head, which sat flatter in the standard setting, but after a few swipes Woods still was not satisfied, claiming it just didn't look right.
As with his irons, look with the driver is vitally important to the 14-time major champion. "I know when I'm waggling it," he said. "If I feel it matches up to me, then it frees up my swing."
Sbarbaro then suggested the M3 440 at 9 degrees—a club with a slightly smaller head that he said earlier in the day he thought Woods would like.
After a couple of waggles, Woods flashed a smile and said, "I like it a lot."
After a few swings Sbarbaro made a tweak, shifting the two movable weights all the way forward. On the next swing Woods tattooed one: 322 yards of carry, 15 degrees launch, 2,100 spin—nearly ideal.
That success led Woods to say, "OK, tournament ball." For Woods, that is a fairway finder with a soft cut. The result was a perfect in-play ball. Sbarbaro noted the weights forward sacrificed some forgiveness, but added some speed and made the club much more workable—a desirable trait for a player who wants to shape their shots like Woods.
After 90 minutes during which he hit close to 100 balls, Woods was closer to perhaps a new driver, but insisted there was a lot of work still to do, mostly on course.
"It's nice that we can cheat out here and use Trackman, but ultimately I need to see how it fits on the course," said Woods. "Can it hit a low cut, can it hit a low draw? I want to ride the wind. I want to challenge this corner. I want to take it over that bunker. Things of that nature. For instance, right before the Hero, I had a 3-wood I was using last year before I stopped playing. On the range I hit it fantastic. On the course, I couldn't hit it. It had too much toe droop right before impact. When I tried to turn it over, I'd hit this toe-pop-up. The golf course showed that. I had to hit golf shots. It's not just about making it look good [on the range]."
Of course, as with any session, there are some lighter moments as well. Like when Woods recounted that Confidence irons were his first set until he saved up enough money to buy a set of Mizuno irons. Or that he was aiming at "the guy in the yellow shirt" at the far end of the double-sided range. His keen sense of feel was on display as well. Like Ted Williams, who could tell if a baseball bat was off by fractions of an ounce, he cast aside the last driver he hit because of an air bubble in the grip only he could feel. Right to the last swing, Woods was focused.
In other words, when it comes to his equipment, he's the same ol' Tiger.