The Loop
Watch Justin Thomas ask his golf ball to "talk dirty to me," confuse golf announcers as he almost made a hole-in-one at Riviera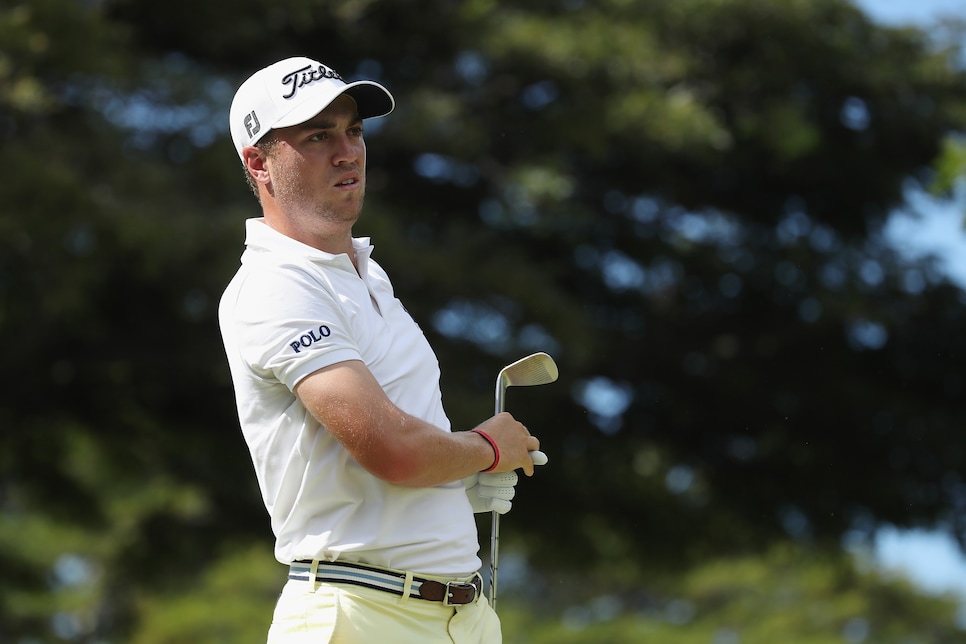 One of the best feelings you can have if you're a golfer? Hitting a shot that looks like it's going in the hole on the fly. Often times, it doesn't—but as the ball tracks in the air—the possibilities are endless.
That's what happened to Justin Thomas on Riviera Country Club's par-3 sixth hole on Friday at the Genesis Open. JT thought he might've drained it. And as someone who's known for talking to his ball, JT didn't disappoint again—dropping a pop reference on us as he pleaded his ball toward the hole.
Not quite as memorable as Justin Thomas' pleading to his caddie, Jimmy Johnson, "Oh, Jimmy—be good!" as his unbelievable 3-wood on the 18th hole at Erin Hills that set up his record round of 63 at the U.S. Open last year. But "Talk Dirty to Me" was pretty good, particularly because the ball nearly went in the hole at the par-3 sixth.
It got a chuckle out of the Golf Channel announcing crew, who, not surprisingly, didn't pick up on the pop-culture reference. "Talk Dirty to Me" was a popular Jason Derulo song from a couple years ago—most likely bringing this phrase to JT's vernacular, compared to Poison's hit from the 80s "Talk Dirty to Me." Two great songs, to be honest.
And a bit of entertainment from JT, too, who went on to convert the putt for birdie. He has played himself into contention early on at the Genesis Open, while paired with Tiger Woods and Rory McIlroy.
That shot from JT at Erin Hills' 18th never gets old How'd he carry that 3-wood so perfectly?