News
U.S. Open 2017: Watch Justin Thomas shoot the best round in U.S. Open history thanks to the prettiest 3-wood you'll ever see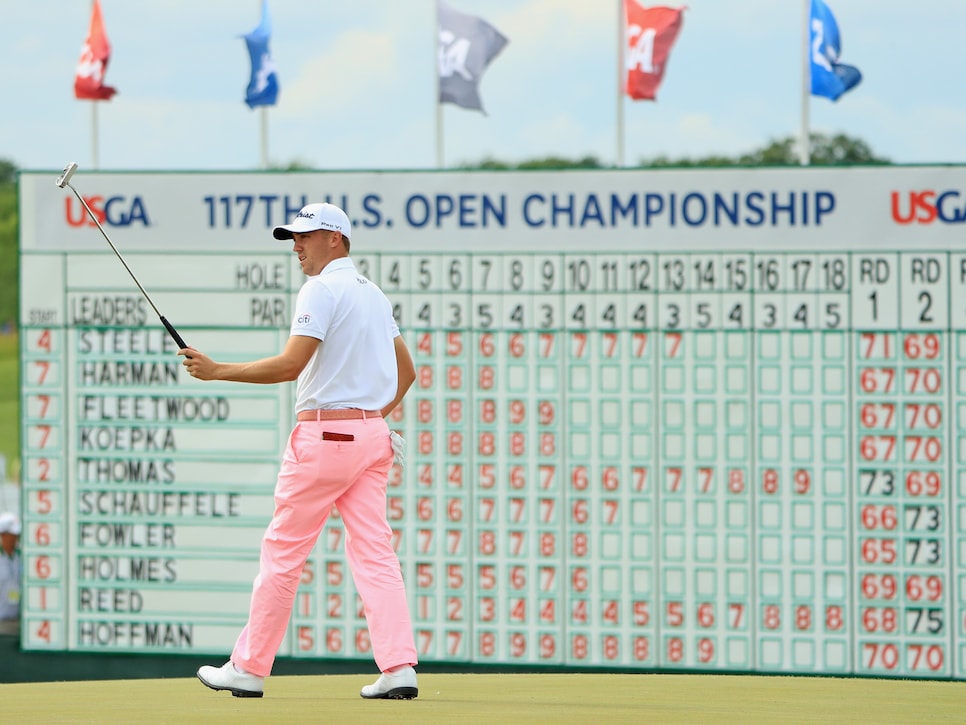 Justin Thomas had already made a putt with his back to the hole on No. 5. And he'd stiffed a drive to six feet while coining a new signature catchphrase on No. 15. But those highlight-reel moments were just the appetizer for what JT did on his final hole.
Faced with 299 yards to the hole, Thomas hit a majestic 3-wood that landed just short of the hole before rolling eight feet past. You're going to see this one a few times, but you're not going to get tired of it:
It was a remarkable shot, but more amazing was what it meant in the context of history. Thomas now faced a short eagle putt for the best score in relation to par in U.S. Open history. And he walked it in with confidence to grab the lead at Erin Hills.
Thomas' 63 matched the lowest score ever shot in a major. That's been done 31 times now, but Thomas is the first player to shoot a round of nine under in the U.S. Open, besting Johnny Miller's famed 63 in the final round at Oakmont in 1973. And JT's peers were impressed:
Thomas also eagled the final hole in the first round of the Sony Open earlier in the year to become just one of eight players to shoot 59 on the PGA Tour. The 24-year-old in search of his first major title has three wins this season.