KOEPKA'S EPIC ACE
WATCH: Chase Koepka's hole-in-one at LIV Golf's Watering Hole unleashes instant chaos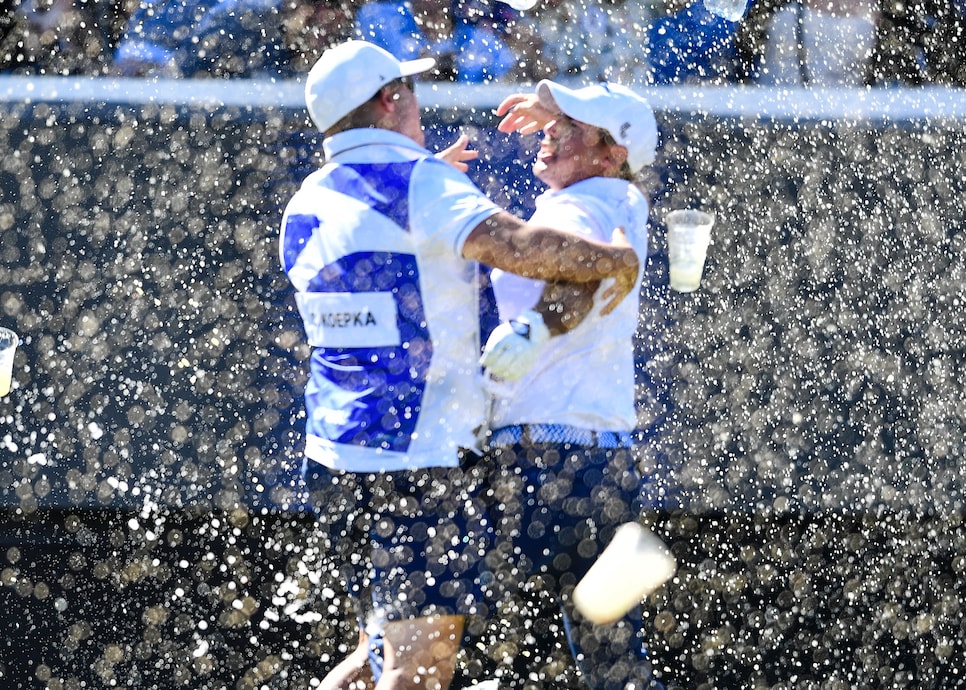 Chase Koepka was cruising along, in the middle of the pack Sunday at LIV Golf's Adelaide event in Australia, when he suddenly helped produce the wildest moment of the week at The Grange Golf Club.
The 29-year-old had made three birdies in his first seven holes when he stepped to the tee of the par-3 12th hole, what LIV Golf was calling the Watering Hole because of its stadium-like atmosphere where much of the gallery likes to sit and enjoy cold beverages for most of the day.
Koepka opted for 9-iron on the hole, which was playing 165 yards on Sunday. He launched the ball in the air, it stopped 15 feet short and right of the hole, started rolling left and found the bottom of the cup. Koepka slammed his club on the ground and started celebrating with everyone in his group, including Ian Poulter and Paul Casey.
The gallery at both the tee box and the green went berserk and threw bottles and cups galore, bringing up memories of antics at TPC Scottsdale's 16th hole during the WM Phoenix Open.
Watch the two angles of the videos here below.
"I smelled like beer the whole entire rest of the day," Koepka said after. "Yeah, it was wild. Crazy experience. I mean, obviously to do it on a hole like that was super special."
It was the second ace in LIV Golf history, after Matt Wolff recorded the first last year. Koepka followed the aced with a birdie on the par-5 13th hole and ultimately shot a final-round 66. He tied for 24th place.
"The next couple hours I was out there, I was just getting ovation after ovation every time I walked up to every shot, every tee box. It was pretty cool," he said. "That's a once-in-a-lifetime experience."