LIV GOLF ADELAIDE
Talor Gooch sees 10-shot lead evaporate, holds on to win LIV Golf's Australian debut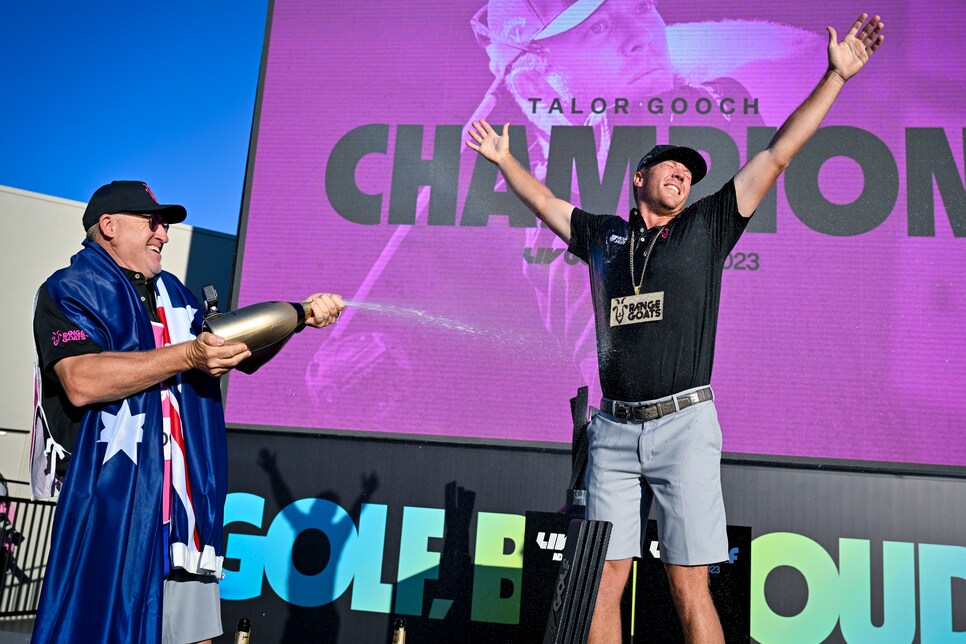 Losing a 10-shot lead in a final round would be crushing, regardless of where a pro golfer plays. Talor Gooch was thankful he didn't find out, although he came much closer than he would have liked during his maiden LIV Golf victory in Adelaide.
"The golf gods, I think, said, 'We don't want this first win to be easy on you,'" Gooch said after winning $4 million for topping India's Anirban Lahiri by three shots at The Grange Golf Club in South Australia.
The Oklahoma State alum and one-time PGA Tour winner had feasted on the 6,900-yard Adelaide Sandbelt course for the first two days of LIV's Australian debut. Two consecutive bogey-free rounds of 62 had built a 10-shot lead at 20 under par heading into the third and final round.
Gooch began Sunday with a birdie at the par-3 fifth but his bogey-free run ended at the par-5 seventh. He dropped another shot on the eighth before a double-bogey at the par-5 10th saw his lead over a charging Lahiri cut to just two strokes with eight holes remaining.
The 31-year-old Gooch, who had coughed up two 36-hole leads previously on LIV, steadied the ship with two back-nine birdies to shoot a one-over 73, good for a 19-under-par total. Lahiri's 65 earned him a 16-under total and a second runner-up since joining LIV in September. Patrick Reed (65) was third at 15 under.
"I think golf is just really hard," Gooch said. "I actually played fine out there today. I had a couple bad breaks here and there, so it made things interesting, but it was cool to kind of overcome the adversity and dig deep after I made a double on No. 10. It was kind of a point of we're either going to dig deep and do this or you're going to stumble coming in."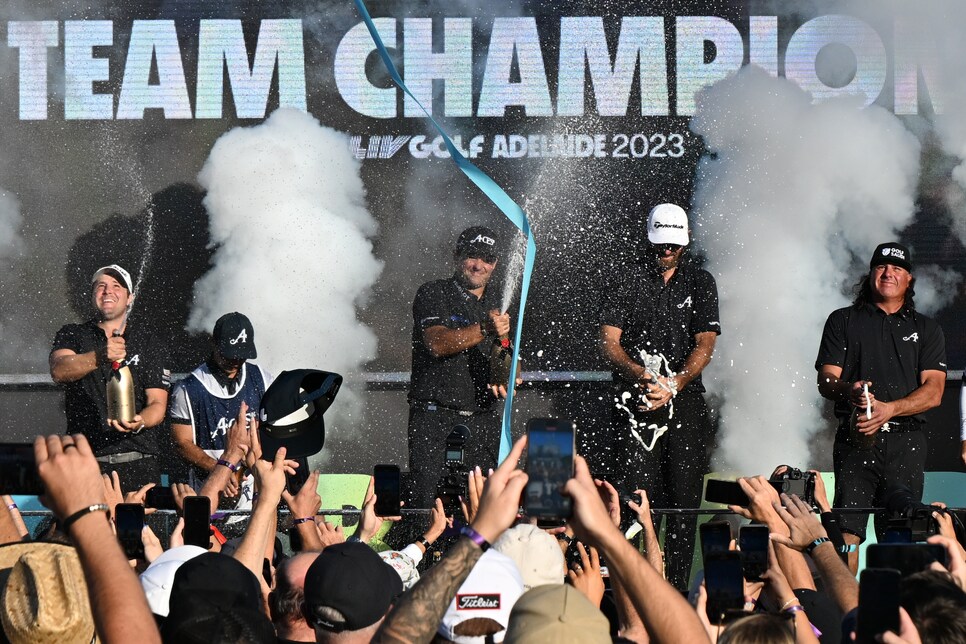 Gooch's former LIV franchise, the 4 Aces, led by Dustin Johnson, earned its fifth team win and will split $4 million. Johnson captains the squad with Reed, Pat Perez and Peter Uihlein.
As Gooch hit his approach into the final hole, an enormous crowd gathered behind him. Adelaide had been LIV's most successful event, with 35,000 attending the final day.
"I had a security guard with me the last couple days, and he told me, 'these guys might get a little crazy out here, I've got your back,'" Gooch said. "Right when that was happening, I looked [at the huge crowd], and he was like, 'I got you.' It was unlike anything I've ever experienced on a golf course.
"It was just something you'd never expect to experience, and it was super cool. That's why we play golf, to entertain and to go out and win a tournament in front of thousands and thousands of passionate fans. It's as cool as it gets."
Those fans were at their loudest when Chase Koepka made an ace at the par-3 12th, a party hole inspired by the 16th at TPC Scottsdale during the PGA Tour's WM Phoenix Open. LIV named it the Watering Hole. Play was delayed for several minutes while security officials and volunteers cleared the tee area of hundreds of plastic cups and bottles that were thrown by fans lining the short par 3.
"The roars just kept getting louder and louder and louder, and when it went in, I started just getting peppered with beer cans," Koepka said of his 9-iron. "I smelled like beer the whole entire rest of the day. Yeah, it was a wild, crazy experience. To do it on a hole like that was super special. It definitely gave the fans something to remember.
"The next couple hours I was out there, I was just getting ovation after ovation every time I walked up to every shot, every tee box. It was pretty cool. That's probably what Cam Smith felt like the entire week, but at least I got a glimpse of it."
Koepka was talking about the reigning Open champion and Australian native, Smith, whose move from the PGA Tour was influenced by the opportunity to take one of LIV's 48-player events to his homeland. World No. 6 Smith was the pied piper all week and earned a share of third at 15 under with Reed, Pat Perez and Cameron Tringale.
"It was an epic week but a very tiring week," Smith said. "We want to play in front of big crowds that get excited and put golf clubs in the hands of kids that, one day, want to be out here. It's a massive step in the right direction for us [LIV Golf]."
Phil Mickelson garnered almost as much support from the crowd—which LIV officials say totalled 90,000 for the week—having arrived in Australia fresh off his tie for second to Jon Rahm at the Masters. The 52-year-old Mickelson finished at 12 under and tied for 11th after a Sunday 69.
LIV's 14-event season continues next week in Singapore at Sentosa Golf Club.