The Loop
Watch a Naval officer win Jeopardy! with $1 (Yes, ONE DOLLAR)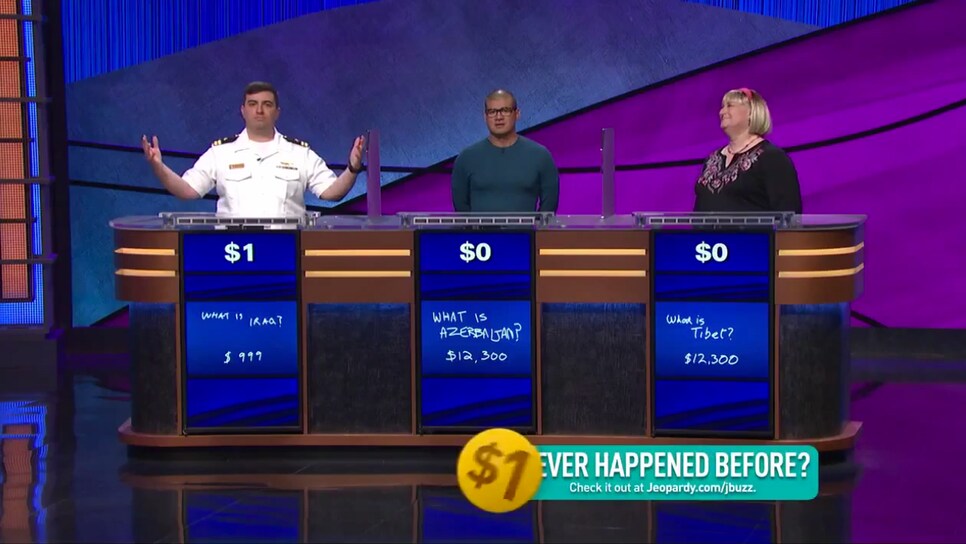 It turns out that the New England Patriots' come-from-behind win against the Atlanta Falcons in Super Bowl LI will not go down as the most improbable victory of 2017. That honor now belongs to Manny Abbell, a Naval officer, who won Tuesday night's episode of Jeopardy! with $1. That's right, ONE DOLLAR.
Abbell entered Final Jeopardy with only $1,000, which put his quest to win for a third consecutive night in serious, um, jeopardy. And things got even worse when he got the answer/question wrong and dropped to $1 after risking $999. Yikes.
According to ESPN, the Patriots only had a 1.1-percent chance of winning the Super Bowl when they trailed 28-3 in the third quarter. But there's no way that Manny didn't have less of a chance of winning at this point. He needed both of his opponents to also whiff on the final question. And he needed both of them to do something really dumb: risk all their money.
Actually, with the other two tied, it wasn't inconceivable that both would risk everything (And incredibly, there have been three previous $1 winners). But on a category like Asian geography? That's tough. You know how this is going to end, but you should watch anyway:
Wait, Alex Trebek is 77?! Dude looks good. Sorry, got distracted. . .
Anyway, congrats to Manny, who will try to keep his winning streak alive on Wednesday. This, on the heels of Internet sensation Austin Rogers, a New York City bartender, who won $411,000 during a 12-episode winning streak that ended last week. Jeopardy. So hot right now.