Equipment
Want to know exactly how to take your crushingly mediocre 15-handicap to a rock-solid 5? Arccos' new Strokes Gained Analytics will get you there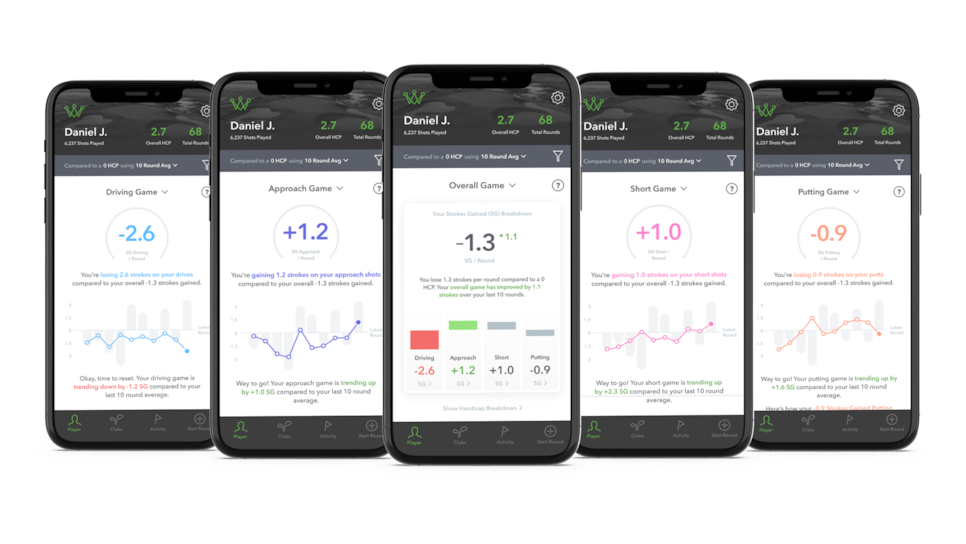 "Strokes gained' statistics have become foundational on the PGA Tour for assessing player performance and improvement, yet for most average golfers it remains a mystery. Not merely is it hard for average golfers to understand it without memorizing Every Shot Counts, the 250-page seminal work on the subject by Columbia business professor Mark Broadie, it also seems as applicable to an 18-handicapper's quest to break 80 as the spikes on his shoes.
But Arccos, the company behind the club-sensor, GPS-based and Artificial Intelligence-driven game-analytics tool, now is making "strokes gained" work for the average golfer, or any player who wants to understand how to improve, and it's doing it with a database that's 15 times the size of what the best players in the world use.
The new Arccos Caddie Strokes Gained Analytics (SGA) feature, which also works with the company's new pocket-sized Link transmitter, provides detailed information on what parts of your game fall short of becoming the player you want to be. Whether you're a 20 trying to become a 10 or a 5 looking to break par, the data from Arccos's more than 300 million shots over the last five years defines what it takes to reach a certain level. (By comparison, the PGA Tour's strokes gained models are based on 20 million shots over the last 15 years.)
And while the standards for the handicap levels are a general picture at each level, what's required of your game and its particular strengths and weaknesses is specific. For example, the Arccos Strokes Gained feature will show you that to advance from your current 15-handicap game to a 10, you might only need to improve one shot off the tee, but you need to improve 3.5 shots around the green. Conversely, another 150-handicapper might be gaining shots around the green compared to a 10, but losing a significant number of her strokes because of mis-played iron shots.
"Because of the size of our data set we're able to give you personalized benchmarks," said Arccos co-founder and CEO Sal Syed. "We're really just trying to answer the basic questions golfers have always had: 'What should I be working on?' and 'What are my problem spots?' But now we're able to get very specific on those answers through the data analytics and through the science.
"Now what we're doing is taking strokes gained to the next level. We're making it smarter because we have the largest data set in golf. "
Syed explained that Arccos researchers have developed models that determine the strokes required to get in the hole "for every location, for every hole, for every course, for every skill level." The Arccos Caddie SGA is based on the artificial intelligence of a neural network that uses the database of shot and results to fuel the analysis. As Syed said, "It's like if the golf gods created a human brain just to do golf analytics."
The Arccos Caddie SGA feature breaks down each golfer's game across four skill areas: driving, approach, short game and putting. Within each of those are further subsets of data, just like on the PGA Tour. That includes elements like tee shot performance on certain types of holes, approach shot performance from different distances and terrains like tee, fairway, rough and sand, chipping and bunker play from different distances and putting from four different distance sets (0-10 feet, 10-25 feet, 25-50 feet and 50-plus feet). An overall assessment also includes three top-line recommendations for what needs the most attention first, including some basic instruction tips.
"There's a lot of research around breaking problems down into chunks," Syed said. "Maybe you do want to get to scratch eventually, but you've got to get to be a 15 first. We allow you to break that problem into manageable chunks where you feel you can actually accomplish that."
The Arccos Caddie SGA feature is included as part of the Arccos Caddie app, which has an annual fee of $100 per year. Free trials of the app also are included as part of the purchase of Arccos sensors or grips through the purchase of clubs with Cobra's Cobra Connect program or the selection of Arccos grips on the purchase of new Ping irons. Arccos grip sensors start at $180 for 14 (which includes a one-year subscription to the app), while the company's sensor-embedded Smart Grips start at $200 for 13 grips and a putting grip sensor (plus a one-year subscription to the app).