Family Ties
Apparently Vince Carter and Tracy McGrady didn't find out they were cousins until McGrady was drafted into the NBA
Ready to have your mind blown? Ready for up to be down and salty to be sweet? Ready to hear color and see sound? Alright then, don't say we didn't warn you:
According to Vince Carter, neither he nor Tracy McGrady—possibly the two greatest blood relatives to ever play in the NBA at the same time—didn't know they were related until McGrady was drafted into the Association in 1997. Yes, really.
First of all, nice Masters hat, Vince. We dig. Second of all, come again!? According to Carter, he and McGrady knew each other from AAU ball. They used to watch each other play and remained friendly as both worked their way through North Carolina basketball ranks (McGrady at Mount Zion high school and Carter at UNC). One day, soon after McGrady announced he was going straight from high school to the NBA, they both showed up to the same local pickup game. McGrady needed a locker for the day, so Carter let him use his. As McGrady was leaving, he mentioned to Carter that he wouldn't need the locker on Friday because he was going to a family reunion that weekend.
Fast forward to the weekend, and Carter got a call from his grandmother. He picked up expecting to talk to his "granny" but instead it was McGrady on the other end of the line calling him "cuz!" over and over again. Apparently the family reunion McGrady was attending was, in fact, Carter's, only Carter couldn't go because he was at summer school. When Carter's grandmother told McGrady her grandson also played basketball and who he was, the whole puzzle clicked into place. Wild, wild stuff.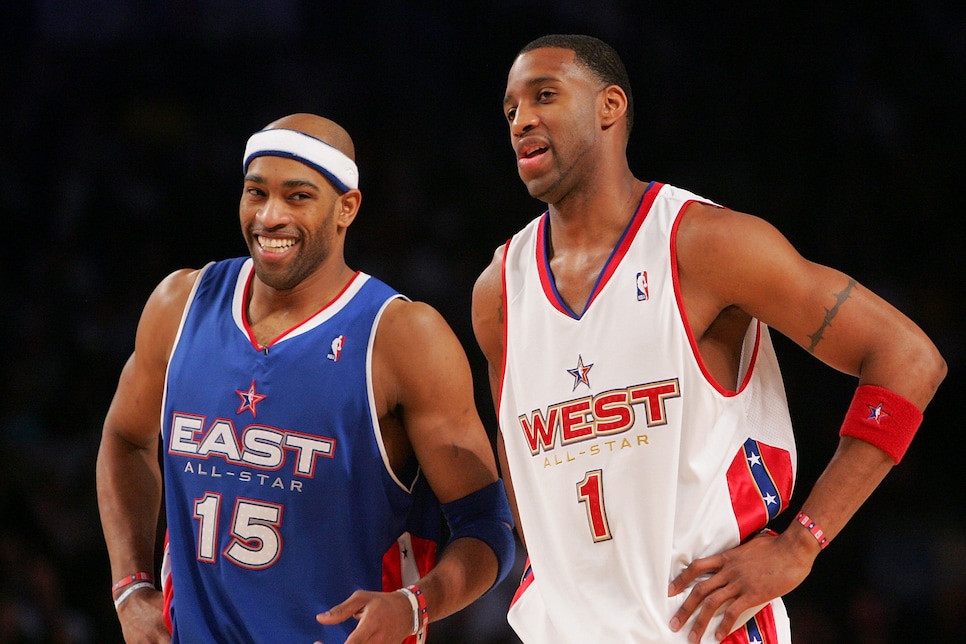 The coolest part of all this is that before the pair became two of the most exciting NBA players of their generation—hell, before they even knew they were related—they clearly shared some sort of internalized bond; a symmetry they couldn't quite put their finger on until one day, suddenly, they did. Whether you have a big family spread across the world or a tight-knit unit close to home, you have to agree that's one hell of a story for the Thanksgiving table.