The Loop
Vince Carter was an era unto himself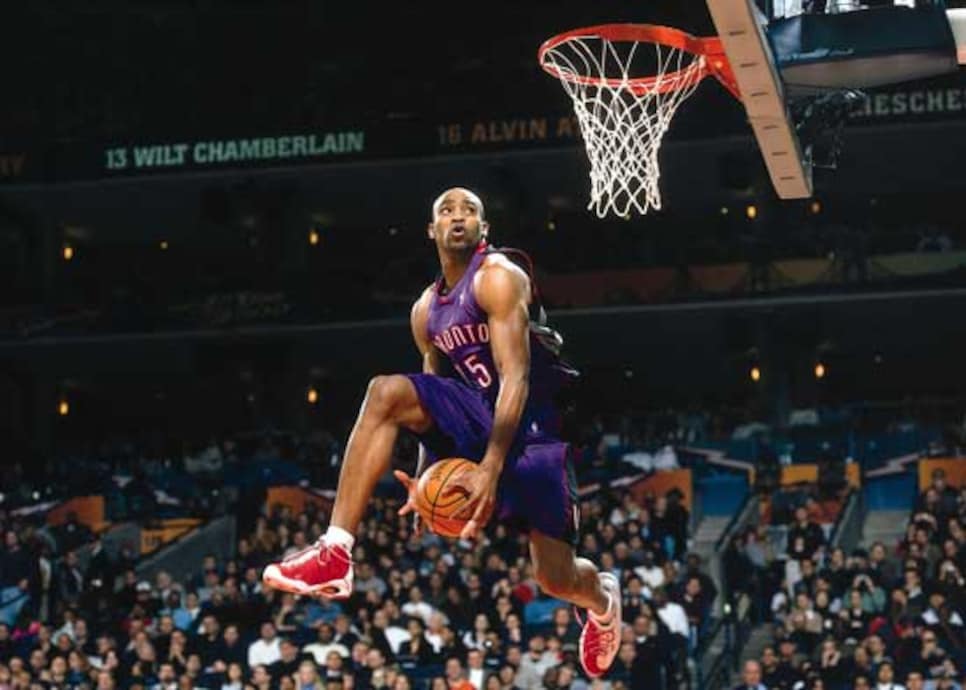 Yesterday, Vince Carter officially retired. He's 43 years old and has 22 years of NBA service under his belt, and it was unfortunate that he had to make the announcement on a podcast. Blame COVID—Carter already told us 2019-20 was his last season, and the Atlanta Hawks aren't good enough to be invited to the season restart in Orlando. That meant that Carter was done unless he decided to play another year. Now we know for sure. In his last career game, on March 11, Carter went 2-5 from the floor with five points and one board in 12 minutes of action. The Hawks lost to the Knicks.
Carter was the fourth-oldest man to play a game in NBA history, and he deserved a better send-off. Consider this, told to me yesterday by a friend: For the first time in 55 years, there is no player in the NBA who was coached by Dean Smith.
Or consider this: Vince Carter was just two degrees removed by the coaching tree from James Naismith, the man who invented the damn sport. Naismith coached Phog Allen at Kansas, Allen coached Dean Smith at that same school, and Smith coached Carter at UNC.
This morning, you can't even find news of Carter's retirement on the ESPN front page. He's out-ranked by stories about a noose, a virus, and a team letting its fans display cutout images in empty stadiums. And now it's time to be honest: That's because Vince Carter never quite lived up to the hype...which probably says more about the hype than about him.
How can you feel even mild disappointment when talking about an eight-time NBA all-star who scored more than 25,000 points and averaged 16 per game over one of the longest careers ever? Well, the truth is that after his rookie season, and for a short time after, Carter had "next big thing" vibes. That was a time when we were obsessed with crowning the next Michael Jordan, and it just so happened that Carter's rookie year, in 1999, was the first year after Jordan's retirement. He definitely wore the label. Carter averaged 18.3 ppg for the Raptors that year, won the rookie of the year award, and was featured seemingly every day on SportsCenter for some new, vicious, physics-defying dunk.
At the 2000 Olympics, Carter unleashed what might be the most famous jam of all-time. It was called "the dunk of death," and it's the only reason I still know—and will forever know—the name Frederic Weis, a French center who never played a single NBA game:
It's beyond glorious, beyond vicious, even without the benefit of HD. And earlier that season, he had won the slam dunk contest with a series of dunks that still register as some of the best we've ever seen on All-Star weekend. You need to watch this for the dunks, but also for the shock on the faces of his fellow players...and, yes, the giant hilarious camcorders they're holding:
The highlight of Carter's career came the next year, in the 2000-01 season, when he averaged 27.6 points per game and made the All-NBA second team. That year culminated in a beauty of a series against Allen Iverson and the 76ers in the eastern conference semis. In one game in that series, Carter made eight straight threes. Both players put up 50+ point games, and it came down to the last shot in Game 7...which Carter missed. The highlights from that duel are just as impressive almost 20 years later:
That was as good as it got for Carter. Injuries set in, he left Toronto, and he never had quite the same promise, despite some very good years with the Nets. But the crazy thing is, the years passed and Carter just never went away. Ever. He turned himself into a three-point shooter, played for eight teams, and persisted into his 40s. He made the conference finals once, with Orlando in 2010. He surpassed the 25,000-point mark, and sits 22nd on the all-time NBA list. He's third on the "most games played" list, and would have moved to first with one more complete season.
His nickname—or at least one of them—was "half man, half amazing," and that feels appropriate today. He never quite reached the heights that many predicted for him, and perhaps injuries kept him from being remembered as one of the legends of the game. That's the "half man" part. But the steady excellence, the astounding athleticism, and the resilience that kept him into the game until a pandemic forced him into an anticlimactic ending...even if that's only half the story, it's nothing short of amazing.