Why me?
The universe is doing everything it can to keep Viktor Hovland from repeating at Mayakoba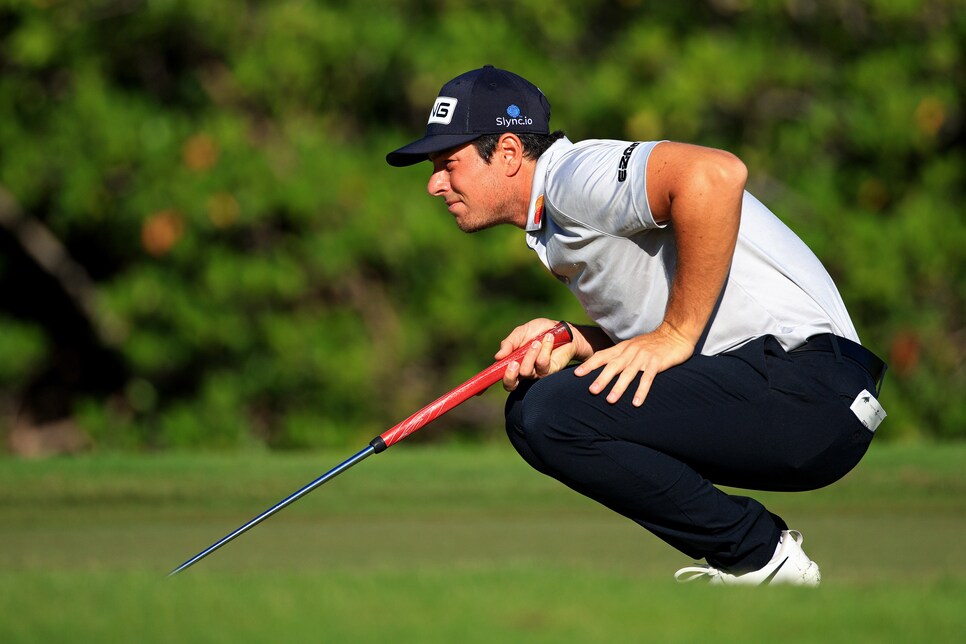 RIVIERA MAYA, Mexico — Viktor Hovland's game is in good enough shape to successfully defend his title at this week's World Wide Technology Championship at Mayakoba. Only the universe seems hellbent on not letting that happen.
"I don't know where it snapped or how he snapped it," Hovland said, "but I just look up after he hit the shot and (the driver) was in pieces."
The scene of the crime made matters worse—the manufacturers' equipment trucks are not on-site in Mexico this week, and while Hovland did have a backup clubhead, he didn't have a backup shaft. James Hahn came to the rescue best he could, lending Hovland a shaft that was pretty similar to to his own but a half-inch shorter. He went to another golf course in the area to try it in some different winds and was pleasantly surprised with the results.
It carried over into Thursday's opening round, when Hovland did not miss a fairway with the makeshift driver and shot four-under 67.
"It almost helped me this week because it's a little shorter. It probably goes 10 yards shorter, but I just felt like I could really hit it a little lower and a little straighter. So I'm hitting that thing really well."
The golf gods had some more high jinks up their sleeves on Friday morning. On his 10th hole of the day, after a three-under front nine, Hovland sent his approach on El Camaleon Golf Club's opening hole just a hair right of the flag.
"I didn't have very far in and I pushed it a little bit and literally landed four steps right of the pin, hits a sprinkler head and goes in the trees over the green. That was obviously—that's a bad break."
That's putting it lightly. Hovland never found the ball and made a brutal double bogey … only to play his final eight holes in five under to post 65. At 10-under total, he'll enter the weekend with a good chance of becoming the first PGA Tour winner to successfully defend a title since Brooks Koepka won the 2018 and 2019 PGA Championships. The universe, however, will have its say. What could be next? A monkey eating his ball? Stepping on a nail on the beach? Stay tuned.