Driving range hijinks
Viktor Hovland responded like a champ to a brutal (and hilarious) driving-range episode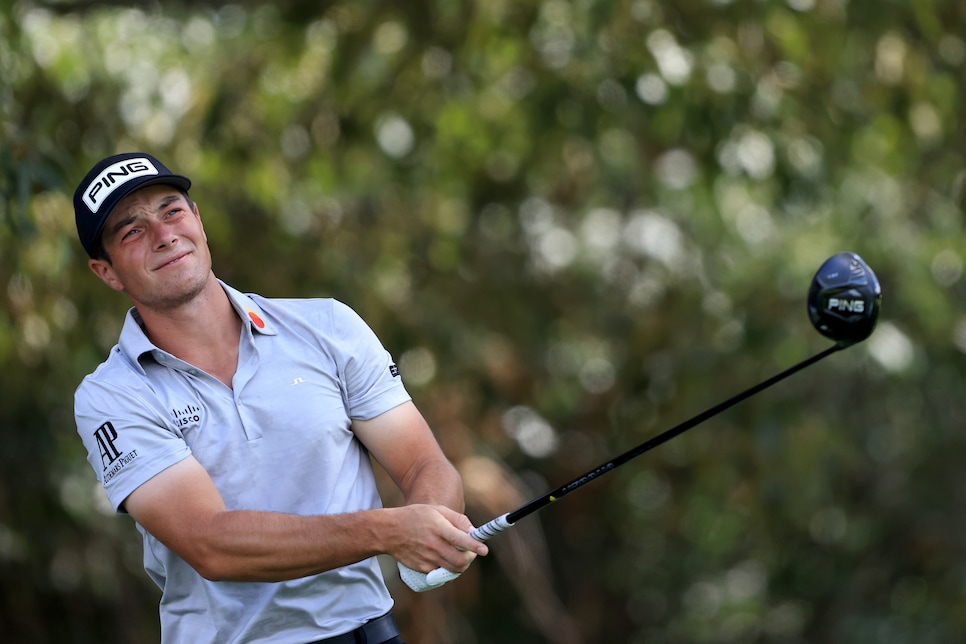 RIVIERA MAYA, Mexico — He doesn't get headlines like Mr. DeChambeau, but Danny Lee is just as all-in on the speed chase as his beefier colleague. The 31-year-old from New Zealand has made a concerted effort to add distance over the past couple years, and you won't find anyone swinging harder in competition. Check out this absolute wallop he made at last week's Butterfield Bermuda Championship:
Lee was at it again on Wednesday, hard at work in a speed-training session ahead of the World Wide Technology Championship at Mayakoba. His violent moves on the range at Mayakoba Resort's El Camaleón Golf Course caught the attention of defending champion and very curious person Viktor Hovland, who approached Lee with a question: Do you think you'd gain ball speed by using my driver, which is an inch longer than yours? Hovland handed over his D-stick and told Lee to swing for the fences.
Lee did exactly that and made solid contact. Only problem? On his recoil, similar to the one above, Hovland's driver snapped in multiple places.
"I don't know where it snapped or how he snapped it," Hovland said, "but I just look up after he hit the shot and it was in pieces."
Things got very quiet, with Lee sheepishly looking back at Hovland … who, remarkably, seemed pretty unbothered. Hovland's caddie, on the other hand, wasn't so chill because his man didn't have a backup shaft on-site in Mexico, and there are no equipment trucks at the resort this week. And, ironically, Lee didn't even pick up any ball speed—he said the shot with Hovland's driver measured around 177 mph, while he was reaching around 185 with his.
To the rescue came James Hahn, who had a backup shaft with similar-enough specs to Hovland's. And, because these guys are preposterously good at golf, Hovland hit every fairway with his new stick—he missed two all day, but those weren't with driver—en route to a four-under 67 to begin his title defense on Thursday.
"It's a little bit shorter, it's a different shaft, but honestly, almost helped me this
week because it's a little shorter," Hovland said. "It probably goes 10 yards shorter, but I just felt like I could really hit it a little lower and a little straighter. So I'm hitting that thing really well."
File this under all's well that ends well.