The Grind
Viktor Hovland's hysterical paycheck reaction, Bryson DeChambeau's destructive range session, and DJ/Paulina's fancy wedding invitations
Welcome to another edition year of The Grind where we're proud that a golfer now holds the tennis record for majors as well. Congrats to Rafael Nadal, who rallied from two sets down to win the Australian Open thanks to an incredible level of fitness he has maintained on the golf course. Don't believe me? Just ask him!
So the next time your significant other gives you grief for playing too much golf, show him/her a pic of Nadal's arms and say that's what you're working on. Rafa, on behalf of myself and all the other non-"gym guys" out there, we salute you. Now let's talk about some golf.
Viktor Hovland: With a win at the Dubai Desert Classic, his third in five starts, Hovland has climbed all the way to No. 3 in the Official World Golf Ranking. And he seems to already be No. 1 in golf fans' hearts with moments like this:
I always thought it was "cha-ching," but regardless, how do you not love this guy? And how do you not marvel at the fact that both Hovland and World No. 2 Collin Morikawa were still in college two-and-a-half years ago? What a run. The 24-year-old is also now the highest-ranked Oklahoma State alum of all time. Sorry, Rickie.
Luke List: In his 207th start, List finally earned his maiden PGA Tour title at the Farmers Insurance Open. And what a way to do it, posting a number and then waiting over two hours before birdieing the 18th hole for a second time that day in near darkness. Say what you will about a beautiful, coastal piece of property ending with a land-locked par 5 that features a man-made pond, but it always seems to deliver great drama. And what a reaction with his family there to see it:
"YES! Daddy got a trophy!" So good. According to Sean Martin of PGATour.com, List, who last played in the Masters as an amateur in 2005, will also have the second-longest span between starts at Augusta National. Only Bruce Fleisher, who went 23 years between his starts in 1969 and 1992, waited longer. This is especially good news for List, who lives in Augusta. He'll finally get to hear the roars up close again—and he won't get price-gouged on lodging that week.
Lydia Ko: The former teen phenom proved she was "BACK!" last year with a win at the Lotte Championship, but now she's even more "BACK!" after her latest victory at the Gainbridge LPGA at Boca Rio in which she got up and down on the final hole to beat Danielle Kang by one.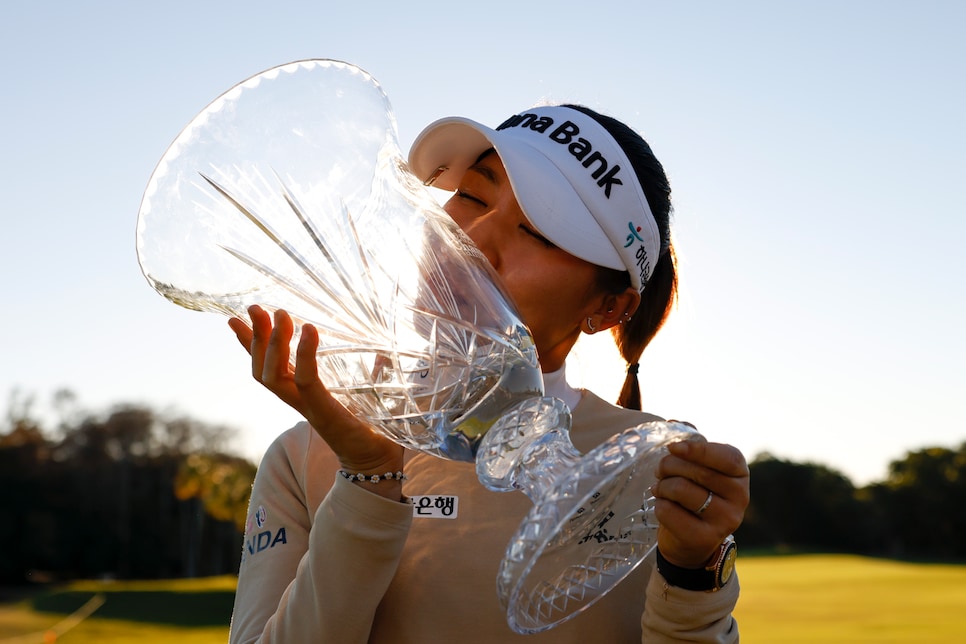 (Also, shout-out to Ryan Herrington for the "All Systems Ko" headline on our website. That's gold!) That makes 17 LPGA wins, two majors, and two Olympic medals. And she's still only 24. Quite an interesting career!
Will Zalatoris' putting: How do you lose a golf tournament in which you're first in strokes gained/approach and first in strokes gained/tee to green? By finishing 64th among those who made the cut in strokes gained/putting. That was ugly, particularly this short miss/yip on Friday:
And it was particularly tough to watch as a fellow Wake Forest alum—who had a few bucks on this young Demon Deacon. As much as I love Will, though, that might be the last time I bet on him. I just don't think I can have my heartbroken like that again.
Rory's reckless 3-wood: Does anyone let more tournaments slip away than Rory McIlroy? That was a rhetorical question. The answer is obviously Rory—and it's not even close. Here's his latest, a sliced 3-wood into the middle of a lake on a par 5 when just a par would have gotten him into a playoff with Hovland and Richard Bland:
But I'll probably still get suckered into betting on him at every major this year.
Bryson's reckless range session: Look, this isn't all Bryson DeChambeau's fault. When most driving ranges were built, they never expected guys who hit a golf ball as far as Bryson and others. But it sure sounds like DeChambeau did some serious damage. And kept on doing damage.
And our Tod Leonard reported one volunteer at Torrey Pines saying Bryson was asked to stop hitting driver—and instead he started launching balls over a net onto the North Course. Not a good look!
Nick Faldo's football knowledge: In case you missed it, here's how CBS signed off coverage on Friday:
I realize American football isn't as big of a deal in England—it doesn't help that we keep sending the Jacksonville Jaguars to play in London—but when you've worked in a booth with Jim Nantz for FIFTEEN YEARS how do you not know what a QB sneak is?! Bad job, Sir Nick. Bad job.
The PGA Tour—or should we say, some of the PGA Tour—heads to Pebble Beach. It seems like a split-week with so many of the usual guys playing in Saudi Arabia on the Greg Norman/Asian Tour. But does Greg have Kenny G playing? Didn't think so.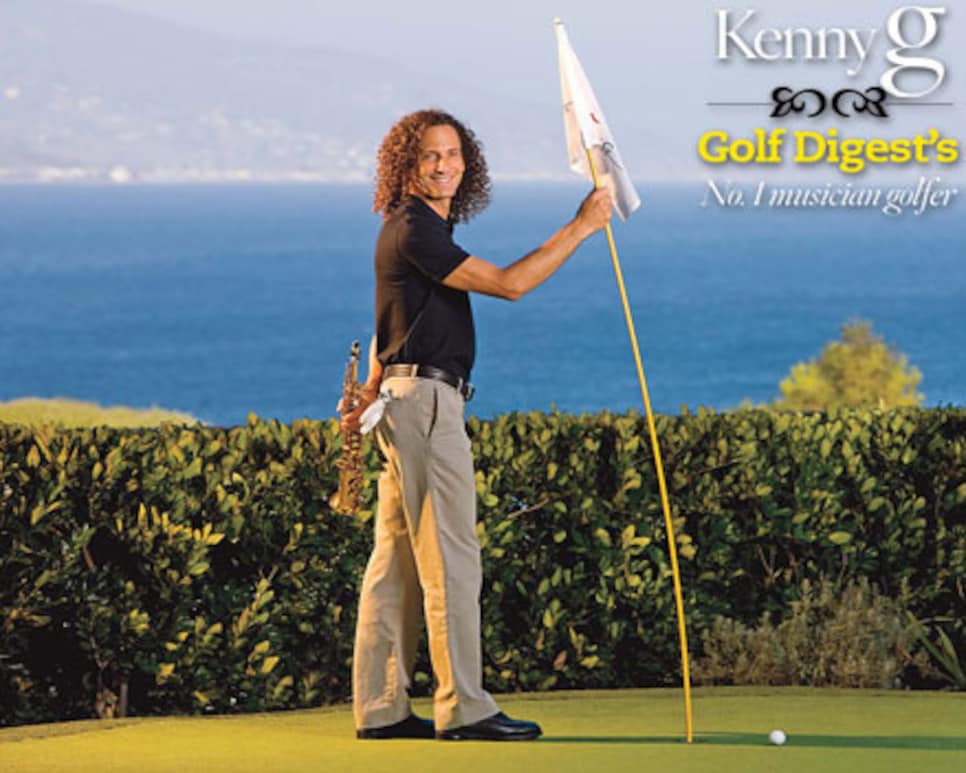 Wait, Kenny G isn't playing at Pebble this year? Wow, this tournament really has gone downhill . . .
Random tournament fact: All kidding aside, the HBO documentary on Kenny G is awesome. Sorry, that's not a tournament fact. In fact, it's not even a fact. But it's really good. Trust me. And he mentions golf!
RANDOM PROP BETS OF THE WEEK
—Nick Faldo will break down the "Cover 2" defense on air: 1 MILLION-to-1 odds
—Patrick Cantlay will win at Pebble Beach: 7-to-1 odds (Actual odds, yikes!)
—More caddies will consider off-site parking: LOCK
That is quite the cramped setup, but I never fault anyone for saving a few bucks. Also, it's time Discovery gives Geno his own travel show. This guy is the caddie content king!
Wanna see the least-hype hype video of all time? You're in luck! Here's a swing coach making his way around a golf course during a tournament week:
Golf is definitely a sport, but that may have set the golf-is-a-sport movement back a bit.
THIS WEEK IN PUBLIC DISPLAYS OF AFFECTION
We are getting closer and closer to golf's royal wedding, people! And the invitations sent out by Dustin Johnson and Paulina Gretzky are nothing short of spectacular:
Funny, I didn't get mine yet. Mail has been slow around here, though, with all the snow. I'm sure it will show up any day now. . .
THIS WEEK IN PUBLIC DISPLAYS OF HAIR
Anything for PIP, am I right? And Michael Thompson's "playoff beard" continued to turn heads: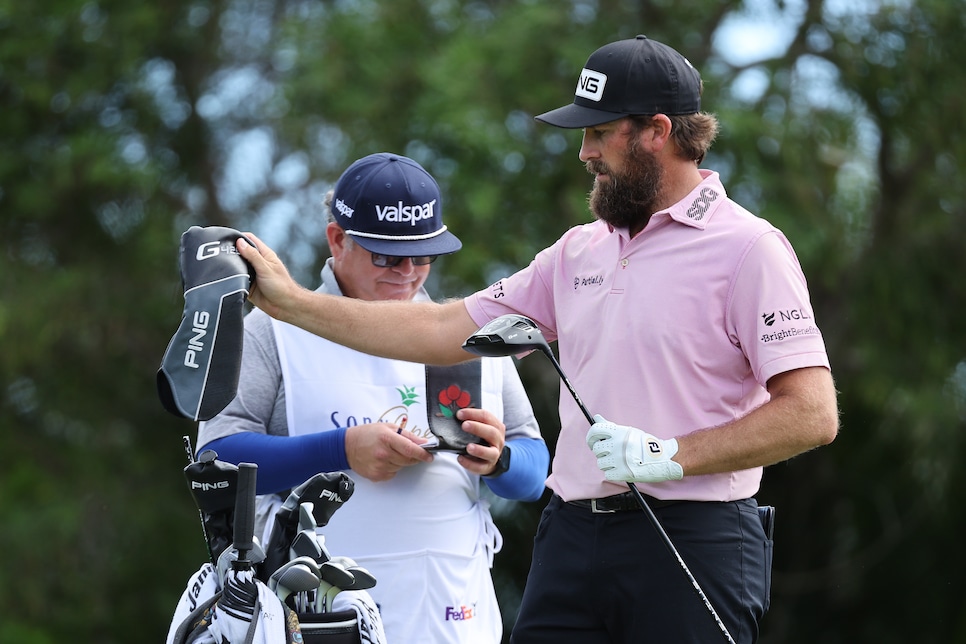 "No, actually started this right before the Playoffs last year and turns out my wife loved the beard so I'm keeping it." —Michael Thompson. His wife loves it?! Wow, talk about a plot twist.
Jin Young Ko has taken the No. 1 spot in the Rolex Ranking back from Nelly Korda. Something tells us Nelly isn't losing any sleep over it. . . . Augusta National is looking for a new "Landscape Architect & Planner." And you thought the people playing in the Masters had a lot of pressure on them. . . . And, speaking of new jobs, congrats to Kevin Harrigan, Golf Digest's new director of marketing and audience development. Kevin also happens to be a good friend of mine from high school and a terrific athlete who once planked on top of a friend's house during the great planking craze of 2011. Unfortunately, I can't find any of those fun photos . . . yet . . . although, maybe that's best for both of us.
RANDOM QUESTIONS TO PONDER
How did Will Zalatoris not win?
How many tour pros did DJ/Paulina invite?
What's the DJ/Paulina wedding budget?