don't try this at home
Rose Zhang pulls off this boss move using a wedge on Pebble's 17th green, and learns the lore about it later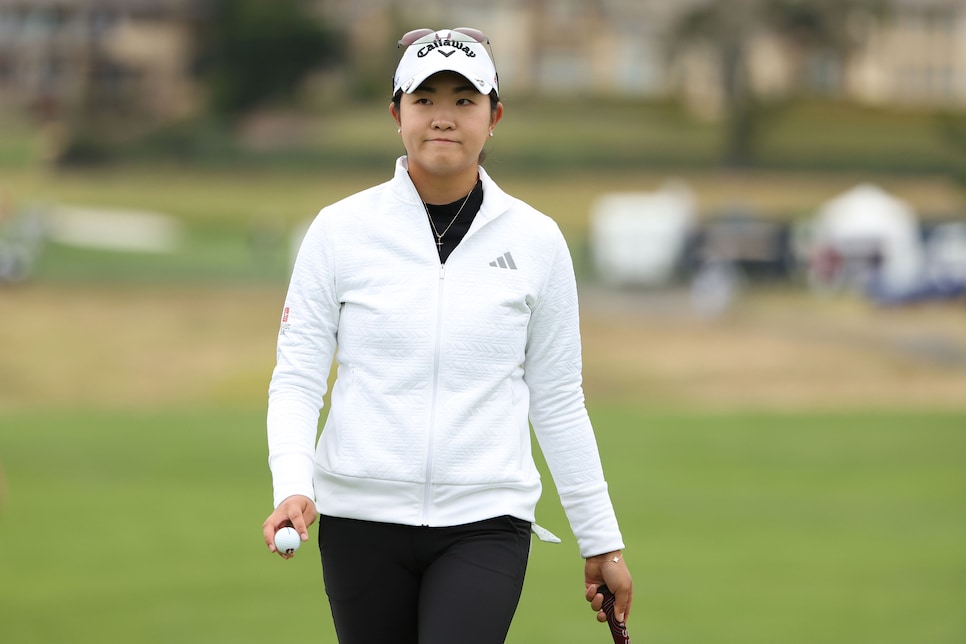 PEBBLE BEACH — It is a shot so rare and bold that Rose Zhang had never used it in a tournament. And that makes it all the more impressive in how she pulled it off in the first round of the U.S. Women's Open at Pebble Beach.
Late Thursday, with the skies dark and a light drizzle in the air, Zhang missed her target on the par-3 17th, coming up short and right of the back-left pin placement. When she arrived at her ball, a putt just didn't seem feasible, since she'd have to navigate the ridge by rolling her ball over the fringe.
So Zhang decided to use a wedge on the green—something golf fans maybe see once over a few years while watching golf. It's one of those shots that make superintendents cringe because nobody wants to see a dollar size divot taken out of a green. Particularly not on the first day of a major championship. It requires the most exacting of swings.
"Funny thing is I've never done that before in competition. Yeah, first time. So there is always something new," Zhang, standing behind the 18th green, said with a laugh after her round of two-over-par 74, which left her in a tied for 39th, six shots off the lead of Xiyu Lin.
"I definitely have," she said. "When I'm practicing with my teammates, we all have a bit of fun, and we like to practice wedges on greens. So it's a bit of a fun game, but it's weird that it's actually in practice when I'm not playing."
So on Thursday, with 53 feet to the hole, Zhang executed her pitch to near perfection, with the ball looking like it was going to drop in before drifting less than an inch to the left. Zhang picked it so cleanly that the only thing she disturbed on the green was gathering dew.
"It was a bit risky," Zhang said, then converting the tap in for par, "but I felt like it was my shot of the day."
What Zhang didn't know, or had forgotten, was the history of that very wedge shot on the 17th green. In the final round of the 2019 U.S Open, with eventual champion Gary Woodland leading by two shots, he ended up in a similar shop to a similar pin. He too pulled it off, with the commentators raving about how remarkable it was under pressure. Frankly, Zhang's was probably executed better. But no matter. Both were examples of the skills not owned by mere mortals.
Talking to reporters, Zhang was trying to place the Woodland shot in her mind, and then her agent quickly found it on his phone. She beamed while watching it.
"Dude, that's crazy," Zhang said. "Oh. Wait, wait, wait. I did see this shot. … It's all coming back. Yeah, I don't know where I was, but it was definitely on TV."
And now Zhang has her memorable clip at 17, just like Woodland and Tom Watson. That's a pretty sweet club to join.