U.S. Women's Open 2023
Nasa Hataoka was named with lofty ambitions, and she's got a shoot-for-the-stars chance in the U.S. Women's Open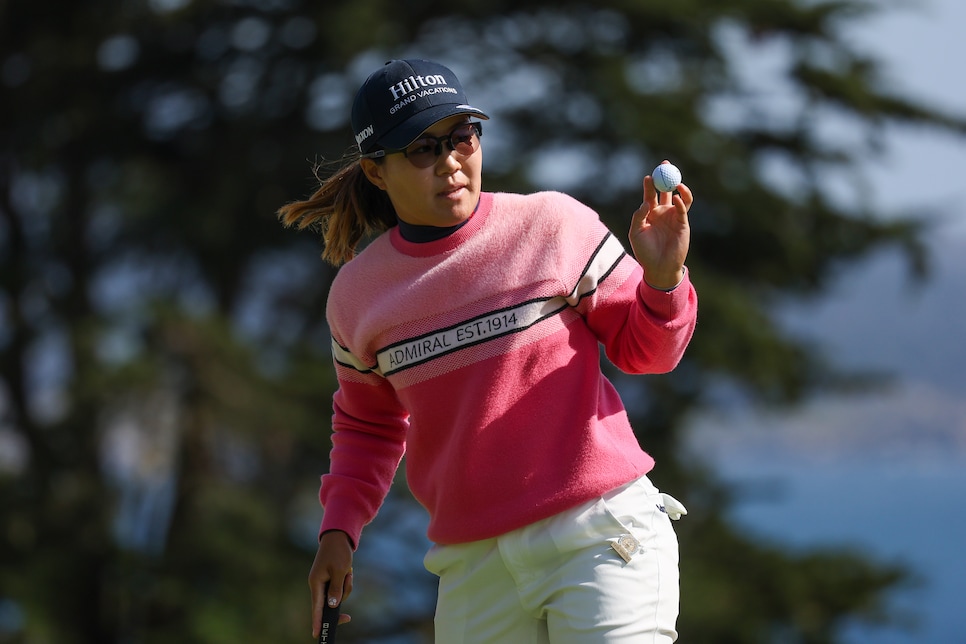 Nasa Hataoka reacts to her putt on the 14th green during the third round of the 78th U.S. Women's Open.
Harry How
PEBBLE BEACH — When you name your child after something as big as the U.S. space program, the expectations would seem to be as high as the moon. Jinichi and Hiromi Hataoka welcomed their daughter into the world in 1999 and dreamed as big as any parents could.
"They both wanted her to accomplish something that's never been done before," a translator related as Norumi Hataoka answered questions after her daughter, Nasa, shot a remarkable six-under-par 66 at Pebble Beach Golf Links on Saturday to take a one-shot lead into the final round of the 78th U.S. Women's Open.
The bogey-free round in which Hataoka made about 96 feet in putts was the best effort of the day by four shots as skies cleared to display Pebble in all of its sun-splashed glory. With that, however, came the price of gustier winds that made scoring even more of a challenge on a true major championship test.
LPGA Tour second-year player Allisen Corpuz bogeyed the 18th hole but battled to a 71 and was the closest pursuer at six under. Second-round leader Bailey Tardy struggled to a 75 and Hyo Joo Kim shot 73, but the scoring was so tough that they are only three shots back.
Those standing at under par has thinned with each passing round, and that number heading into the final 18 holes was six players in the red.
For the 24-year-old Hataoka, maybe her first name has become a family embellishment though the years, but the 5-foot-2 Japan native has fulfilled the goal of becoming a talented athlete. Hataoka already has six wins on the LPGA Tour, and though she has yet to seize a major, she has come achingly close.
When Hataoka was only 19, she got into a playoff in the 2018 KPMG Women's PGA Championship and lost on the first hole in Sung-hyun Park. Then two years ago, up the coast from Pebble Beach at San Francisco's Olympic Club in the U.S. Women's Open, Hataoka shot 68 in the final round, got into a playoff and lost on the third extra hole when Yuka Saso made an eight-foot birdie putt to win.
"I have that experience from those past tournaments, and so I want to be true to myself, and I want to rely on the help that I receive from my staff and all the people around me and do my best," Hataoka said through a translator on Saturday.
Hataoka doesn't seem to be a golfer who would be crushed by such losses. Greg Johnston, one of the most respected caddies on the LPGA, who looped for four of Juli Inkster's major wins, was on Hataoka's bag for Olympic and remains her caddie. He said she's "very strong mentally."
"She knows she can do it," Johnston said after Saturday's round. "It's not that easy to win, let alone a major. I think she's got a lot of pressure to do that. Hopefully, she puts it all together."
Hataoka has one very big factor going for her on Sunday: She's been enormously successful playing in California and on poa annua greens. She shot 18 under to win the 2019 Kia Classic in Carlsbad, scored 15 under to capture the DIO Implant LA Open at Wilshire Country Club in 2022, and this season Hataoka's second-best result is a T-7 in the LA Open played in Palos Verdes.
"Well, it could be just happenstance, perhaps good luck," Hataoka said with a grin. "But with some of the difficulties with the short putts [on poa annua], I think it was mainly my experience that enabled me [to play well.]"
To tour Pebble Beach without a bogey on Saturday was truly impressive. The breeze was benign when Hataoka opened with a birdie at No. 1, but it was blowing hard by the time she also birdied the par-5 sixth. More impressive was the 23-foot birdie putt she made on one of the hardest holes, the cliffside par-4 10th. She birdied the 13th from 16 feet, and then produced a terrific 40-foot chip at 16 that broke several feet to the right and dropped in for birdie. She made her final birdie with a 12-footer at 17.
Hataoka said she's worked recently on her putting with her coach, Mikihito Kuromiya, who also is the instructor for Masters champ Hideki Matsuyama.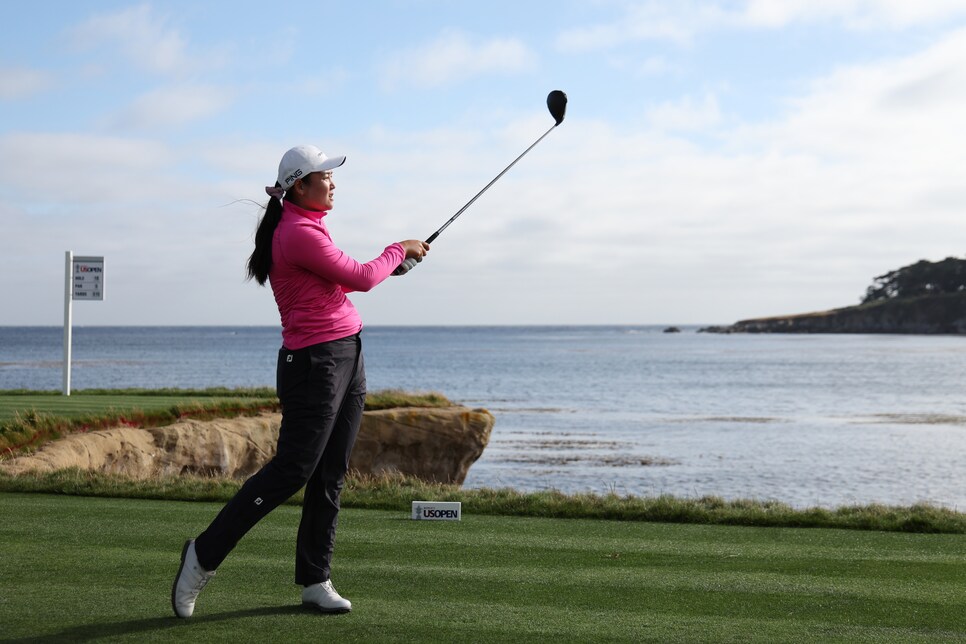 Allisen Corpuz plays her shot from the 18th tee during the third round of the 78th U.S. Women's Open.
Harry How
"From about three weeks ago with the assistance of my coach, I was able to change my strategy," Hataoka said. "I would say that prior to that I felt that my strokes were not as good as they should have been, and I didn't think that the way the ball was tumbling around, that was not very stable beforehand. But thanks to the work I started three weeks ago, I think I was able to manage very well today."
Hataoka's closest competitor, Corpuz, is only one year younger, but has taken a very different golf path. The Hawaii native, who attended the same Honolulu high school as Michelle Wie and surpassed her U.S. Women's Public Links record by qualifying at 10 years old, was an accomplished amateur who played in 17 USGA championships before this week. She already has been in four previous U.S. Opens and was a standout player at USC.
In her sophomore season on the LPGA, Corpuz has yet to win, but at this year's first major, the Chevron Championship in April, she shot back-to-back 67s and was tied for the 54-hole lead until fading with a 74 on Sunday.
The soft-spoken Corpuz, who decided to earn an MBA during the pandemic time off, said she grew up competing with her dad and older brother, but never took the game seriously enough to think of more than a tap-in to win a major.
Her eyes becoming bright at the current possibility, Corpuz said, "I don't think I ever really thought I'd be in this position. Just really, really grateful to be here, and yeah, hope that tomorrow goes well."